Feature Review - GolfBuddy PT4
By: Golf Shake | Thu 25 Sep 2014 |
Comments
---
Post by Kevin Paver, author of the blog - Hacker to single figures
---
Kevin's Review
The folk at GolfBuddy are well renowned for their GPS device prowess, and now with the release of the PT4, they say it will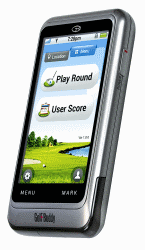 offer players "the finest golf GPS experience."
I have to say, the test for this device couldn't have come at a better time as I was really struggling with my distances. The eye / brain combo just wasn't cutting it anymore.
One of the things that struck me first when getting the PT4 out of the box, was how slim it was, given the functionality it carries. It's no bigger than your average smartphone. It also has a brilliant high resolution, full colour 4-inch LCD touch screen, making it easy to view and use.
Now, for the important bit – how it can help your game.
Firstly, it comes pre loaded with 37,000 courses, with no fees and no subscriptions. It also has golf course and hole recognition, so you literally switch it on, hang it wherever takes your fancy and you're ready to go.
As you'd expect, the PT4 offers all the usual yardage functions you'd get on many other GPS devices; front, back, middle green, but then it throws a whole bunch of other useful features at you.
Sadly, it can't hit the ball for you.
It can however, show you distances to any hazards or targets on the particular hole you're playing. You can also add custom targets too. So, if on a particular hole, if you want to lay up short of a bunker, you can mark it and save it for next time.
It also has a 'touchpoint indicator'. Essentially, you tap the screen wherever you are and it will give you the distance to that point, as well as to the centre of the green. You can also drop a 'blue pin' on a hole, which will give you a lay-up point. I found this particularly useful for those moments when you have hit a bad shot, found yourself in the trees and want to get back to that point.
When you get to the green, the PT4 gives you a detailed, grid-view of the green. You can alter the yardages based on exactly where the pin is located by simply dragging the flag around. So, no matter what your angle, whether you're in the trees or on another fairway, the yardage you see is exact.
And if you haven't had enough of all the clever things it can do, it will also let you track and keep score of up to four players during each round. The PT4 can track your round in detail, giving you the ability to look at your stats after the round. You can also upload them to your computer via the GolfBuddy Manager.
So, the GolfBuddy PT4 is a great addition to any golf bag.
If I was to give it any critisism, it can be quite fiddly whilst you're getting used to it, particularly with the touchpoint indicator functions. It's also not very intuitive when adding in your scores.
That said, once you are used to what it does, and how to get there, this is a fantastic device. Used properly, it can certainly save you some shots.
What GolfBuddy say:
https://www.youtube.com/watch?v=lbzKrvW7LI8
Technical specifications and pricing
Some of the key GolfBuddy PT4 technical specifications include:
4-inch capacitive (mobile phone quality) touch screen
Pinch & Zoom Hole View
Width & Depth of green indicators
EasyView Distance Arcs from tee and to green
3x hole/route selection modes (Auto, Sequential, Manual)
Fixed Lay-up Point setting
Shot Distance Measurement
Four player scorecard with landscape Auto-rotate
Moveable Pin PlacementTM
Hi-Contrast Green View
Safe Storage Mode
The PT4 is ready to go right out of the box with access to over 8,000 courses in Europe and North Africa and over 37,000 globally in more than 130 countries. GolfBuddy PT4 has an RRP of £299.95.
For more information visit http://gpsgolfbuddy.eu/products/pt4.asp
---
You can keep up to date with kevin's challenge by visiting www.hackertosinglefigures.co.uk and subscribe. You can also follow me on Facebook or on Twitter @KevinPaver
---
---
What do you think? leave your comments below (Comments)
---
Tags: golfbuddy
---
comments powered by

Disqus