Why England Golf's strategic plan will be good for the game
By: Golf Shake | Mon 04 Aug 2014 |
Comments
---
Nowadays, most of the rhetoric surrounding amateur golf centres on how to increase participation numbers and grow the game in a challenging era for the sport. There can be no doubt about it, golf is going through a very difficult period; something brought out by a diverse number of economic and social factors, from the financial crash of 2008 and the rising cost of equipment/membership to increased pressure on time, negative perceptions of the sport and its failure to move with the times. In recent years, though, there hasn't been the dedication and focus you might expect from governing bodies to redress this downward spiral and rejuvenate a sport that was doing significantly better 10 years ago. However, some 10 days ago, England Golf - the governing body for all amateur golf in England - announced a three-year strategic plan to revitalise a game that means a great deal to a huge number of people; a game that teaches sportsmanship, integrity and respect and a game that many people - particularly youngsters - could be positively influenced by.
The environment
So, why do we need a strategy to revitalise the game? Well, the statistics don't make for the most encouraging reading, especially with regards club membership (note: all above figures come from the England Golf Strategic Plan document, which can be accessed via the England Golf website.)
There are some 1900 golf clubs in England, and in 2004, many boasted extensive waiting lists. However, there are an estimated 180,000 less golf club members nowadays as compared to 10 years ago (882,640 to 675,000). A lot of people have decided the nomadic option is a better fit for today's lifestyle. Indeed, the number of unattached yet regular golfers exceeds the number of golf club members by a ratio of 3:1. There are more people playing sport than in 2005, but golf participation numbers are decreasing. Around 750,000 play golf weekly and 1.15 million play each month. On paper, they seem like encouraging statistics, but 12% fewer golfers play once a week and 15% fewer play once a month, as compared with 2005. Concerningly, 22% of those giving up golf have cited lack of time as the principle factor. Other issues that need to be addressed include the fact that only 15% of club membership is female (contrasted to an average of 30% in Europe), and that the number of junior golfers has decreased significantly over the last decade. Finally, 36% of lapsed golfers said they left the game because the overall cost was too high.
The plan and goals
It would be fair to say the above set of figures paint a rather bleak picture, so it's good to see a concerted plan in an effort to combat the negativity. England Golf's aims and targets are listed below.
The three-year strategy is based around seven key points, following contributions from hundreds of individuals and organisations with a vested interest in ensuring golf pulls itself out of a very serious slump.
- More players - increasing the number of players who play golf regularly
- More members - increasing the number of players in club membership
- Stronger clubs - supporting clubs to attract and retain members and achieve a sustainable business model
Winning golfers - identifying and developing talented golfers at every level, leading to international amateur success
Outstanding championships - Providing excellent championships and competitions for golfers of all levels
Improved image - changing the perception of golf and improving communications within the sport
Excellent governance - improving the governance, building the infrastructure and strengthening the partnerships to develop golf in England
Ambitions for 2017:
- To increase the number of people who play golf at least once a week from the baseline of 750,000 in 2014 to 910,000 by March 2017 (agreed with Sport England)
- To reverse the decline in club membership which has been occurring annually since 2005 and stabilise club membership at the July 2014 level of 675,000 members
- To strengthen the talent development pathway from club to national level, leading to even more international success for English players
- To improve communications, governance and partnerships at all levels within England Golf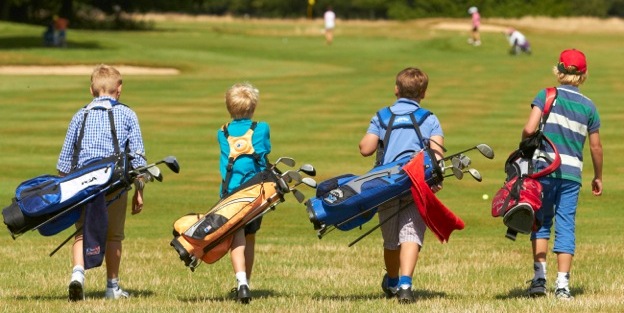 Analysis
I must say, I'm glad to see such a comprehensive strategy document taking in both qualitative and quantitive research, as well as feedback from both individuals and organisations. I'm also happy that England Golf has welcomed opinion from a huge number of sources, no matter how small or influential. Growing and revitalising golf is a task for the entire golfing community, and it's encouraging to see England Golf shares that view. As it sets out before highlighting the seven key themes: "There is strong support for the creation of a single vision, shared ambitions or goals and clear strategy which can guide the world of many and encourage coordinated action around the key challenges and opportunities."
It's also good to see that collaboration is central to the strategy. Some golf clubs around the UK are outperforming the market and implementing some fantastic schemes. By being open, transparent and encouraging the sharing of information, we can action initiatives with proven worth. The point here is that a thriving golf industry is good for everyone involved - from clubs to manufacturers and everyone in between - so there's no reason why those who have facilitated growth and success wouldn't want to share their example for the benefit of those with the same end goal.
Encouragingly, the document also makes reference of two areas that I see as pivotal going forward: flexible memberships, and junior growth. Making juniors a real priority is fundamental to the future health of the game, and this requires both new initiatives and a change of ethos in various clubs who, for some unknown reason, expend very little energy attracting and encouraging juniors. The Strategic Plan also encourages partnerships with local schools and youth organisations. We - as a collective - don't do nearly enough in this sphere, so it's encouraging to see England Golf recognising that fact, and advising clubs on how best to bring and retain more juniors.
It simply cannot be denied that golf hasn't adapted to the increasingly diverse needs of those who play the game and changing social conditions. As such, flexible memberships are an absolute must. The document, in the recommendations for golf clubs in England section, states: "Clubs should look to develop flexible membership categories that are able to respond to the changing market and economic climate, reflect the needs of new and existing members and represent value for money." We've already seen a number of credit-based schemes, and with a better sharing of information infrastructure in place, creative offerings should continue to appear. This is particularly relevant for the 25-35 demographic; people who want to carry on playing golf, but, due to economic and time constraints brought about by work, starting new families and getting on the property ladder, simply can't justify full memberships.
Conclusions
There is a huge amount of work ahead, but the guidelines set out in the Strategic Plan shrewdly identify the most pertinent areas and provide a number of strong pieces of advice for golf clubs and other organisations to adopt. In my mind, there are two key challenges: changing the perceptions of the sport - something I see as the single biggest issue impinging on the growth of golf - and making sure everyone involved with the game recognises the importance of putting various suggestions and measure into practice. If clubs use some lateral thinking, communicate effectively, follow advice set out in the plan, empower members to get involved and, most importantly, become receptive to new thinking and change, we do have a chance. There's a very long way to go, but an organisation like England Golf taking such an active role in an effort to further the sport is a good start.
---
What do you think? leave your comments below (Comments)
---
Tags: England Golf
---
PLAY MORE PLAY BETTER - LATEST TUITION TIPS
---
Leave your comments below
comments powered by

Disqus