Mickelson hoping to let the legend grow
---
Post by Sports Writer Derek Clements
---
PHIL MICKELSON will never forget that Sunday a decade ago when his career - and his life - changed forever.
The birdies on five of the last seven holes. The downhill, 18-foot putt that ducked in the low side. The collective release of drama and tension and joy as the ball found the cup.
And, of course, The Leap. He had won The Masters for the first time, although BBC commentator Peter Alliss memorably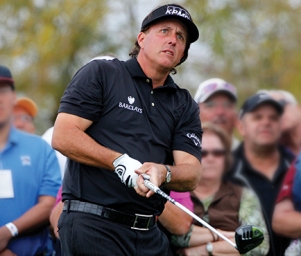 informed TV viewers that he had just secured his place in a playoff!
It was a Masters of the ages. "I don't know if I sensed it at the time, what was going to happen, but I felt like I wasn't just trying to win one; I was trying to win multiple," Mickelson said. "That one got me started."
With his victory in 2004, Mickelson finally ended his wait for his first major, having played in 41 without success. He has since won two more Green Jackets, in 2006 and 2010, a PGA Championship in 2005 and The Open last year.
His breakthrough victory at Augusta proved that Mickelson had learned how to win a major.
"You could just feel how heavy that moment was: this guy trying to put it in and end all of this talk of if he's ever going to win a major," said CBS commentator Jim Nantz, who called the scene from the television tower beside the 18th green. Unlike Alliss, Nantz realised the significance of that final putt.
Nantz recalled how CBS had positioned a camera at a special angle and therefore was able to catch a close-up of Mickelson's reaction.
"The look was right into Phil's eyes," Nantz said. "You saw that one glimpse, that one flash where his life had changed and it would never be the same again. The realisation that the ball had gone in..."
That Masters seemed to bring out the magic in Mickelson when it came to majors, launching him into the next phase of his career. He tamed his swashbuckling style, something Nick Faldo had wondered whether he would ever be able to do.
Faldo remembered being paired with Mickelson at Muirfield in 2002 for the first two rounds of the The Open. "He had zero strategy. He didn't have a clue. It was all about crash, bang, water," said Faldo, who also won The Masters three times.
Mickelson changed his ways. He talked of shaving off a half-stroke in each round, figuring that just two strokes per Tournament would translate into more Green Jackets. He famously used two drivers to win his second Masters in 2006, carving tee shots whichever way a hole demanded.
"He finally learned about putting the reins on yourself when you really need to," Faldo said. "You don't have to go for everything. You have to be smart; it doesn't mean you're being negative or not brave enough. You just have to be smart and hit the ball in the right place. And that's what he did."
Mickelson now owns three pieces of golf's career Grand Slam after his epic charge last July at Muirfield Golf Links, where he birdied four of the last six holes to shoot 66 and claim the Claret Jug.
All that remains is the US Open, the tournament that has left Mickelson crestfallen throughout his career. Last year at Merion, he finished second for a record sixth time, after leading through three rounds.
In June, he returns to Pinehurst, where in 1999 he finished runner-up for the first time, to Payne Stewart:
Still, Mickelson said: "I'd love to win The Masters a fourth time every bit as much as I'd love to win the US Open a first time." Don't believe a word of it.
At 43, four years after his last Masters title, he is one of the favourites this year.
"I'm not sure at what point it will change, but that golf course is just tailor-made for the way I like to play," Mickelson said. "Short game is such a big factor, the way I know the greens. It's so critical to know the intricacies and nuances, which I've learned over the years.
"I don't know at what point I won't be feeling as though I have a great chance to win. But certainly right now I feel I do.
"Any player would say, if there's one major you'd want to win, it would be the Masters.
"To have that be my first was very meaningful to me because of the way history is made at Augusta National every year. You're a part of that history, the way they treat the past champions. Being part of that exclusive club on Tuesday night … all of that factors in to the Masters."
---
Derek Clements is a sports journalist with a particular passion for golf with over 12 years of experience covering golf and other sports including Chief Sub-Editor on the sports desk of The Sunday Times. To contact Derek email direct via [email protected]

---

The oldest & most prestigious major, a trip to The Open is a must for every golf fan. From tickets and transfers to hospitality & golf, Golfbreaks.com can build the perfect package to help you experience The Open in style.
---
---
What do you think? leave your comments below (Comments)
---
Tags: phil mickelson PGA Tour european tour
---
PLAY MORE PLAY BETTER - LATEST TUITION TIPS
---
Leave your comments below
comments powered by

Disqus