Callaway launch new Supersoft ball
---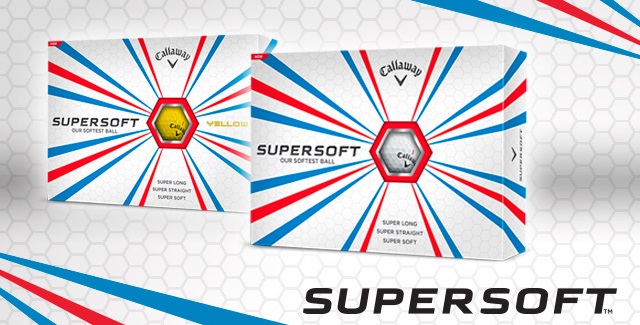 Callaway Golf has announced the launch of its softest golf ball ever, Supersoft, which helps golfers with slower swing speeds put additional yards on their shots.
Featuring the lowest compression on the market the new Supersoft Golf Ball's ultra low (38) compression, which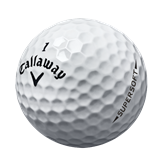 promotes low spin to combat hooks and slices, combines with Callaway's trademark HEX aerodynamics, resulting in straighter, more stable and super-long ball flights.
The product is designed for the golfer that struggles for tee shot distance, but still seeks a soft feel on greenside chips and off the putter face, the Supersoft's two-piece composition includes a Trionomer Blend cover, specifically designed to maximise ball speed and optimise distance without compromising supreme feel and control
Dave Bartels, Senior Director of Golf Ball Research & Development for Callaway, said: "Supersoft is engineered with an incredibly soft core — actually zero on the PGA compression scale. It's easy to make a soft core, but it's really difficult to make a soft core that is resilient, and we were able to do that with Supersoft. Because the soft core is so resilient, it enables us to put a soft cover on it and still achieve really good ball speeds. The soft cover is great for feel and control around the green as well.
"Supersoft has a very soft cover over an extremely soft core that results in a ball that is only 38 compression points. That's a full 20 points softer than HEX Diablo, one of our popular two-piece balls. When it comes to accuracy, Supersoft may be the best ball on the market. It reduces hooks and slices so more golfers can get more distance and tighter dispersion."
Besides the traditional white colour, Supersoft is also available in a newly formulated 'Optical Yellow' for greater visibility through the air and on the ground.
Key Features & Benefits:
• Ultra low compression, reduces spin for increased distance and straighter ball flight
• Proprietary HEX dimple pattern covers a greater surface area of the golf ball promoting a longer, more stable and penetrating ball flight
• Callaway's softest ever golf ball promotes low spin, maximising distance
• New Optical Yellow colour increases visibility in the air and on the ground.
The Supersoft Golf Balls are available from retailers across Europe from January 31 with a RRP of (per dozen):
GBP 19.99
EUR IRE 23.99
EUR 28
Find out more about Callaway and Supersoft Golf Balls at - Click Here
---
Related Articles
Callaway launch Speed Regime balls
New for 2014 - Callaway X2 Hot ball
Callaway announce that 'Bertha is Back'
Callaway launch X2 Hot family of drivers, fairways, hybrids and irons
---
What do you think? leave your comments below (Comments)
---
Tags: golf balls callaway
---
PLAY MORE PLAY BETTER - LATEST TUITION TIPS
---
Leave your comments below
comments powered by

Disqus