Arnold Palmer- Still the king of the castle
---
In this post by Sports writer and 12 handicap golf fanatic Derek Clements takes a look at the fascinating character that is Arnold Palmer.
---
THEY still call him The King, even though Arnold Palmer's last regular tournament victory was the 1980 Canadian Open. In a career spanning 734 PGA Tour starts over 53 years he made $1,861,857 in prize money. His last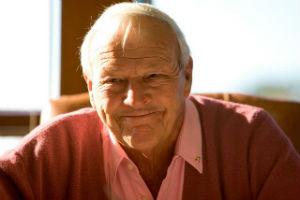 Senior PGA Tour success came in 1988.
Palmer hasn't won a penny in official prize-money for years, but he still earned more than $40 million last year through sponsorship, course design and his many other business interests. Only two golfers earned more. The thing with Palmer, you see, is that everybody loves him - always have, always will.
First, there was his cavlier style of playing. His philosophy was to hit the ball as hard as he could, play a miracle recovery and hole a putt for an outrageous birdie. Seve Ballesteros is the only player who ever came close to matching him and he, too, was adored by the public.
But there was more to Palmer than that. Ever since the beginning of his illustrious career, he has recognised the value of his fans, or Arnie's Army as they were called. He knew that without them he would be nothing, and that is why he was always happy to make time for them. He would sign hundreds of autographs and spend hours chatting to them. Not only that, but he took the time to listen. He also paid attention.
People have consistently expressed amazement at Palmer's uncanny ability to remember conservations with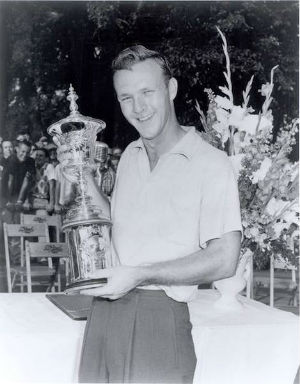 complete strangers and to treat and greet them like old friends. It is a rare gift - one that a certain Tiger Woods does not possess.
In contrast to The King, Tiger Woods spends little time with fans, walking past them and signing as few autographs as he can get away with. Nonetheless, the world No1 seems to have been forgiven for his transgressions. Having lost many of his blue-chip sponsors at the height of his extra-marital scandal, he picked up a cool $83m in 2013, still short of the $100m figure he was earning before the roof fell in. He still has Nike, Rolex and Upper Deck on board, to name but three, and his earnings made up roughly 44 percent of the PGA's revenue.
Woods hasn't won a major since 2008, but he did pick up five titles in 2013, earning $8.3m in prize money alone and is believed to have now taken his all-time earnings to $1.3 BILLION! It is estimated that "just" $155m of those earnings come from prize money.
Woods's current net worth has been pegged at $500 million, according to wealth tracking websiter The Richest, making him the second richest African American behind television superstar personality Oprah Winfrey. It is safe to assume that those figures would rocket if he were to win the four majors he needs to overhaul Jack Nicklaus and become the most successful golfer of all time. Of course, there are those who argue that Tiger is the best there has ever been, but most people still believe that majors are the standard by which greatness is measured. Tiger has 14, Jack has 18. Period.
It is interesting to note that golf's second-highest earner in 2013, with $52m, was Phil Mickelson. The left-hander is the closest that today's game has to Palmer. No matter how he has played, Mickelson will sign autographs at the end of his round until there is nobody left. He is always ready with a smile, a gesture (a polite gesture) and a word for his fans.
It makes you wonder how much Woods would have pulled in by now had he been a nicer person.
Image Credit : Bay Hill Golf Club Facebook Page
---
Derek Clements is a sports journalist with a particular passion for golf with over 12 years of experience covering golf and other sports including Chief Sub-Editor on the sports desk of The Sunday Times. To contact Derek email direct via [email protected]
---
Related Articles
Stenson - The comeback story of 2014
The race that seems to go on forever
---

Be part of the action with a selection of unique golf tournament experiences, from playing in a pro-am with the stars to watching the action at golf's most illustrious events. Whether it's the Masters or The Open, The Ryder Cup or WM Phoenix Open, build your own bespoke package with the experts at Golfbreaks.com.
---
---
PLAY MORE PLAY BETTER - LATEST TUITION TIPS
---