Golf clubs see the benefit of Midland Golf Week
---
NEARLY 300 new golf club members signed up during Midlands Golf Week 2013 – helping generate more than £265,000 worth of income for clubs across the region.
The ten-day festival of golf held across eight counties saw a record number of would-be golfers take up club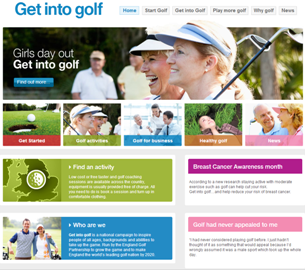 membership after enjoying the wide range of activities on offer from taster sessions and roadshows to coaching programmes and open days.
Figures released by the England Golf Partnership show that a total of 3,231 people got involved during Midlands Golf Week.
More clubs than ever before – 136 - signed up to support the third Get into golf project, which took place in April following the US Masters, with 281 participants going on to join clubs while 573 took up further coaching opportunities.
With a new member valued at an average of £951.80 in terms of their membership fee and spending on drinks, food, coaching and in the pro's shop, this equates to a total of £267,455.80 worth of new revenues flowing into the clubs.
Sharon Heeley, regional development officer for England, says: "Midlands Golf Week is attracting increasing support from clubs across the region and it has become an important fixture on the golfing calendar to promote the sport at the start of the summer months.
"The increasing number of clubs playing host to events – and the higher number of people going along for further coaching and on into golf club membership – shows the value of Midlands Golf Week, both to those interested in trying the sport and to the long-term future of the clubs.
"Clubs had a lot to contend with this year due to the disappointing weather, but still managed to put on a range of events to appeal to those interested in finding out more about golf.
"The fact that they then supported the taster and coaching sessions with affordable and flexible membership offers shows that they are taking a proactive and innovative approach to protecting the long-term future of the sport."
This year's Midlands Golf Week saw eight counties take part for the first time, bringing together development officers, county organisations, clubs and PGA professionals in Shropshire, Herefordshire, Leicestershire, Worcestershire, Warwickshire, Staffordshire, Rutland and newcomers Northamptonshire.
The event, which included two weekends for the first time, was publicised by a series of public roadshows, which offered the chance to swing a real golf club and hit golf balls in an inflatable net. Venues included supermarkets, garden centres and DIY stores.
Midlands Golf Week was endorsed by Olympic medal-winning athlete Steve Backley, himself an enthusiastic golfer.
Nearly 8,000 would-be golfers have seized the opportunity to give the sport a go during its first three years.
Get into golf is a national campaign to inspire new golfers run by the England Golf Partnership through its network of County Golf Partnerships, which work to grow the game.
Get into golf opportunities include free or low-cost beginner courses with PGA professionals. They are a fun and sociable way to start golf – and a great way to make new friends.
Discounted lessons can cost as little as £25 for a five-week course.
To find your nearest centre visit getintogolf.org and look at the activity map or call 0800 118 2766
You can follow Get into golf on Twitter twitter.com/getintogolf or on Facebook at facebook.com/Getintogolf
---
Friendly, flexible and family oriented golf courses could double the number of golfers
---
Tags: get into golf
---
PLAY MORE PLAY BETTER - LATEST TUITION TIPS
---