Wilson D-100 - Feature Review
---
Wilson Staff are a heritage brand and have a name that is still held in high regard by golfers around the world. Unlike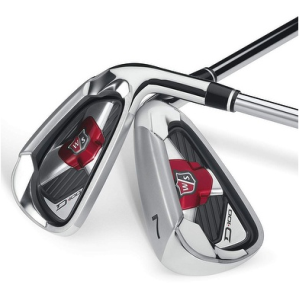 some of their heritage counterparts who have seen multiple owners and differing levels of production quality over recent years, Wilson have held to their principles and continue to produce and build market leading clubs.
So when a set of the new
Wilson D 100's
landed at Golfshake I was keen to hit the practice ground and put them through their paces.
D-100 technical specifications
Wilson's D-100 irons are aimed at the game improvement market and as a result they have worked on making improvements to the areas of the club that will increase forgiveness, stability and distance:
This is what Wilson say about their new D-100 iron:
Super Light Technology works and the results speak for themselves; these are the longest irons Wilson Staff has ever produced. The D-100 Irons are engineered with ultimate performance-enhancing technology for players who demand distance and accuracy. With more weight removed from the shaft, grip and club head, these irons perform with The Right Light.
1. Large, Thin, Unsupported Face
- 7% thinner iron face delivers faster ball speeds and unsurpassed distance.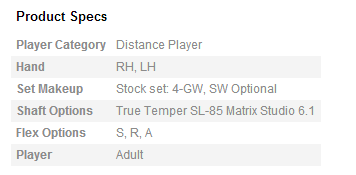 2. Higher MOI - Exoskeleton technology coupled with an undercut cavity allows 35% more mass to be moved to the sole, heel and toe areas for extreme perimeter weighting and forgiveness.
3. Progressive Head Design - Optimized head proportions throughout the iron set deliver ideal launch angles, ball speeds and spin rates for each loft.
The shaft that Wilson have matched with the iron is in keeping with the super-light theme and is a 85 gram True Temper shaft. The club is completed with a black rubber compound Wilson grip.
Looks
Despite clearly being a game improvement club, Wilson have managed to keep the top edge relatively thin and the head shape is attractive while still inspiring confidence for the game improvement player. The head itself is polished chrome and as you would expect there is the usual slick insert in the cavity, which is both cosmetic and adds weight to important areas of the face, inparticular the sweet spot.
Feel
The fact that Wilson has set out to make a lighter set of irons means that they did take a little while to get used to, but once I started to time the ball they felt really good. Very solid off the face and inspired confidence in the strike. The head is made from a single cast piece of stainless steel, so if you are looking for a very soft forged feel, these may not be for you.
Playability
As with all game improvement irons you are going to sacrifice some playability for extra control, consistency and ease of strike. The increase in face thinness and
MOI
meant that these were some of the most stable irons we have ever tested at Golfshake and will certainly help your ball striking.
Pros
The lightness of the D-100 means that you will gain some distance on a standard set and while they club is a game improvement iron, Wilson have managed not to make the head and top line look too chunky. They have also created an Iron that will help significantly with your ball striking if you are a mid-high handicapper.
Cons
The lack of playability is probably the biggest con, but saying that you cannot have the best of everything and Wilson have made the right compromises in this model to increase it's forgiveness.
The Bottom Line
Over the past few years Wilson have produced several great sets of irons and this is another, the difference is this is the first to part of a
family of woods and hybrids.
They have managed to find just the right compromise between looks and forgiveness. The light head and shaft may not be for everyone and will certainly take some time to get used to, but the extra added distance is a great bonus. The bottom line is that for a mid-high handicapper these are a great modern club, packed with technology and will almost certainly help your game.
Golfshake Rating 4/5
---
Tags: wilson
---
PLAY MORE PLAY BETTER - LATEST TUITION TIPS
---