Free cart bag when you upgrade to Powakaddy Freeway range
---
Market-leading electric trolley brand, PowaKaddy (PK) has long been dedicated to incentivising its loyal consumer following with attractive promotions throughout the year and recently announced its latest, great-value offer ahead of the summer golfing season. For a limited 6 week period the iconic trolley manufacturer will provide a free PK cart bag, worth up to £149.99 to anyone who purchases one of the three critically-acclaimed models within its 2013 Freeway Family.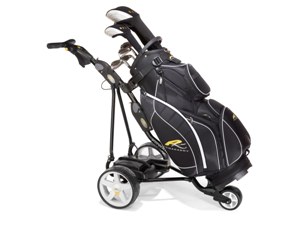 Those opting for the ultimate performance of PowaKaddy's top-of-the-range Freeway SPORT or award-winning Freeway Digital+ trolleys will be able to choose from the following PK cart bags, Deluxe Nylon, SPORT, LITE or Ladies LITE. Golfers loyal to the easy-to-use functionality of the famous Freeway standard model; which to this day remains the world's best-selling trolley, can match their trolley with either a SPORT, LITE or Ladies LITE cart bag.
To take advantage of this fantastic offer simply purchase the PK Freeway electric trolley model of your choice between Monday 17th June and 31st July 2013 and then visit
www.powakaddy.com
to claim your free cart bag whilst stocks last. With the golf season about to get into full swing, this promotion ensures your new PK electric trolley will be perfectly complimented and matched with a stylish PK cart bag that is packed full of features designed to cater for every on-course requirement.
PowaKaddy declared it's time to make 'Freeway Your Way' when it launched its performance-infused Freeway Family earlier this year. The three stylish and technologically-advanced models within the range herald a new dawn of its world-famous Freeway franchise. Inspired by the rich heritage of the Freeway marque, the 2013 Freeway Family encompasses a stylish new Freeway model, an enhanced Freeway Digital+ and the new Freeway SPORT. The latter has seen the critically-acclaimed PK SPORT model rebranded to spearhead the magnificent range, which looks set to strengthen the brand's position as the leader in the electric golf trolley market. With unerring reliability, robust performance and sporty design features resonating throughout, the Freeway Family offers outstanding on-course performance at a selection of attractive price points.
The market-leading
PowaKaddy cart bag range
has been manufactured specifically, but not exclusively, for use on PK electric trolleys with its innovative Keylock system which securely fastens the bag to the key plate of the trolley.
DELUXE - The Deluxe Nylon bag is extremely lightweight and superbly designed. It features a 14-way divider so that each club has its own space. The integrated new oversized 'E-ZEE' grip handle ensures you can move your bag easily. It also has plenty of pockets for all your golfing gear and also has the PowaKaddy Key Lock system which ensures your bag stays on your PowaKaddy electric trolley securely. The Deluxe is available in a classic Black/White colour option.
SPORT – The stylish SPORT cart bag is lightweight, yet sturdy and constructed with durable materials. This expertly designed cart bag comes with ample space for storage of all your golfing gear and has a mass of features to give great performance. It is a perfect match for all PowaKaddy trolleys and features 11 full-length dividers and an impressive 9 storage pockets. Representing great value for money, the SPORT is available in a contemporary Black/Silver colour option.
LITE & LADIES LITE – This classic cart bag features the latest in styling and innovative functionality. It not only looks fantastic but features plenty of easy to access spacious pockets for all your balls, gloves, clothing and accessories. The LITE bag is extremely lightweight and has 7 full-length club dividers, whilst the Ladies LITE is blessed with a 14 way top divider with full-length protection. It also features an oversized main grab handle for ease of movement. Constructed from a Nylon fabric for enhanced water repellence and durability, this elegant cart bag comes in Black/Silver/Blue, Black/Silver/Red and a fresh modern Grey/Pink for female golfers.
For further information on the PK Freeway Family and all other products in the 2013 range visit
www.powakaddy.com
---
---
PLAY MORE PLAY BETTER - LATEST TUITION TIPS
---