COBRA launch AMP CELL Ladies range for 2013
---
COBRA: Press Release
COBRA AMP CELL Women's Driver
COBRA Golf is launching the AMP CELL Women's Driver, featuring COBRA's proprietary MyFly technology. This technology allows golfers to select from 6 different lofts (in one club) for optimized performance and distance based on a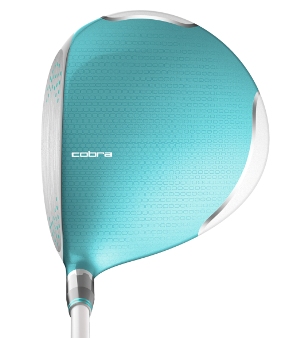 golfers' swing speed or weather and course conditions. An added bonus - the AMP CELL Women's Driver is available in three colors – Green Pearl, Cabaret Pink and, Lexi Thompson's favorite, Capri Blue.
MyFly Technology offers a simple solution for golfers to optimize trajectory and distance. The AMP CELL Women's Driver can be adjusted to the following lofts with a simple wrench; 11.5°, 12.5°, 12.5° Draw, 13.5°, 13.5° Draw and 14.5°. Golfers can now customize their club based on swing speed (higher lofts for slower swing speeds and lower lofts for faster swing speeds), weather (lower lofts to bring ball flight down in headwind) and course conditions (lower loft on firm courses for roll).
The AMP CELL Women's Driver takes adjustability a step further with SmartPad technology. Unlike other drivers that require a golfer to adjust the sole plate after adjusting loft for a square face, COBRA's proprietary SmartPad technology keeps a square face at address regardless of loft setting and still allows for workability to slightly open or close the face as desired.
COBRA's E9 Face TechnologyTM with dual roll is used in the AMP CELL Women's Driver for an elliptical face shape with a canted bulge and roll that improves distance and accuracy on mis-hits from heel to toe and above and below the centerline.
Advanced Material PlacementTM and Cell technology work together to enable a 12% larger elliptical E9 Face shape to deliver faster ball speeds and high MOI (moment of inertia) on mis-hits. The Cell technology saves and redistributes weight in a granular way and is visible on the drivers in the Cell band which wraps around to the crown. This wrap also visibly shows a golfer where the weight is distributed, with the AMP CELL Driver having a CG optimized for low-mid handicap players and the AMP CELL Offset have a heel-biased CG for slice correction.
Taking choice and customization one step further, COBRA is offering the AMP CELL Women's Driver in three cool colors; Green Pearl, Cabaret Pink and Capri Blue. The sole of the club features a curved CELL band in the featured color and the crown of the club is the solid featured color. The white Fujikura Fuel® shaft features an edgy paint splatter graphic.
COBRA AMP CELL Women's Irons
COBRA Golf has launched the all new AMP CELL Women's Irons, packed with the latest in technology and looks. With a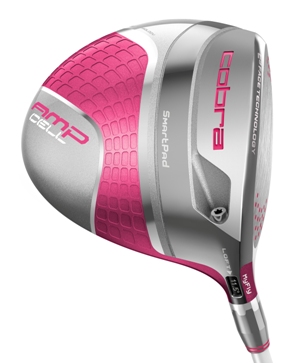 metalwood face-weld construction, E9 Face Technology, AMP CELL technology, a V-Skid sole design, vibration management system and Speed Channel™, these irons are positioned to deliver explosive distance, maximum forgiveness and pinpoint accuracy.
"Our AMP CELL Women's Irons will bring women the innovation and technology they are looking for on the course," said Tom Preece, Vice President of Research and Development. "The lighter face, metalwood technology and E9 Face Technology work together to deliver precise accuracy, distance and forgiveness."
The AMP CELL Women's 5 through 7 irons feature a metalwood construction with a thin, high strength steel face that is welded to a softer 431 stainless steel body. This optimizes the irons to create a COR zone, controlled weighting and provides a lighter face; all working together to generate faster ball speeds for improved distance and forgiveness.
COBRA's proprietary E9 Face Technology gives the AMP CELL Women's Irons a progressive face and cavity design to optimize the performance of each individual iron to improve distance, feel and forgiveness based on golfers most common impact patterns.
The internal cell weighting in AMP CELL technology enables precise CG placement, moving weight from the face and body to create perimeter weighting which positions the CG behind the Sweet Zone®. This provides high launch and increased moment of inertia (MOI) for greater forgiveness.
The V-Skid sole is a configuration that works with all swing types and turf condition for a forgiving iron for high handicaps and a versatile iron for low handicaps. This works with the vibration management system to reduce unwanted vibration and sound for exceptional feel.
The COBRA AMP CELL Women's Irons are available in right handed models with set composition 5-P,G,S. The 8 piece sets (5-PW, GW, SW) are available with a street price of $899. The irons feature a COBRA MRC AMP CELL Shaft. All irons feature a Lamkin® REL grip designed specifically for AMP CELL Women's Irons.
---
Tags: cobra
---
PLAY MORE PLAY BETTER - LATEST TUITION TIPS
---