---
For many years golf grips did not change a much. Original leather wraps were slowly replaced by more stable rubber compounds. That all changed in the mid 2000's when technology enabled coloured rubber compou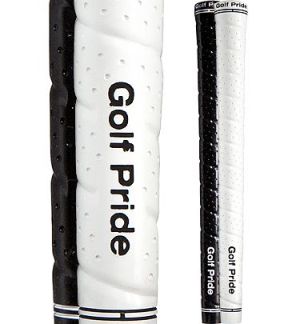 nds to deliver the performance levels required by tour golfers. The result was an explosion of colour and brand awareness.
Golf Pride
Golf Pride are perhaps the most well known of all the grip companies in the World. Having led the way in the PGA and European Tour usage stats for the past few decades.
Underpinning the success of Golfpride is the humble Tour Velvet grip. A simple black rubber compound, it is still favoured by many of the world's top players. The Tour Velvet is available in many incarnations including: midsize, jumbo, undersize, full-cord and half-cord
While Golf Pride have long produced an exceptional range of grips with many products proving hugely popular including the Tour Wrap, DD2 and VDR, it was the introduction of the Multi Compound that set a new standard in Golf Grip production and finally made the holy grail of golf grip technology , a coloured golf grip, become a reality. The Multi Compound matches a performance corded black rubber top half, with a soft feel coloured bottom half. The multi compound became an instant hit both amongst tour pros and amateur golfers.
2012 has seen the introduction of the latest range of performance grips from Golf Pride, including the new Decade Multi Compound Whiteout, Z-grip cord and Tour 2-5.
Lamkin
Much like It's rival Golf Pride, Lamkin has been a long established golf grip brand and is favoured by many tour pros, particularly in the US and has also built its success on one particular model; the Crossline. The Crossline takes its name from the distinctive pattern that runs the length of the grip and features a black rubber compound with a strong resistance to torque. The Lamkin Crossline is available in undersize, standard, midsize, Jumbo and full-cord.
In the past 5 years Lamkin has experimented with new compounds and materials joining the coloured grip revolution. Lamkin now offers a hugely extensive range of coloured grip compounds. At the forefront of this range is the Lamkin REL 3Gen and Lamkin NDUR 3Gen grips. The Lamkin 3Gen range of grips are designed with comfort and control in mind, featuring a simplified surface pattern for extra tackiness and shock dampening technology.
Winn
Another established brand, Winn has been making grips for decades, but was originally a Tennis grip company and was founded by an aero space engineer, so as you might expect they are packed with technology and as a result Winn grips differ significantly from the traditional rubber compound grip.
Winn grips are generally made from an inner rubber compound which is then overlaid by a synthetic polymer. Winn believe that this method of manufacturing grips helps produce the best grip on the market with the most feel, while not compromising on stability. Hugely popular in the United States, Winn continue to see growth in the rest of the world with many leading Putter manufacturers choosing to use Winn grips for their products.
Winn now produce a large range of grips with different cores and polymer synthetic layers, these range in size and feel and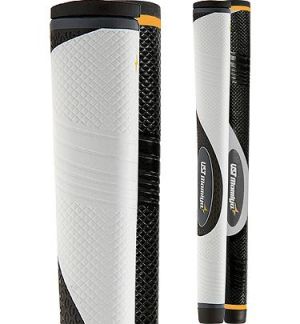 include the latest Winn Dri-Tac, which Winn claim to be their tackiest grip to date.
UST Mamiya
The explosion of coloured grips onto the market paved the way for new brands to make an impact. One of these is UST, although a leading shaft manufacturer UST had not made grips before. They launched into the market with a rubber compound cord grip which proved popular with many mid-price point manufacturers.
Since that first foray into the market UST have expanded the range to include multiple rubber compounds, including the Comp SC, Pro Dc and DV Torsion. They continue to innovate and expand the range for 2012 and have launched the Soft touch grip both in standard and putter grips employing new polyurethane materials for soft feel.
The Grip Master
The Grip Master range of grips has been gradually winning a loyal fan base the world over. They are considered by many to be some of the best golf grips on the market although they do not come cheap.
The significant difference to other brands on the market is that Grip master are made from real leather which is combined with an under-listing to produce a one-piece slip on grip. There are certainly some unusual leathers used including Kangaroo, Montana Cow and Sea Snake. This might seem weird and wonderful, but Grip Master has certainly won over a huge amount of golfers including many on tour.
Grip Master grips can be purchased in a range of colours and sizes. Putter grips are also available.
DIY Re-gripping.
With such a range of grips on the market, why not try a few out? You can easily change grips at home with a simple kit and instructions or alternatively ask your local PGA pro to do it for you.
You can view Golfshake's DIY Re-grip article – Click here
You can purchase a DIY Re-grip pack and an extensive range of the leading grips from Golfshake retail partner Golffusion – Click here
---
---
PLAY MORE PLAY BETTER - LATEST TUITION TIPS
---