Review of Golf GPS Devices
---
GPS units have come a long way from being a basic unit with simple distance to hazards and a few points on the green. Many units now hold data on over 30'000 golf courses and boast impressive full colour HD touch screens. Accuracy has increased with the improvement in antenna and satellite technology. With nearly all golf clubs now allowing use of GPS units they have become a must for any serious golfer.
Golfshake have taken a look at some of the most advanced units available on today's market.
GolfBuddy World Platinum
The GolfBuddy World Platinum is Golfbuddy's latest and most innovative GPS unit. Up to 40,000 courses can be stored and it uses a system of 50 satellites to improve speed and allows for instant course data access.
A TFT screen means that you can touch the display at any point on the hole and a yardage will be provided.
The facility to zoom in and out of each hole is also provided as well as a useful dynamic green feature which allows for a user to mover then pin on the green to the correct point to receive a more precise yardage.
Courses can be custom mapped to add in any new features or individual reference points.
Score tracking is also included via a digital display and will convert scores to stableford points. There are no download of contract fees from GolfBuddy meaning that all costs are paid up-front.
GolfBuddy Voice
The new GolfBuddy Voice is the first talking GPS unit. Although offering a basic display the voice will speak the distance to the front, back and middle of green giving you a virtual caddie!
The Voice is pre-loaded with both UK and World golf courses in addition it has the capacity to hold up to 40'000 courses.
The unit weighs just 1oz and measures 1.7" square and also features a multiple and dynamic green select.
Garmin Approach G6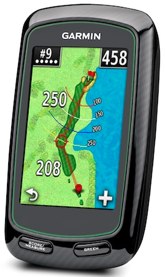 Garmin is a major player in the road and traffic GPS market and in recent years has turned its expertise to the golf GPS market. The Garmin Approach G6 has no subscription or download fees and comes with over 27'000 courses pre-loaded.
Features include layup arcs for more accurate distances from the tee and into the green as well as customisable hazard distance data entry. A digital scorecard is also available, as is the ability to create average distances for each club in the bag.
The Approach G6 has a 2.6" full colour LCD screen that is designed to be used in bright sunlight and weighs just 95.6g. The battery will is re-chargeable and will last for up to 16 hours allowing for a potential of 4 rounds of golf on a single charge.
Garmin Approach S3
The Garmin Approach S3 is the latest in Garmin's wrist watch style GPS devices. Available in black and white, the Approach S3 features a touch screen with the ability to dynamically move the pin when on' green view' to produce more accurate distances when approaching the green. There are 27'000 courses pre-loaded. The S3 will also function as an everyday wrist watch.
Features include the ability to show layup distances, green views, dynamic movement of the pin and measurement of shot distances. The S3 also allows you to customize holes and courses, which means you can add and remove personal distances.
Skycaddie SGXw
Skycaddie continue to be at the forefront of Golf GPS technology, this is evidenced by the Skycaddie SGXw which is Skycaddie's most advanced unit. The SGXw is wireless enabled meaning that downloading courses is now easier and faster through a WI-FI connection.
The SGXw unit is also Skycaddie's most up to date unit and will measure distance in sub-metre precision. The SGXw also boasts a 3" full colour, transflective LCD screen for use in even the brightest sunshine. A graphical view of each hole is available with zoom and green slope data intelligence. Included is also the ability to track your game via a digital scorecard.
Skycaddie claim to have the most accurate mapping of GPS manufacturer and this accomplished via their team of GPS map makers who walk every golf course and input all relevant data into the Skycaddie systems. Skycaddie believe this is the best and most trustworthy way of collating course data.
Sonocaddie V500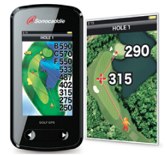 Sonocaddie have been one of the leading players in the emergence of GPS units within the golf market. They have had particular success in America and Asia, but is now growing a dedicated following within Europe. The success of Sonocaddie is built on high quality technical GPS units and the Sonocaddie V500 is their newest and most advanced model.
The Sonocaddie V500 features a full colour 3" touch screen that has been specially developed to be used in bright sunlight. There is no need for downloads as the vast majority of the worlds courses are per-loaded onto the V500 unit. A graphical view of each hole is available as well as satellite images of each hole for a real world view. At the start of each hole a user can also request a flyover providing a detailed graphical bird's eye sequence.
Tracking your game is made easy by the V500 with a digital scorecard and stat tracking. Results and stats can be displayed at the end of each round. The ability to edit a course and add in hazards or personal distance indicators is also available. The battery is re-chargeable and is useable for up to 12 hours at a time.
Shotmiser G700 GPS
The Shotmiser G700 was recently voted best value GPS which comes in under £250 described as being 'a great unit, with a great screen at a fantastic price'.
With a full colour super bright LCD touchscreen that measures 3.5 inches corner to corner you shouldn't have any problems viewing the screen which offers maximum coverage of the course imagery.
The touchscreen provides point to point distance accuracy to any point on a particular hole allowing you to get data for critical hazards, layups and green targets.
Score tracking is also available on the Shotmiser G700, which will automatically track FIR, GIR & sand shots plus allow you to record putts and penalties. These features can be turned on or off.
---
---
PLAY MORE PLAY BETTER - LATEST TUITION TIPS
---