Let's Name Luke Donald as 2025 Ryder Cup Captain Now
---
The last man to do more than one stint as Europe's Ryder Cup captain was Bernard Gallacher, who led Europe in 1991, 1993 and 1995. The Scot bowed out after a victorious campaign in 1995.
Thirty years on, the event has changed hugely. There were suggestions that Bernhard Langer and Paul McGinley might be persuaded to take on a second term but both men declined.
Luke Donald, who led Europe to victory at Marco Simone in 2023, did not put a foot wrong after being called in to replace Henrik Stenson when the Swede defected to LIV Golf.
While US captain Zach Johnson often looked like a rabbit caught in headlights and made some bizarre selection decisions, Donald was the picture of calm.
And in the immediate aftermath, he hinted that he might be tempted to do the job for two more years. Europe have a superb recent record on home soil - the last time they lost was 1993 at The Belfry.
But it is a different story on the other side of the Atlantic. They haven't won on American soil since 2012 and the Miracle at Medinah.
The 2025 match will be played Bethpage Black, one of the toughest golf courses in the United States. And the man tasked with leading Europe will have a massive task on his plate.
So not only did Donald say that he could be persuaded, but the players also made it clear that they want him to stay on. Now is the time to end the speculation and he should be confirmed as soon as possible.
You may wonder exactly what a Ryder Cup captain does. Trust me when I tell you that the job takes over his life.
He lives, sleeps, eats, drinks and breathes the Ryder Cup. He has a say in where the players stay, he helps design outfits, he picks the suits worn at the official functions, he travels all over the world keeping an eye on fringe players, he selects wild cards, he names vice-captains and he picks the foursomes and four ball combinations and then has to decide the order of play in the singles.
He also has to work out which players work best with one another. Donald has proved he can do all of that and more.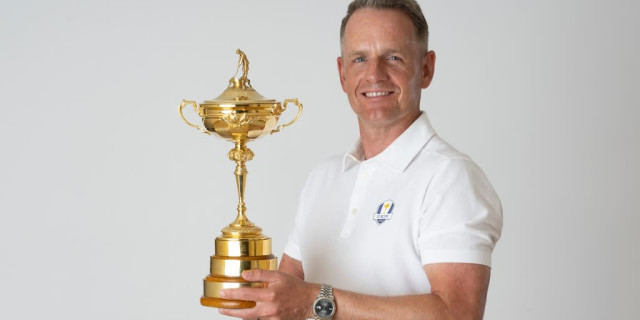 Hal Sutton proved how bad captaincy can cost his team. In 2004 his masterplan was to pair Tiger Woods and Phil Mickelson together and when it didn't work he had no Plan B.
European players chanted "two more years" at Donald during his victory speech, while Rory McIlroy said in the post-event press conference he would be "very happy" to see the Englishman back in the role for the next edition at Bethpage.
Here is what Justin Rose had to say: "I don't make the decisions, but if Luke wants it then he should get it..
"There's so much learning that goes into being a Ryder Cup captain and after all the things that he has learned over the last two years, it would be a shame not to put into play once again next time around.
"I think the job would seem a lot easier for him second time around. I think as a home team captain there's a lot of responsibility and you have to do a lot of extra organising, as you've got to think about course set-up, the events and the hosting side of things.
"Being an away captain, you can focus on the team but a lot of the other stuff is for the other side to do, so I think coming in second time around it might feel like a bit of a straightforward mission for Luke. I would definitely be a big advocate for that.
"Luke was himself, which I think is the most important thing. He has always been unassuming in stature but obviously very intelligent, very smart and a hell of a competitor underneath that exterior of him coming across as quite laidback.
"He brought all of those attributes into the team room but he never got too intense, which I think put a lot of the players at ease. He was so organised and everything was just in place, so there was never any panic or fluster.
"His messaging was consistent and on point all the time, so that just gave the team a very clear plan. He had a plan and he executed his plan brilliantly, so the players could get behind it, get on board on it and there was no reactiveness going on.
"The European team has a bit of a face for the future now and I felt like it was really nice in the way we all just jelled together. Luke obviously deserves a lot of credit really for how he got our team building and bonding going.
"Ror has mentioned how winning an away Ryder Cup is a huge goal and a great achievement in the sport, so that's definitely going to be what gets all our attention."
So there you have it. Naming Donald now, and ending all the speculation, is a no-brainer.
---
Related Content
How You Can Attend The 2025 Ryder Cup
---

The Ryder Cup is unlike any other tournament in golf and the atmosphere is something that every golf fan should experience. The experts at Golfbreaks.com can help with all aspects of your Ryder Cup experience, from accommodation and ticket packages to hospitality and travel and playing some of the fantastic nearby courses.
---
---
What do you think? leave your comments below (Comments)
---
Tags: ryder cup PGA Tour european tour dp world tour
---
comments powered by

Disqus