Does Anybody Care LIV Doesn't Get World Ranking Points?
---
For this week's View From The Fairway, Golfshake's Derek Clements reflects on whether LIV golfers should be awarded OWGR points.
---
YOU will almost certainly know that LIV Golf has failed in its latest attempt to have its tournaments recognised for world ranking points.
And I have to ask - does anybody care?
Has professional golf suffered as a result of the likes of Dustin Johnson, Cameron Smith, Brooks Koepka and Bryson DeChambeau no longer competing on the PGA Tour? I would argue that it hasn't. It has actually been quite refreshing not to have to keep reading about Koepka and DeChambeau being at each other's throats, especially when you learn that Koepka has revealed that he signed a $100m contract to join LIV - and that's without taking into account the tens of millions he has picked up in prize money.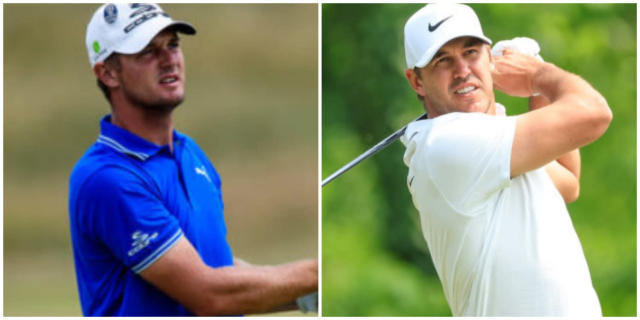 Indeed, I would argue that the raft of new talent on both the PGA Tour and DP World Tour has actually made the sport more entertaining. Ludvig Aberg, the Hojgaard twins, Akshay Bhatia, Vincent Norrman, Sahith Theegala, the emergence of Viktor Hovland as a superstar, Tom Kim winning for the third time on the PGA Tour at the age of 21 - it all bodes well for the future.
Not everybody agrees, of course.
You will not be surprised to learn that 2022 Open champion Cameron Smith, who now makes his living with LIV Golf, says the world rankings are obsolete.
Well, he would, wouldn't he? When he jumped ship, Smith was ranked second in the world. He is now 18th and in freefall. Koepka (17th) is the only other LIV golfer in the top 50 but he did at least finish second at The Masters and won the US PGA Championship.
He said: "I think it [OWGR] is almost obsolete now. We've got some guys out here who are playing some of the best golf in the world and they're outside the top 100, 200 in the world. It's pretty ridiculous."
Former world number one Johnson, who won the 2016 US Open and 2020 Masters, claims the rankings are no longer fit for purpose.
"I feel like you can't really use the world ranking system any more," the 39-year-old said. "Hard to use the world ranking system if you're excluding 48 guys that are good players. The rankings are skewed."
Former Masters champion Patrick Reed joined the chorus of dissent. He said: "Until the actual world ranking reflects the actual top players in the world, then to me it's just kind of a broken system… Just because we play on a different tour, it shouldn't matter."
Majors such as The Open, US Open and Masters use the world rankings to help determine their fields. LIV players without exemptions courtesy of previous major successes will find it increasingly difficult to become eligible for the game's biggest tournaments.
Indeed, Reed now only has his 2018 Masters victory as eligibility criterion for the majors.
Talor Gooch won three LIV events and the overall individual title in 2023 and has pocketed more than $45m. But he is now outside the top 200 in the world rankings and will not be eligible to play in any of the majors in 2024. Some will say that cannot be right but he played in three majors this year and missed the cut in two of them.
DeChambeau called on the majors to find different ways to accommodate LIV's leading players rather than rely on world rankings.
"We would love to find another way to be integrated into the major championship system," he said."I think we have some of the best players in the world. Top 12 on the list, the money list at the end of the year or the points list at the end of the year would be, I think, obvious for the major championships to host the best players in the world at those four events each year."
Let's remember that the LIV golfers not only play 54-hole tournaments with no cut but their schedule is hardly a packed one. They are playing less competitive golf so the argument that they remain the best golfers in the world is difficult to swallow. They may be the richest but the best?
And it stands to reason that if they ever were to be awarded ranking points they would have to be on a reduced basis to reflect the fact that they have 48-man fields while the DP World Tour PGA Tour have 156 competing on a regular basis.
OWGR cited LIV's 48-man fields as one of the reasons for refusing to award points.
Peter Dawson, chairman of OWGR, said in a letter to LIV: "The board committee does not believe it is equitable to thousands of players who strive every day to get starts in OWGR eligible tournaments to have a tour operate in this mostly closed fashion."
And that seems fair enough. However, there are going to be a number of limited-field, no-cut tournaments offering huge prize funds on the PGA Tour next year. It strikes me that if there really is meant to be a level playing field then no ranking points should be awarded as these events either.
LIV would be perfectly entitled to ask what's the difference between those events and what has been happening on the breakaway circuit. I believe only the promise of a peace deal will prevent yet another legal challenge over this issue.
However, it is becoming increasingly difficult to see how any kind of a deal is going to work. If the PGA Tour finds a way to allow LIV members to play mainstream tournaments again then surely PGA Tour will expect to be able to take part in LIV's tournaments. And how on earth can that possibly work?
LIV's 14-tournament schedule is funded by Saudi Arabia's Public Investment Fund, which is currently in talks with the PGA and DP World Tours to try to ratify a framework agreement struck last June.
The outcome of those negotiations could shape the future of men's professional golf but for 2024, at least, LIV is expected to run what will be its third season in parallel rather than in conjunction with the established circuits.
They had hoped to produce a workable framework by the end of 2023 but this is looking increasingly unlikely and I have to say that I am beginning to seriously doubt that it can ever happen. There are simply too many people to satisfy.
It is also interesting to note that LIV has just signed a multi-year agreement with Asprey to provide its trophies - does that sound like a tour that does not expect to be continuing to furrow its own path?
---

Be part of the action with a selection of unique golf tournament experiences, from playing in a pro-am with the stars to watching the action at golf's most illustrious events. Whether it's the Masters or The Open, The Ryder Cup or WM Phoenix Open, build your own bespoke package with the experts at Golfbreaks.com.
---
What do you think? leave your comments below (Comments)
---
---
comments powered by

Disqus