FootJoy Launches New Autumn Winter Golf Apparel
---
Following the gigantic success of the ThermoSeries and HydroSeries, further options have been added to the glittering lineup for male and female golfers.
The AW23 (Autumn/Winter 2023) apparel will be available through FJ stockists from 4 September.
ThermoSeries
The idea behind the ThermoSeries was to have a collection of garments that were designed to be worn with one another, with the look providing thermal protection with the ability to adapt to varying conditions on the course.
For the autumn and winter months, FootJoy have added an all-new Seaglass option that will be available in the men's ThermoSeries jacket, vest and mid-layer.
The new offering complements the navy and charcoal jacket, vest, mid-layer and trousers; all previous releases will continue to be available.
Furthermore, a brand new ThermoSeries full-zip hoodie has been implemented with the colder seasons on the horizon.
The hoodie features Jersey fleece stretch fabric for additional warmth, heat retention and an exceptionally soft feel.
Included within the other fresh additions to the men's line are colour-block full-zip chillout and Jersey solid chill-out, which offers a cosy amount of warmth that does not impede performance on the course.
Two new jackets have been unveiled for the women's market, which are available in navy and canal blue.
Waffle fleece back fabric provides the desired warmth and thermal retention, whilst a water-resistant DWR finish protects golfers against light rain.
Finally, a stylish asymmetric full-zip fleece, all-new quilted hybrid jackets, vests and full-zip wind shirts provide female golfers with more choice than ever in readiness to combat the cooler months.
HydroSeries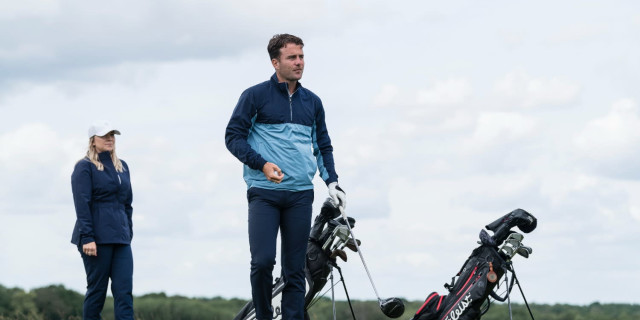 FootJoy have a phenomenal reputation in the outwear apparel market and that has been further bolstered from updating their HydroSeries range to protect golfers in any condition during any time of the year.
The HydroTour provides the golfer with ultimate protection against the harshest of elements; HydroLite and HydroKnit are lightweight options that remain viable all year long.
There are two new colour options in the men's HydroTour jacket, whilst some of the most popular styles from HydroLite and HydroKnit remain available.
Women will be interested in the full HydroLite suits that are available in both black and navy - which also boast a tailored fit and zippered hand pockets.
The Autumn Winter 2023 apparel line will be available for purchasing from 4 September 2023.
For more information, please visit https://www.footjoy.co.uk/.
---
What do you think? leave your comments below (Comments)
---
Tags: gear Footjoy equipment Apparel
---
comments powered by

Disqus