LA Golf Launches Revolutionary Putters in The UK
---
LA Golf are continuing to make serious waves in the golf industry. The company has recently launched a ball in the USA that it claims performs better than the Titleist Pro V1 - and independent testing bears out their claims. It will be available in the UK soon.
And they have now just launched two new putters to the UK market - the heel-toe weighted blade Bel-Air and the midsize mallet Malibu.
LA Golf founder Reed Dickens has been pretty vocal in his criticism of his rivals, pointing out that most of them are fitting their putters with shafts that cost about $5 and charging customers hundreds of dollars for their product.
Remember that you will use no club in your bag more than your putter, so why wouldn't you want to put the best possible implement in your golf bag?
Dickens says: "Nobody had innovated shafts in 50 years. Every shaft is mass produced and rolled like an ice cream cone in factories overseas. You have golfers using putters with a flat face, a solid steel head, a tiny sweet spot and a $5 shaft now you have an alternative that addresses all of those flaws.
"We figured out how to make an even better putter for less money. Our sweet spot is larger, our graphite shaft is completely stable so the head doesn't contort on impact, and we have the 'Descending Loft' face so no matter where you strike the ball in the arc, it'll have optimal roll off the face."
I had the chance to try these putters at a recent press launch in London and I am here to tell you that they feel and look fabulous. They are not cheap but if you are prepared to pay £500 for a driver, why wouldn't you pay the same for a club you will use on every single hole?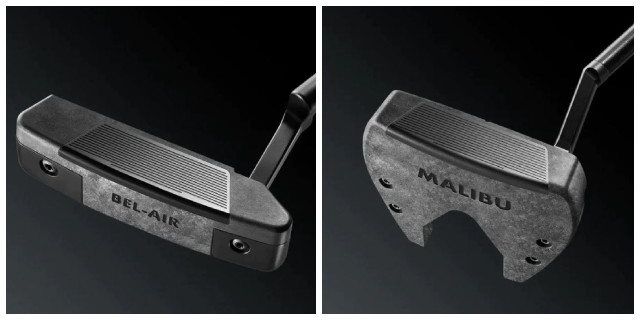 The design goal for the newly-engineered P-Series graphite shaft (£349, when sold separately) was simple: Eliminate shaft twist on off-centre putts. To do so, the shaft is extremely stiff (flex is equivalent to "Tour Extra Stiff") with low torque (1.8-degrees). Just as critical, the proprietary materials used produce a much softer feel than the static measurements might suggest.
This new generation of carbon putters, the "Bel-Air"and "Malibu" series, each featuring descending loft face technology, the P-Series anti-vibration shaft (typically £349 for the shaft), and the largest sweet spot on the market at just under 7,000 MOI (previously the largest sweet spot on the market was around 5,000 MOI), retail at £499.
Dickens is determined to make a big noise in the market, having already created the number one bat in Major League Baseball through his Marucci Sports company. This was no mean feat because he was breaking into a long-established market.
Based in Beverly Hills, the firm went to market in 2021 with premium aftermarket handmade shafts.
"We don't make stock shafts," said Dickens. A number of the world's best golfers quickly showed an interest. These included Bryson DeChambeau, Dustin Johnson and Michelle Wie West, who joined as partners, board members and assist with R&D. The playing partners are more than just faces at the forefront of the brand strategy. These players are engaged in every aspect of the business and their unique on-course expertise is used to help design and test every LA Golf product, including shafts, putters and the new LA Golf Ball which launches in the UK later this year.
Former Open champion Collin Morikawa uses an LA Golf shaft in his putter - and does not receive a penny for doing so.
LA Golf's putter heads are made of carbon fibre. Why? Jeff Meyer, Chief Design Officer at LA Golf, said: "The density of carbon fiber/epoxy is more than five-times lighter than stainless steel. Therefore, we have much more discretionary weight to help optimise the centre of gravity and Moment of Inertia (MOI). Most stainless-steel putter heads weigh around 350grams. Our Bel-Air carbon body weighs only 50 grams. We use 200 grams of tungsten weight in the heel and toe to achieve our large MOI." In other words, the stable, 360-gram blade helps putts stay on-track and roll out their full distance.
LA Golf's Bel-Air andMalibu series are both available now at www.lagolfglobal.co.uk.
---
Related Content
Introducing LA Golf - A Brand That is Ready to Change The Game
---
What do you think? leave your comments below (Comments)
---
Tags: putters LA Golf gear equipment
---
comments powered by

Disqus