Shocking Merger Throws Golf Into Even More Chaos
---
In a special View From The Fairway column, Golfshake's Derek Clements shares his current thoughts on the staggering news story that has engulfed the world of golf this week.
---
AND so, finally, the squabbling is over. In a shock announcement, it has been revealed that the PGA Tour and DP World Tour will now be working alongside the Public Investment Fund of Saudi Arabia, which has financed LIV Golf.
Well, that's what those in charge would want us all to believe. In reality, there is not a chance.
If anything, the merger has thrown the sport into even more chaos, with allegations of hypocrisy being aimed at many of the central players involved. Many golfers feel let down by their leadership, believing that golf has now been sold to the highest bidder.
PGA Tour commissioner Jay Monahan, who could barely bring himself to utter the words "LIV Golf" only a few days ago, is one of the chief architects behind the merger and many of his members feel that he has let them down.
Last year Monahan said: "As long as I'm commissioner of the PGA Tour no player who took LIV money will ever play on the PGA Tour again." He now says all golfers who joined LIV will be able to reapply for PGA Tour membership in 2024.
Unsurprisingly, there have been calls for him to resign, and it is difficult to see how he can possibly survive.
Human rights group Amnesty say the announcement is further evidence of Saudi Arabian efforts to draw attention away from the country's human rights record. And the 9/11 victims group says the PGA Tour should be ashamed of their "greed and hypocrisy".
In theory, LIV golfers are now free to play in the Ryder Cup, but first the Europeans would have to reapply for membership of the DP World Tour, serve suspensions and pay fines.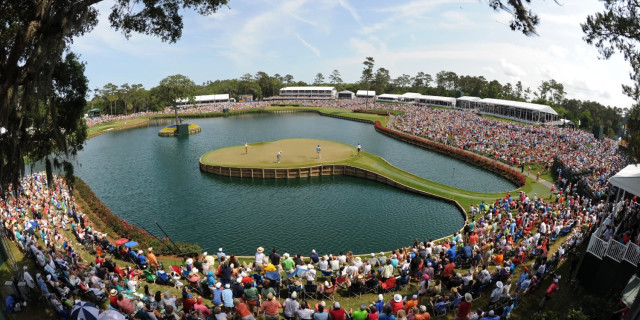 It remains to be seen whether relationships that appeared to be irreparably damaged as a result of the split can ever truly be healed but this is probably the outcome most of us who love golf had hoped for - but never dared believe would actually happen.
Many harsh words have been exchanged by all sides over the past year or so, things that can never be unsaid.
But at least we now know that there will be no more protracted court battles and that everybody involved can get back to doing what they do best - playing golf without distractions and allegations ringing in their ears.
It will also hopefully see the end of all those dreadful parody accounts on social media. And we can look forward to golfers no longer bad-mouthing each other on Twitter.
Hopefully, most LIV golfers will be welcomed back with open arms but there may still be some difficult conversations ahead for some of those who moved to LIV Golf and were the most vocal critics of the PGA Tour and DP World Tour.
Phil Mickelson accused the PGA Tour of greed. Then again, he said the Saudis were "scary mother*****s". And remember that Brooks Koepka was booed when he was announced to the first tee at the US PGA Championship, which he went on to win.
There was also that unsavoury spat between Rory McIlroy and Patrick Reed in Dubai.
And what does this mean for Greg Norman? During the past year he has arguably been the most divisive character in this whole sorry saga, closely followed by Sergio Garcia and Mickelson.
So how will this deal sit with the many people who have criticised Saudi Arabia's involvement in professional golf, given their human rights record?
The man who now appears hold all the cards is Yasir Al-Rumayyan, the governor of the Saudi Arabia's sovereign wealth fund and the man who holds LIV Golf's purse strings.
On Tuesday as the news broke, PGA Tour pro Michael Kim asked on Twitter: "What the hell is going?" Canadian Mackenzie Hughes wrote: "Nothing like finding out through Twitter that we're merging with a tour that we said we'd never do that with."
Two-time major winner Collin Morikawa echoed that sentiment: "I love finding out morning news on Twitter."
It is clear that PGA Tour golfers had no clue that this was about to happen, and many feel bewildered. Considering everything that has been said and written, that is hardly surprising.
The Golf Channel's Brandel Chamblee said: "When I first heard about it, I was completely shocked. After the shock sort of ebbed away, I was hugely disappointed.
"I think this is one of the saddest days in the history of professional golf. I do believe the governing bodies, the entities, the professional entities have sacrificed their principles for profit."
It is difficult to argue with that view.
Unsurprisingly, Mickelson had a different take on it all. He tweeted: "Awesome day today."
There will, no doubt, now be a clamour for Garcia to be included in Europe's Ryder Cup team. Given some of the things he has said about the DP World Tour, how can that possibly be allowed to happen? The Spaniard has always been a man who divides opinion and would do little to promote team unity.
Lee Westwood and Ian Poulter may also find some support for Ryder Cup recalls but, really, what would they add to the team? They have shown no form to speak of since their defections and are clearly past their best.
This is a stunning development that has taken the golf world by surprise. The PGA and DP World Tours were sworn enemies of the LIV circuit, which had poached some of their best players.
They viewed Norman's breakaway tour as an existential threat and entered into bitter and expensive legal action. But this was becoming increasingly uncomfortable for LIV's Saudi Arabian backers, who faced the prospect of being interrogated under oath during the discovery process.
The PGA Tour were also looking at huge costs to finance a string of $20m (£16.1m) tournaments introduced to counter LIV and had already dipped into their reserves.
It is a truly extraordinary climbdown for the PGA and DP World Tours to acknowledge LIV as being "positively transformative for golf".
Nevertheless, this deal appears to signal Saudi Arabia's massive wealth as a unifying force for the men's professional game. That is not likely to sit easily with critics who have regarded the PIF's involvement with LIV as nothing more than sportswashing for a Kingdom whose human rights record is often questioned.
How this will transform the game remains to be seen, but all sides will be happy the threat of legal action has gone away. LIV players also now have a pathway back into a more unified game.
The golfers who turned down the LIV millions to remain loyal to the established tours must be questioning their decisions now.
They could be forgiven for feeling somewhat betrayed when the rebels walk back into the PGA Tour and DP World Tours next season.
It turns out that they could have had their cake and eaten it after all.
---
Related Content
PGA Tour And LIV Golf Merger Was Twist We Should Have Seen Coming
PGA Tour, DP World Tour And LIV Golf MERGE to Unify Golf
---

Be part of the action with a selection of unique golf tournament experiences, from playing in a pro-am with the stars to watching the action at golf's most illustrious events. Whether it's the Masters or The Open, The Ryder Cup or WM Phoenix Open, build your own bespoke package with the experts at Golfbreaks.com.
---
What do you think? leave your comments below (Comments)
---
Tags: PGA Tour LIV Golf FedEx Cup european tour dp world tour daily picks
---
comments powered by

Disqus