Exputt RG Putting Simulator Review
REVIEW: Exputt RG

---
Exputt RG is a Putting Simulator that golfers can use anywhere with a TV. It uses a high-speed camera and innovative tracking software to track your swing mechanics and ball movement. Golfshake Ambassador Matt Holbrook has taken the opportunity to test and review the device - which is ideal for winter practice!
Tech Specs
Exputt uses a high-speed camera that syncs with a 5ft putting mat with a soft foam 'buffer' on the end allowing you to hit putts from 2ft to 50ft without having to worry about any loud bangs or a ball flying off the end of the mat.
The high speed camera tracks both the ball and club face, giving you real lifelike putts on the screen as well as feedback on club face and path, which is great for those looking for less of a 'game' and more of a technical analysis.
Looks
The system itself is fairly sleek in design and very understated. I think that if you wanted to you could roll the mat up and leave it to one side and leave the camera plugged in and it wouldn't look too out of place or take up too much room.
I believe the mat is made from a good quality neoprene-like material meaning you can roll it up and put it away with ease and will leave no creases and it will lay flat every time too.
The end buffer is very solid and the grip pads on the end means it won't slip around on a wooden surface.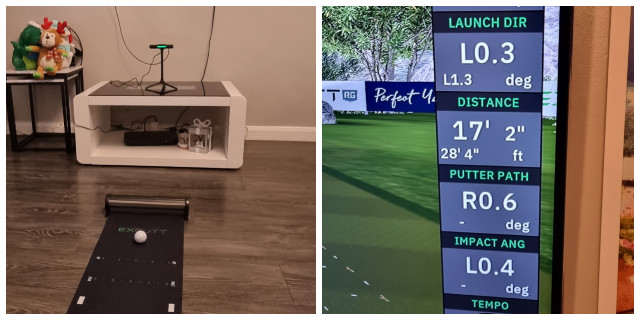 Performance
I wanted to start with saying, that for me personally, nothing will ever beat being on a real green with the elements - a view I share when it comes to hitting golf balls in a simulator.
However, in terms of being able to work on your putting through colder winter months, this is probably as good as it gets in terms of the functionality and information on offer.
Whether you are just practicing - you can set random distances and different breaks (so if you were struggling with left-to-right putts for example) - or playing in some of the online modes against other users, Exputt gives you the chance to hone down the stroke, or have some fun.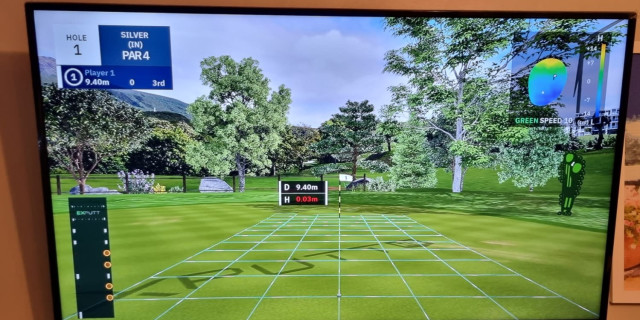 Practice Mode
This is great for having a physical look at your putting stroke.
On the right-hand side of the screen there is a visual of the path of your putting stroke, down the left-hand side are some further numbers that include Ball Speed, Launch Direction, Distance, Putter Path and Impact Angle. There is also a Tempo Tracker too.
At the end of each session, there is also some analysis on the screen where you can pick out some areas that may need some more work.
You can also change the green speed from 8 to 13 on the stimp as well as change different break degrees.
Play Mode
Quite simple really, you can pick from a number of different courses, front or back 9, and play 9 holes from different spots on each green. A nice, relaxed chance to hit some different putts. You have two putts to make par on each hole and can play against yourself to try and score under par.
You can also use this mode for an online game competing against other users around the world in order to work your way up the online leaderboard.
Challenge Mode
This mode helps you more on your longer putting. You will get a few tries at each putt as they are normally longer than 15ft - for example, meaning you get points per putt based on how close you are getting it to the hole.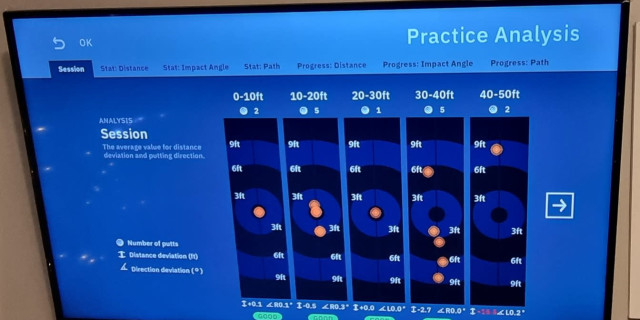 Pros
Having the chance to refine your putting, while having a bit of fun along the way - not sure you could ask for much more to be honest?
Cons
Not so much a con - but I couldn't help but think that the guys at Exputt could actually turn this into something extra special. As we move into a world of VR headsets - could there be a chance to have some kind of integration where you can almost feel like you are actually stood on a putting green, rather than your front room?
I think there could also be some more work to be done with the graphic of the greens, maybe just make them seem slightly more realistic aesthetically, as even if you know some of the greens you might not actually recognise them due to the surroundings - but this certainly doesn't take away from the all-round experience.
The Bottom Line
In summary - I think the Exputt RG would be an excellent addition for anyone that is looking to improve their game
At £449.99 - it's probably cheaper than any new driver release in 2023 and it's maybe money well spent on an area of the game that is often overlooked.
Whether you're a teaching professional looking to add to your arsenal, or an avid amateur golfer looking to improve this area of the game, Exputt comes highly recommended.
---
---
What do you think? leave your comments below (Comments)
---
---
comments powered by

Disqus