RAM Golf Unveils New Golf Ball Collection
By: Golfshake Editor | Fri 13 Jan 2023 |
Comments
---
Golfers looking to stock up on golf balls ahead of the new season may find a lot to enjoy from RAM Golf's latest collection of tremendous value and high-performing models.
RAM Golf believe in delivering maximum performance at a great price and that means all the cost of producing Ram Golf balls is invested in the product. By cutting out the middleman and all unnecessary costs of marketing and sponsoring tour players, they can sell their golf balls at incredibly good prices direct to golfers.
RAM has a golf ball to suit every performance demand and every type of golfer, from the perfect combination of distance, spin and control offered by the 3-piece Tour Spin; the distance-enhancing properties of the Laser Plus, specifically designed for slower swinging players; the high-spin, shot-stopping control offered by the Laser Spin; and the fairway-finding, yardage-crunching numbers generated by the Laser Distance, whose low-spinning core and resilient cover is a favourite with golfers of all handicap levels.
And with RAM golfs balls only available from its direct-to-consumer website, www.ramgolf.co.uk - the margins can afford to be even tighter, ensuring that golfers pay the best possible price.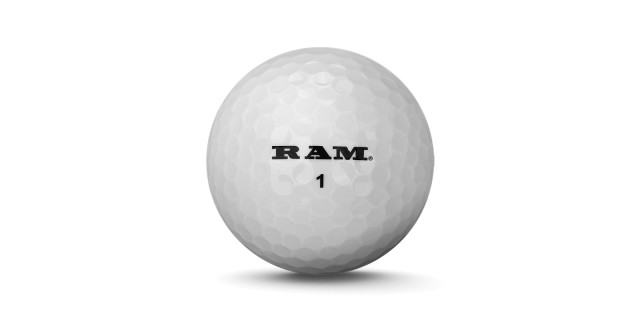 Tour Spin (£29.99 for two dozen balls)
Engineered to provide a perfect balance between carry, spin and control, the Tour Spin ball boasts a 3-piece construction and an 85 compression. A durable DuPont Surlyn cover delivers long-lasting performance without compromising on feel, while the inner core produces thundering distance. A 392 dimple design provides added lift and a stable trajectory, leading to straighter shots that are less affected by lateral wind.
Laser Spin (£27.99 for three dozen balls)
Designed to provide higher levels of spin than traditionally offed by 2-piece balls, the Laser Spin is perfect for those golfers who want maximum control on approaches to the green, but still demand the best possible value.
Featuring a high-spin, 80-compression core, the cover is made from DuPont Surlyn, which is both durable and resilient, ensuring that the Laser Spin remains in perfect shot-saving shape round after round, while RAM's 392 dimple icosahedron pattern optimises lift, ball flight and stability.
Laser Plus (£24.99 for two dozen balls)
Designed to help maximise distance for golfers with slower swing speeds, the 70- compression, 2-piece construction of the Laser Plus enables the ball to compress against your clubface to create maximum spring-like effect and generate the extra yardage that other harder balls simply aren't able to offer.
A 392-icosahedron dimple pattern is designed for lower drag and optimal lift, keeping the ball in the air longer, while the DuPont Surlyn cut-proof cover is also a higher spinning ball, perfect for controlling on green approaches. The lower compression offers the added benefit of super soft feel and enhanced short game control.
Laser Distance (£29.99 for three dozen balls)
RAM has played the long game in the construction of the Laser Distance ball, which is designed for out-and-out distance for the mid-to-fast swinging golfer who really likes to stripe it down the fairway time after time.
Boasting a 2-piece construction, it features a 90-compression core with a DuPont Surlyn cover that is long-lasting and resilient. The optimised 392 dimple icosahedron pattern provides both lift and stability for a long, straight ball flight.
To stock up on your golf ball supplies for the new season, why not head over to www.ramgolf.co.uk.
---
What do you think? leave your comments below (Comments)
---
Tags: golf balls gear equipment
---
comments powered by

Disqus