PAYNTR X 002 LE Spikeless Golf Shoes Review
REVIEW: PAYNTR X 002 LE

---
Founded by three long-time sports performance footwear experts, David Paynter, Mike Forsey, and Michael Glancy, PAYNTR GOLF's latest innovation, the PAYNTR X-002 LE, is a spikeless golf shoe that has been created to provide greater stability and performance on the course.
Golfshake Ambassador Mel Davies has taken the opportunity to test the shoes in a variety of conditions and describes his thoughts below.
Tech Specs
The PAYNTR X-002 LE are currently being worn by Mike Weir on the Champions Tour.
Performance enhancing traction: Three dimensional traction provides golfers the ability to better control linear motion, resist rotational movement, and more effectively harness vertical ground forces.
Holistic comfort: Soft and responsive under foot cushioning with PMX Foam midsole; delivers on-course comfort and zonal-specific support for the golf swing. Lightweight, flexible, and breathable upper, includes vented tongue to move perspiration away from foot to create an optimal in-shoe environment.
Explosive propulsion: Articulated TPU outsole and zonally engineered dual durometer EVA midsole house a lightweight responsive carbon fibre propulsion plate - delivers golfers maximum energy return to more effectively generate ground reaction force.
Water Impermeable: Water impermeable upper - flexible textile base with Clarino microfiber skin, all treated with a superhydrophobic NeverWet solution.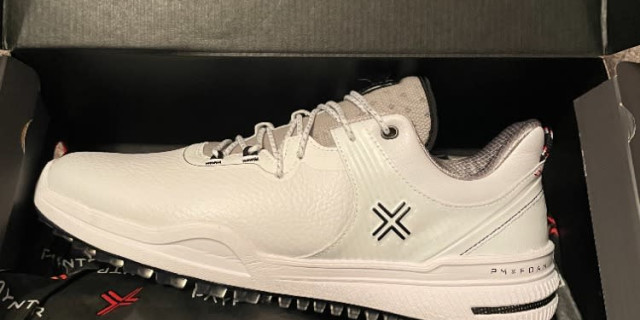 Looks
The PAYNTR X-002 LE SHOES have a real look of quality and style. Nothing too flashy or gaudy like some shoes make these a great looking shoe for all ages of golfer.
Feel
I've been lucky to try out various brands and styles of shoes for Golfshake and I have to say I was very impressed by how comfortable these were. I've said before that I've struggled at times with shoes as my feet are quite wide, but these felt great from the off. Good quality laces mean you can tie them up easily.
Performance
I've been wearing these for the last six weeks or so in all kinds of weather and various course conditions, from bone dry to soaking wet and raining and not once have I lost my footing or felt anything less than 100% stable whilst both walking and also swinging the club.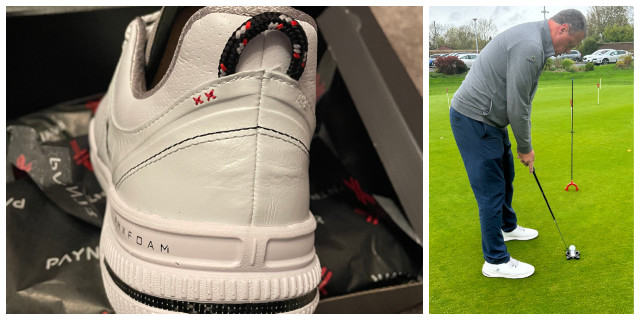 Pros
They look great and feel as good if not better than any other shoe I've worn before. Very stable throughout the golf swing. Very easy to clean which at this time of year is a real added bonus.
Cons
With regards to the actual shoe, no issues at all. The only drawback I can see is the price range they are in means they're competing with some of the top and most well known brands, but don't let that put you off as these are of the highest quality.
The Bottom Line
From the off, I've loved wearing these shoes as I feel they look great, but more importantly perform as well as any other shoe I've had. What's more impressive is that these are spikeless and I've worn them in conditions I'd normally wear spiked shoes in as I would be worried about stability.
I have no concerns at all in recommending these to any golfer, no matter their age or the ability, as I feel they are as good a golf shoe as there is out there.
---
What do you think? leave your comments below (Comments)
---
Tags: shoes review golf shoes gear equipment
---
comments powered by

Disqus