Supporting The Golf Stars of Tomorrow
By: Golfshake Editor | Fri 28 Oct 2022 |
Comments
---
As Golfing4Life (G4L) rounds out yet another season of supporting the next generation of up-and-coming talent, we catch up with England Squad members John Gough and Callan Barrow, as well as the trustees of G4L, to shine a light on how the organisation has helped to make chasing the dream of a life on tour more achievable.
---
Becoming one of the best golfers in the world seems relatively straightforward doesn't it? Providing you've got the talent, of course. You start playing golf, get really good, and boom - welcome to the PGA TOUR. Unfortunately, the reality is that the journey to the top is perhaps more convoluted now than it's ever been, particularly for young golfers in the UK. Without our own US-collegiate-style system to act as a showcase for sponsorship and professional tournament invites, talent is forced to travel far and wide to ply their trade. And as you'd imagine, this comes with a mountain of costs and organisational challenges. Not great, when you're trying to focus on retaining your +5 handicap!
Fortunately, the team at Golfing4Life help to take this stress out of the hands of the players themselves, supporting them on their journey as they strive to join the professional ranks. The non-profit organisation was set up in 2013 by Jimmy Byers and Bill Curbishley who identified a need to further support youngsters as they aspired to take up the sport for a living. G4L helps with logistics, tournament entries, and expenses, as well as by organising overseas warm-weather training through the British winter (much needed!), !), plus using high performance coaches from other sports and backgrounds.
For John Gough, winner of the English and Spanish Amateur Championships, as well as The Lytham Trophy the support has been invaluable. "The team at G4L have made the logistics around what we do incredibly stress-free. This has been a huge benefit for me, as I tend to play my best golf when I've not got as many off-course distractions."
Callan Barrow, fellow England player and recent winner of The North West of England Links Championship agrees. "Whilst I may have been in a position to enter the majority of the tournaments I'd have liked to play in, the guidance and organisational support given by G4L has been invaluable, and it's so much more enjoyable to play these national and international events when you know that you're staying with mates."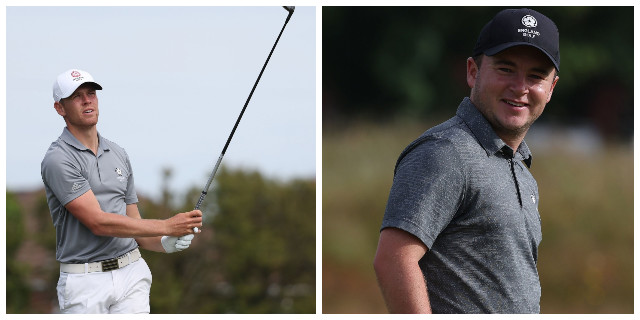 (Callan Barrow / John Gough)
One of the biggest ways in which the team has helped out its players is by creating a sense of camaraderie amongst those under its umbrella. "As Callan notes, the familiarity and banter between the group is great," said Gough. "It makes it so much easier when the day's play has finished to come back to the house and relax with guys that you know."
Golfing4Life will generally organise a team house for key events in the calendar such as the British Amateur and Brabazon Trophy in which its players will be competing, but this support also stretches across the Atlantic with a team base also created for the US Amateur this year too.
Success in events like these is one of the metrics used by Golfing4Life when looking for new players to support, however, much like the route to the professional game, there's no set formula for becoming part of the group. The team look after a range of golfers, with the youngest just 11-years-old, all with aspirations to continue with the sport for a living.
With the ever changing landscape in the professional game, we asked John and Callan if their own plans had changed moving forward. "Not hugely for me" noted the former. "I'm still studying here in the States [at Charlotte, North Carolina], and so will likely stay amateur for the next year, with the goal of trying to get in the Walker Cup side. I've always wanted to play on the DP World (formally European) Tour, and eventually the PGA TOUR, but I want to be ready to compete when I turn pro. The biggest learning I've had from my time in the US so far is that this system really makes you consider whether you want to do this full time. We're training or playing in some capacity six-days a week, so you've got to really want to commit to the program if you're going to make it."
Callan's view of the next few years was also unaffected by recent changes to the pro game, although the loss of the EuroPro Tour will possibly reduce options for initial professional starts here in the UK. "I've had a great time playing amateur golf and have loads of fond memories, but I'm looking forward to turning professional and competing against some of the best golfers in the world." This switch might be imminent, with the Lancastrian impressively through to the second-stage of DP World Tour Q-School, to be held in Spain this November.
Q-School is something that again, the team at Golfing4Life will help to support with, drawing on their wider network to ensure that the players aren't burdened by travel and accommodation costs, in what is already likely to be a pressure-packed week. "Put bluntly, It's an expensive week getting over to Spain for Q-School, and so the support from G4L has been massively appreciated" said Barrow.
We asked G4L Trustee, A.Fox, what the future looks like for the likes of John and Callan if they do progress all the way to the sport's highest levels. "We're fortunate that we've got a close relationship with various sports management companies, who can assist the guys and girls further if they do make the jump. Our support for our players is unconditional, and so if they decide that it's not something that they'd eventually like to do, we also help with the arrangement of internships, or wider job opportunities - as well as working with exam bodies to ensure they've got the qualifications they need for success off the course too."
Before signing off, John notes one final way that both him and his brother (fellow English Amateur Champion, Conor) have felt the benefit from the G4L's expertise. "We didn't come from a family of golfers, and so just the support around which events to play in - never mind actually getting there - has been a massive help. We've been fortunate that as the team helped me plan a schedule, my younger brother could also benefit from that expertise - which he obviously took advantage of with some great success of his own."
So perhaps the route to the professional game could be made easy, or at least manageable - with the support of an organisation such as Golfing4Life. Providing you're able to clinch a couple of national titles or England Caps to get yourself on their radar of course … back to the range we go then!
For more information, please visit http://www.golfing4life.com/.
---

Be part of the action with a selection of unique golf tournament experiences, from playing in a pro-am with the stars to watching the action at golf's most illustrious events. Whether it's the Masters or The Open, The Ryder Cup or WM Phoenix Open, build your own bespoke package with the experts at Golfbreaks.com.
---
What do you think? leave your comments below (Comments)
---
Tags: Tour Player tour Picks GOLFERS
---
comments powered by

Disqus