Luke Donald Confirmed as New European Ryder Cup Captain
---
LUKE DONALD has been named as Europe's Ryder Cup captain, replacing Henrik Stenson, who was sacked after joining the Saudi-back LIV Golf Series.
Donald was one of the men considered by Ryder Cup Europe before Stenson was originally given the job so his appointment comes as no great surprise.
It had been reported that Paul Lawrie, Thomas Bjorn and Paul McGinley were being looked at but Donald has got the nod.
Quite bizarrely, he had been wheeled out ahead of his appointment to tell the world that he will not be joining LIV Golf.
The former world No 1, is popular with leading European Ryder Cup players. The 44-year-old Englishman was on the winning Ryder Cup team in all four of his appearances. He served as a vice-captain to Thomas Bjorn in 2018, when Europe won the Ryder Cup in comprehensive fashion just outside Paris.
He is a quiet and thoughtful man and is certainly no tub-thumper and some will question his ability to motivate his team if things start to go against Europe.
Donald said: "I am incredibly proud to be named European Ryder Cup Captain for 2023. It is truly one of the greatest honours that can be bestowed upon a golfer, to lead a team of your peers and be an ambassador for an entire continent.
"I feel extremely privileged to have been given that responsibility and it is a responsibility I do not take lightly.
"Some of my best experiences in golf have been in the Ryder Cup and I would not swap those for anything. It is an event like no other and I cannot wait to create more special memories in Italy next year.
"I love everything the Ryder Cup embodies, from the camaraderie and companionship of being part of a team, to the history of the contest, but most of all playing for something bigger than yourself.
"Rome will be a fantastic host city, and I have always enjoyed spending time there. It is a city rich in history and hopefully we can create some of our own in 14 months' time."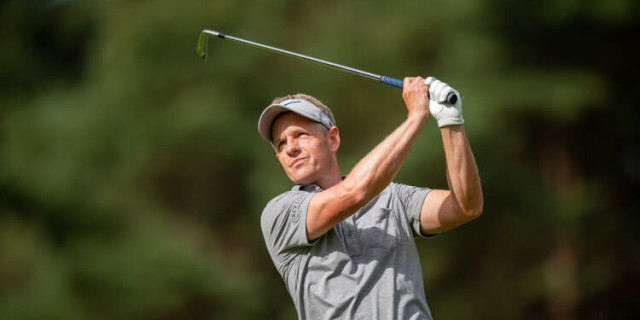 (Image Credit: Kevin Diss Photography)
Guy Kinnings, the European Ryder Cup Director, said: "Luke is a former World Number One who possesses a superb Ryder Cup record, so he undoubtedly has the credentials required to be a successful European Captain.
"He is hugely respected by the players and by the wider support team at Ryder Cup Europe who have already done an immense amount of work behind the scenes to give him a strong platform for the remaining 14 months before the match gets underway.
"We have continued the tradition of moving forward with players in the role of Captain who have excelled in the Ryder Cup arena; and in terms of Luke, we are combining that experience with strong leadership and a meticulous approach. On behalf of everyone at Ryder Cup Europe, we look forward to fully supporting him in the quest to reclaim the Ryder Cup next year."
Donald has confirmed that both existing Vice Captains - Thomas Bjorn and Edoardo Molinari - will continue in their respective positions.
Stenson, meanwhile, has admitted that the money on offer was the reason he moved to LIV Golf.
He said: "I've been a golf professional since 1998 and purse sizes, prize money on offer, financial part's always been a part of where we made up our schedules and where we are going to play,
"It's been a part of it, absolutely, and it was no different in this case."
The Swede continues to insist that he did everything he could to keep the Ryder Cup captaincy.
"I don't feel like I've given it up," he said. "I made every arrangement possible here to be able to fulfil my captain's duties, and I've had great help here from LIV to be able to do that.
"And still the decision was made that I was to be removed. I'm obviously disappointed over the situation but it is what it is and we move on from there now.
"We had discussions and I informed them of the decision to go and play in LIV tournaments. They had a short period of time where they were kind of discussing or debating if what was going to happen. I was informed of their decision shortly after."
Stenson said he hoped for a "quick solution" before the rift between the sport's top players and tournament organisers widened.
"It's a shame that we ended up in this situation," he said. "I just hope that we can get a resolution as soon as possible here for all tours and everyone involved, and we can all kind of co-exist together.
"All the players love the Ryder Cup and Presidents Cup, it's just a shame we ended up in this situation."
Stenson is not a stupid man. There could have been no doubt in his mind that his decision to defect would lead to him being sacked by Ryder Cup Europe. But having pocketed $4m as a result of winning on his LIV Golf debut, he probably doesn't care. It is such a shame because, where he accepts it or not, his legacy has been tarnished.
Make no mistake, the Ryder Cup is bigger than Stenson and the others who have jumped ship and the contest in Italy next year will still attract huge, passionate crowds and bring out the very best in the 24 men chosen to represent Europe and the USA.
---

The Ryder Cup is unlike any other tournament in golf and the atmosphere is something that every golf fan should experience. The experts at Golfbreaks.com can help with all aspects of your Ryder Cup experience, from accommodation and ticket packages to hospitality and travel and playing some of the fantastic nearby courses.
---
---
What do you think? leave your comments below (Comments)
---
Tags: ryder cup PGA Tour european tour dp world tour daily picks
---
PLAY MORE PLAY BETTER - LATEST TUITION TIPS
---
Leave your comments below
comments powered by

Disqus