How Scottsdale Golf Has Transformed The Custom Fitting Experience
---
Since Scottsdale Golf's establishment in 1999, the company has continued to grow in a substantial manner. Originally operating as a dedicated store in Sale, they quickly transitioned further into the industry - by offering an online service before opening a Performance Centre in Warrington. They are a brand that care emphatically for their customers, which is highlighted by the impressive facility located in Warrington.
I had the joy of visiting the Performance Centre recently and I was astonished by just how grand the entire complex is. The venue is part of a retail park that sits on the cusp of Warrington, located conveniently near to the M56 and M6 motorways, which is ideal for visitors who are venturing from other parts of the country.
When I entered the premises, I was met with a small reception area with just enough room for a desk and a sofa, which I had sunk into as I waited for Bradley Stubbs, the Director of Golf at the company. He escorted me through to the Performance Centre and the moment you make the turn around the corner, the expansiveness of this sensational facility immediately grasps your attention. A fine collection of clubs line the perimeter of the room, with a large 4G putting green providing the centrepiece of the space.
Directly behind the putting green lies a large workshop area, where clubs are crafted and subsequently furnished for happy customers to take home with them. If you journey to the bottom of the room, there are two fitting bays, each equipped with a GCQuad. Behind them rests a collection of many, many, many shafts. So many shafts, in fact, that I was completely stunned that a facility could hold so many. If you've been for a custom fitting somewhere, you might be impressed with a group of 20, maybe even 30, shafts. Scottsdale are easily stocking in the hundreds, far too many to count individually.
The Scottsdale Golf Performance Centre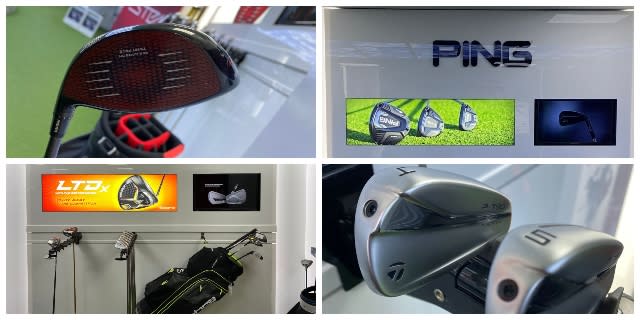 Prior to attending, I googled the Scottsdale Performance Centre and scrolled through the images, that undoubtedly looked attractive. The building is appealingly presented, but it isn't until you arrive when you realise just how enticing it truly is. Having opened on the 18th of December 2020, the official unveiling should have taken place much sooner. "When the global pandemic hit, everything came to a halt and our CEO, Lee Duff, was unsure whether to continue or hold off until COVID-19 had passed. He opted to complete the process to ensure everything was finalised as the lockdowns began to lift," Bradley told me.
Could you imagine how frustrating the restrictions must have been for companies? Scottsdale were ready to unveil their prized asset, only to have that cruelly postponed - a decision that the company had no control over. Tyrrell Hatton visited for the opening and finally, in December 2020, Scottsdale Golf could welcome golfers into their state-of-the-art facility. For anyone who has visited, you'll understand how the brand have generated so much interest around their new creation. Stacked with all the latest equipment, it's impossible not to find a set of clubs perfect for you.
It's important to note that the Performance Centre does not mirror the retailing store located in Manchester; you can't simply arrive and stroll in, which would be expected in the big city outlet. The centre specialises in custom fitting and thus, sessions will need to be booked. If you're wondering how popular the new facility is, allow Bradley to explain a little more. "Since our official opening, it's been wall-to-wall with bookings, fully booked seven days a week. What we do here is simply not emulated anywhere across the country."
The Revolutionary Concept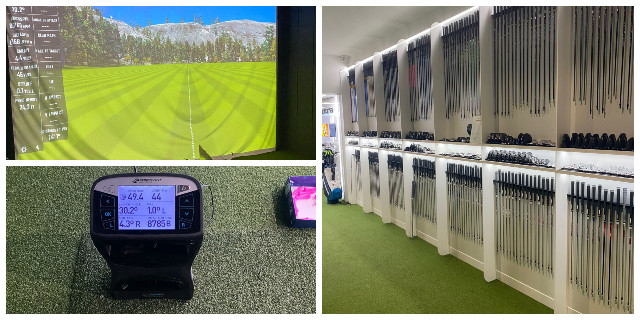 So, what do they do there? If you've been fitted for clubs, you'll know the agonising wait between the fitting process and feeling the warm grasp of the clubs in your hand, knowing that they're here to stay. I personally had to wait a little over two months during the winter period of 2020, which was just as infuriating as it sounds. There's a stock issue that currently plagues the sport of golf, so that wait time may have even increased from two years ago. Scottsdale, however, do things a little differently. Actually, they do things very differently - offering a service that results in same-day fitting and construction. Sounds too good to be true, right? Well, it's not.
The idea for the Performance Centre revolved around the notion of same-day building. "That was our main goal, to offer this revolutionary service," Bradley revealed eagerly. "The way the world is moving, with the likes of Amazon offering same-day or next-day delivery, it isn't being mirrored in the golf world and custom fitting. There's no reason why it can't be and here at Scottsdale, we have the infrastructure, the set-up, the equipment but most importantly, the staff."
As I meandered my way through the building, I had a few conversations with staff, who were more than happy to accommodate my curiosity. I spoke extensively with a club builder named Matt, who exuded passion from start to finish as we conversed. He explained the process to me and how many clubs the team can build in a day; he also detailed how it's done so efficiently, and to an untrained eye, effortlessly too. Typically, a full bag will take half a day to build, whereas a driver would only use an hour of his time. Considering I was visiting for a TaylorMade Stealth promotional day, the only builds that day were the Stealth driver - with more than 20 being constructed throughout the working hours. The customers, who purchased the new driver, were in the store for no longer than three hours - which also included an extensive fitting session to ensure the correct components were selected.
That, right there, is the whole idea behind this addition to the Scottsdale family: quick and efficient club building with immediate results. The moment the fitting process is completed and the specifications have been finalised, the fitters' job is complete - it's now time for the builders to flex their ability. The building section takes up a mere 10% of the facility, but considering it's open planned, your attention is swiftly diverted towards it. This is a common practice for visitors, as Bradley noted: "We wanted it to be an open space for the customer to physically view the process - similarly to an open kitchen at a fancy restaurant. You sit around the table and as you wait for your meal, you watch the head chef create it. It's that personal touch that adds to the overall experience."
Considering how much pride we take in our clubs, I can only imagine how exciting it must be watching them come to life. I doubt anyone has witnessed the process behind building clubs to their exact preference, and it was fascinating to watch these professionals effortlessly put together Stealth drivers. "The customers have never seen it happen before and they don't know how it's done - they often record it and send it to their friends," Bradley disclosed. "It's another USP that you won't get anywhere else." Indeed, you will not. Scottsdale have evidently elevated the fitting process and explored previously unchartered waters. "We can guarantee, when you walk out of our property, the clubs are 100% perfect for you - and you will start to play better golf," Bradley proudly stated.
The Future
With the amount of success they've carved for themselves, they won't be operating any differently in the future. Which brings us to our next topic, what lies ahead for the brand of Scottsdale: how do you triumph a revolutionary creation like this? Unfortunately, that's confidential material for the time being, despite my constant questioning. "There's not a lot I can say right now, but this was the first stepping stone for a much bigger plan - which is moving forward at pace." One thing he could reveal, however, is that there are plans to extend the facility and add four further bays, taking the total to six. Naturally, over time, the entire venue will continue to be upgraded and considering the impressive facility that already lies there, the new implementations will further augment the already exceptional experience.
If we reflect on Scottsdale Golf's timeline, a lot has been achieved in a little over 20 years. The brand went from exclusively operating as a small physical retailer, to establishing their online presence for the entirety of British golfers. The introduction of the Performance Centre has promoted the Scottsdale brand beyond the realms of standard retailing, but there aren't any plans to stop there. "Some big things will be happening for Scottsdale Golf on a national and global scale - so watch this space," Bradley concludes with. From my entire experience, Scottsdale Golf are offering a service that no other retailer can provide in England, and if they continue to confidently build from here, they will undoubtedly dominate the golf market for the foreseeable future.
For more information on the Performance Centre and Scottsdale Golf, please visit https://www.scottsdalegolf.co.uk/.
---
What do you think? leave your comments below (Comments)
---
Tags: gear Fitting equipment custom fitting
---
PLAY MORE PLAY BETTER - LATEST TUITION TIPS
---
Leave your comments below
comments powered by

Disqus