SpeedStix Review
REVIEW: SpeedStix

---
Review by Golfshake Ambassador Mel Davies
---
The SpeedStix system is a set of three weights and an adapter to fit on your driver or fairway wood shaft, turning your club into a set of golf speed sticks. Supported by a training programme from a TPI Certified Trainer, the aim of this product is to increase your club head speed, potentially by over 10 mph, which could equate to an extra 27 yards of carry.
Technical Specs
SpeedStix are different from the other products out there in that you use the adaptor that's relevant to the shaft you have, either on your existing driver/wood, or if you're lucky enough to have another shaft, then you can use that. You then have three separate weights that attach to the adaptor end and then you are ready to go.
Looks
You can tell straight away that these have been manufactured to the highest level.
Feel
They feel very well made and very robust which should mean that these can be kept and used for many years.
Performance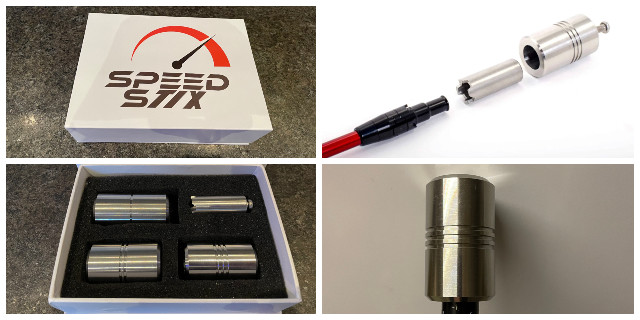 I received the SpeedStix system in mid-January and put it to use straight away along with the videos via the fantastic app that you also get. It wasn't easy to start off as the weather was really against me, but whenever I had chance, I tried to give it a good go.
One thing I found difficult was doing the left hand swing, it felt like I was going to fall over or the club was going to come out of my hands, but that is probably down to my lack of coordination more than anything!
I'm lucky to have a Garmin that measures club speed so I was able to gauge every session to see how it was going.
I started properly monitoring the speeds, but more importantly the distances and how my body felt a month later after getting properly used to the system.
I also use Arccos so was able to see my average yardages through the testing period with my 8 iron.
So in February, Arccos showed my 8 iron distance at 140 yards which is about where it's been for a good many years.
When I was finally able to get out onto the course after lockdown in April, I could see straight away a massive difference in both distance but also in my own body. I had jumped from 140 to 150 yards, but as important if not more to me was I felt stronger all through my rounds.
In May, I again saw a jump up to 155 yards. The only thing I struggled with now was getting used to hitting a club less for the majority of my shots, but hey, that's not a bad thing!
By June, I saw an increase again up to 160 yards, which felt crazy. Then July saw a very small increase up to 161 yards and August was another small gain up to 163 yards.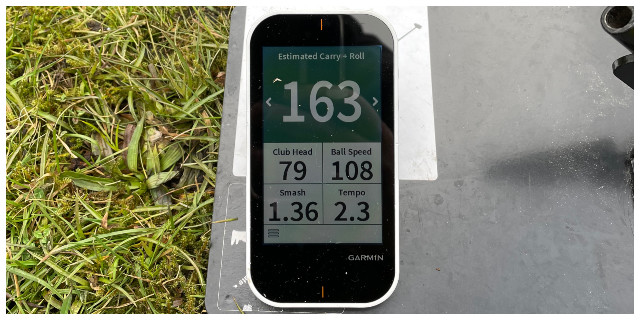 What I did then notice was as the speed increased, I started to lose consistency in the strike, so I played about for a while and was once more able to work out with my Garmin that I had an optimum swing speed that gives me a good distance but also kept my strike where it should be.
As for the system, I have seen others where you use multiple sticks or use different weights on the "stick" they send. This is where SpeedStix stand out from the others. You get three weights with the adaptor and these attach to your own driver or wood shaft (as long as it's adjustable) so you actually use it with the shaft you play golf with. I was lucky to have a spare shaft that's the same as the one I use so I just kept that for the SpeedStix.
It comes with the adaptor that you order with the system (part of the price) relevant to the shaft and club manufacturer you use, so it's nice and simple. Then all you do is put the weight of choice on and use a club adjustment tool and crank it into place.
The whole system comes in a nice tidy box that keeps everything in one place and will fit into all bags.
The support you get from the guys at SpeedStix is second to none. The app that comes with the SpeedStix is an excellent addition that gives you loads of help with training videos from Mike Joyce.
They are not just another swing speed device, they also prepare your body for the swing speed training so you really get the full package with SpeedStix.
For me this has been a real game changer. Yes, we all want more distance, but the big thing for me is the way I feel fitter and stronger.
Verdict

Pros
Easy to use and much cheaper than the other brands I've seen currently out there. The app that runs alongside it really does put the icing on top of the cake for me.
Cons
Some may not have an adjustable shaft, but it's easy enough to pick one up from many sources so shouldn't be that much of an issue for those that don't have one.
The Bottom Line
These have really been an impressive addition to my bag. I feel fitter, stronger and yes, faster.
I managed to increase my club speed by 10 mph but dropped it back to 7 mph once I tweaked it for the best strike/distance combination, which for someone who is 50 and struggles with arthritis in my lower back is something I am very happy with, especially as since I've started using it my back and fitness has seemed better.
It's simple to use with instant feedback. The app works hand in hand with the SpeedStix and this really does separate them from other speed sticks.
For more information, visit https://speedstix.com/.
---
What do you think? leave your comments below (Comments)
---
---
comments powered by

Disqus