Analysing Team USA at The Ryder Cup
---
When Steve Stricker made his final picks for the impending Ryder Cup, the American team oozed class in every category.
With nine of the world's top 11 in the team, it is no surprise that the USA squad are being made comfortable favourites for the 43rd edition of the legendary event.
However, there has been controversy with certain omissions and comments made by members of the team.
While America may have the better individuals, the path to victory is ultimately teamwork and working for one another.
Below, we analyse the American team and how each one hopes to contribute to a first United States win since 2016 and only the third after the turn of the century.
Collin Morikawa
OWGR: 3
Season Top 10s: 8 (2 victories)
GiR: 70.80% (5th)
Ryder Cup Record: N/A
Collin Morikawa will be making his debut in the Ryder Cup this year, but he does have team-based experience having represented America in the 2017 Walker Cup. This two-time major champion needs no introduction, having taken the PGA Tour by storm. He played the majority of his professional career under COVID-19 protocols, which prohibited crowds from watching. There was genuine concern he may struggle in front of a lively audience but that was put firmly to bed after his inspirational Open Championship triumph. Not only one of the stronger players for the American team, but one of the best in the entire world. Expect him to feature heavily.
Dustin Johnson
OWGR: 2
Season Top 10s: 9 (1 victory)
Driving Distance: 312.9 (7th)
Ryder Cup Record: 7-9-0
When the belated Masters took place in November 2020, Dustin Johnson put a show on that Augusta had never witnessed before. After obliterating the field in true Johnson fashion, he secured his second major title and the elusive green jacket. However, since then, the big-hitting American has struggled for form and he couldn't add to his sole victory of the season. Nevertheless, his performances started to improve during the playoffs, peaking just in time for the Ryder Cup. Expect Stricker to call on Johnson often and although he has never done it before, it could be the first time he features in the maximum of five matches.
Bryson DeChambeau
OWGR: 7
Season Top 10s: 9 (2 victories)
Driving Distance: 323.7 (1st)
Ryder Cup Record: 0-3-0
Bryson DeChambeau has enjoyed a fantastic season, winning on two occasions - including his maiden major championship. While his performances became erratic towards the backend of the season, he had plenty of opportunities to win the BMW Championship and as a result, would have entered East Lake well positioned for the seasonal title. From a Ryder Cup perspective, he'll be looking to secure his first point after a troublesome time in Paris. However, he has changed dramatically since then, both in terms of physicality and mentality, and will expect to play a big part - as long as he can attend the World Long Drive Championship the following week(!)
Brooks Koepka
OWGR: 9
Season Top 10s: 8 (1 victory)
Scoring Average: 69.938 (11th)
Ryder Cup Record: 4-3-1
For someone who relishes major championships and has threatened to dominate them in recent history, it was an underwhelming season for Brooks Koepka. He did secure victory at the Waste Management Phoenix Open but, having revealed to the media that he does not care about winning 'normal' tournaments in 2019, he simply cannot be content with how the season played out. In fairness, he has had a bout of injuries to overcome but nevertheless, more was expected of him. His record in the Ryder Cup is fine, winning more than losing.
Justin Thomas
OWGR: 6
Season Top 10s: 7 (1 victory)
Scoring Average: 69.773 (6th)
Ryder Cup Record: 4-1-0
While Justin Thomas uncharacteristically strung several poorer performances together, everyone was in shock - no more than the man himself. He struggled during the early stages of the calendar year but a sensational weekend at TPC Sawgrass saw him clinch the flagship event from final pairing Lee Westwood and Bryson DeChambeau. Away from that, however, was spells of mediocracy. He has improved and looks to be peaking just in time for the Ryder Cup - which should worry European fans. He has only featured in one cup before, the 2018 Paris edition, where he performed in all five matches, picking up victories in four of them. One of the strongest players on the American team and he presents himself well to the world; a very likeable guy who just so happens to be an outstanding golfer.
Patrick Cantlay
OWGR: 4
Season Top 10s: 7 (4 victories)
Scrambling: 67.30% (1st)
Ryder Cup Record: N/A
Here at Golfshake, no other professional golfer was talked about as much as Patrick Cantlay this year. After his impressive finish to the season, it was certainly justified too. He became the first man to win four PGA Tour titles in a season since 2016/17 and his playoff antics were nothing short of mesmerising. He has deservedly earned his place in the USA Ryder Cup team for the first time, and he has previous team-based experience through the Presidents Cup. If Cantlay can take his otherworldly form with him to Whistling Straits, then America can be confident of securing victory.
Daniel Berger
OWGR: 16
Season Top 10s: 8 (1 victory)
Scoring Average: 69.862 (8th)
Ryder Cup Record: N/A
Daniel Berger secured his fourth PGA Tour title in February 2021 when he triumphed at the AT&T Pebble Beach Pro-Am. He has contended at several other competitions - AT&T Byron Nelson (T3) and the WGC-FedEx St. Jude Invitational (T5) - without further adding to his trophy cabinet. His inclusion may be surprising to some but his 12-month form would highlight that he deserves to be part of the team. A tidy player who rarely offers up mistakes, his resilience and consistency will be the key to securing points for the reds. He might not feature too frequently and if that is the case, expect him to come out firing for the Sunday singles.
Harris English
OWGR: 11
Season Top 10s: 8 (2 victories)
SG Putting: .544 (12th)
Ryder Cup Record: N/A
Another debut for the American team but Harris English is a unique golfer. While he might not have the firepower of DeChambeau or the ball striking of Morikawa, he has the overall package. The wonderful thing about English is just how consistent he is with almost every aspect of his game. He might not blow away the field in any particular category, but he has skills in every department and that will prove to be invaluable for Stricker and his pairing selection nightmare. He picked up two victories last season - Travelers Championship and Sentry Tournament of Champions - and will be hungry for more success. It's unclear how much he'll be involved but even if it is just the Sunday, expect English to showcase his consistency and reliability to the golfing world.
Tony Finau
OWGR: 10
Season Top 10s: 8 (1 victory)
SG Tee-To-Green: 1.040 (16th)
Ryder Cup Record: 2-1-0
Tony Finau is a likeable person who clearly demonstrates the excellent values that he holds closely. After securing his first victory at the Puerto Rico Open in 2016, many expected the big American to continue winning. Unfortunately, that did not happen again until August 2021! Thankfully, victory at The Northern Trust secured his second and most recent PGA Tour title. Similarly to the first win, many expect Finau to push on and secure more individual glory. Before that, however, is the Ryder Cup and his quest for team fame. He performed well in Paris and managed to prevent Tommy Fleetwood from securing all five points after an impressive 6 & 4 victory in the singles. Finau should expect to perform regularly throughout the weekend and his inclusion bolsters an already formidable American set-up.
Xander Schauffele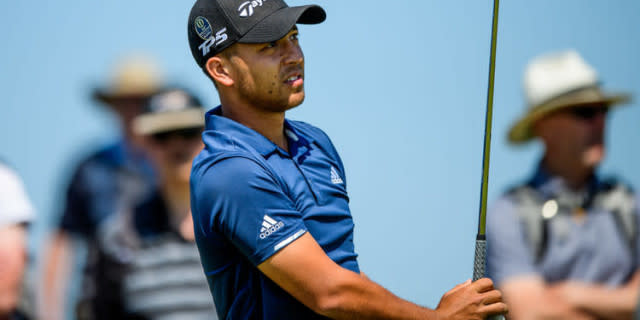 OWGR: 5
Season Top 10s: 8
SG Total: 1.484 (5th)
Ryder Cup Record: N/A
Xander Schauffele has long been a promising prospect, but it must have been difficult to see Morikawa tussle his way onto the PGA Tour and pick up two major championships in quick succession. Regardless of that, Schauffele has demonstrated his ability on several occasions and finished runner-up in numerous instances this season alone (Waste Management Phoenix Open, Farmers Insurance Open and the CJ Cup @ Shadow Creek). Securing the gold medal in Tokyo should be all the inspiration he needs going forward and he certainly has the capability of winning a major in the imminent future. Although he's a rookie here, expect him to play a much larger role than your typical rookie and if he's firing on all cylinders, as he does so often, then America have yet another weapon ready to deploy.
Scottie Scheffler
OWGR: 21
Season Top 10s: 8
SG Total: .932 (33rd)
Ryder Cup Record: N/A
Probably the least expected golfer to make the American team but write off Scottie Scheffler at your own peril. He's produced two brilliant seasons on the PGA Tour, but he is yet to add to his two victories obtained on the Korn Ferry Tour. However, if we look at his best finishes this season, they've all come in important tournaments; WGC-Dell Technologies Match Play (2nd); Memorial Tournament (3rd) and the WGC @ The Concession (5th). In only two years, he has contended in an array of desirable competitions, and we must remember that this is just the start for the 25-year-old. It's unclear how much of a role he'll play during the Ryder Cup, but rest assured whenever he is called upon, he will deliver.
Jordan Spieth
OWGR: 14
Season Top 10s: 9 (1 victory)
SG Putting: .389 (33rd)
Ryder Cup Record: 7-5-2
Jordan Spieth will make his fourth Ryder Cup appearance - at the impressive age of 28. The American has enjoyed an excellent season, picking up his first victory in almost four years (Valero Texas Open). He also finished runner-up to Morikawa at the Open Championship and generally, he has improved dramatically on previous years. What is interesting to understand is his lack of dominance in any category. Known on Tour as one of the best putters in the business, he could only rank 33rd in SG Putting. Stricker, however, will inherit a man with an abundance of experience and still at the age of 28, this could be the season Spieth reflects on as being the launchpad that was needed to revive his already sensational career.
---
The squad that America have is clearly talented. If we were to compare the two teams from an ability perspective, there would surely be one overwhelming victor - the Americans.
Additionally, read Analysing Team Europe at The Ryder Cup.
However, their inability to work together has given Europe the edge in previous instalments, will they prove to be the architect of their own downfall yet again?
---
---

The Ryder Cup is unlike any other tournament in golf and the atmosphere is something that every golf fan should experience. The experts at Golfbreaks.com can help with all aspects of your Ryder Cup experience, from accommodation and ticket packages to hospitality and travel and playing some of the fantastic nearby courses.
---
---
What do you think? leave your comments below (Comments)
---
Tags: ryder cup PGA Tour european tour daily picks
---
PLAY MORE PLAY BETTER - LATEST TUITION TIPS
---
Leave your comments below
comments powered by

Disqus