View From The Fairway - Brooks & Bryson Feud is Becoming Tiresome
---
I DON'T know about you, but I am beginning to find the supposed feud between Brooks Koepka and Bryson DeChambeau a little tiresome. It continued at The Open, with Koepka saying once again that he believes it is good for the game and will help to attract a younger audience to the sport. I am not quite sure how he works that out. DeChambeau is definitely not everybody's cup of tea but to hear him being verbally abused by drunken golf fans at The Memorial was unfortunate, to say the least. Steve Stricker must be pulling out what's left of his hair as he tries to work out how on earth they are going to behave as teammates on the US team at the Ryder Cup in September. Lots of sportsmen and women don't like each other but airing their dirty linen in public is bad for the game. And it is time they both grew up!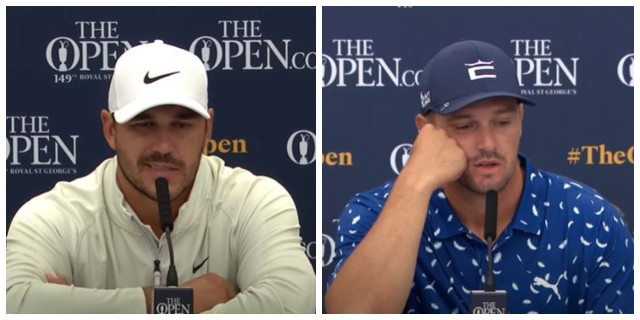 ---
RICHARD BLAND was given the 'honour' of hitting the first tee shot at The Open. Martin Slumbers, the head honcho at the R&A, apparently told Bland that it was in recognition of everything he has achieved this season, winning his first tournament at the age of 48 and leading the US Open after 36 holes. Bland said that he considered it a privilege to be asked to strike the opening drive….at 6.35am. Goodness alone knows what time he had to get up in order to eat breakfast, get to the course and warm-up before starting his round!
---
DID anybody else find it a bit odd that the R&A allowed 32,000 fans to attend The Open every day while insisting that the players had to exist in bubbles consisting of a maximum of four people? And the likes of Rory McIlroy, Jon Rahm and Dustin Johnson were not allowed to visit local bars, restaurants and supermarkets. But it was fine for the fans to pack into bars and restaurants. It is any wonder that so many of us are confused about the way Covid-19 is being dealt with in the UK?
---
WILL Bryson DeChambeau ever learn that he could be even more successful if only he was able to resist the temptation to reach for the driver on every par four? No matter how strong you are - and the American is a monster - you simply cannot win Open Championships when you spend so much time playing your second shots from knee-high rough. It just puts too much pressure on your short game. Course management is a crucial part of winning majors. Jack Nicklaus and Tiger Woods were masters of the art. Let's just say that Bryson's school report would probably say: "Could do better."
---
IT EMERGED last week that Jon Rahm was born with a club foot and had to undergo corrective surgery as a baby. The Spaniard revealed that he has limited mobility in his ankle, which goes some way to explaining why his backswing is so short. He also has issues with his wrists, which makes everything he is achieving in the sport all the more remarkable.
---
THE Open is my favourite major and I just love Sky Sports' coverage of the world's oldest major. How good is it to know that you can sit in front of your TV and watch every single shot? I love the way the players interact with the likes of Nick Dougherty and Rob Lee at The Open Zone. I adore Ewen Murray's passion. I chuckle almost every time I hear Wayne Riley. And in Paul McGinley they have one of the most intelligent men in golf on the microphone.
---
HOW good was it to see fans back at The Open? The players will tell you that there is nothing quite like a British crowd, and it is so true. Many of those who attend tournaments in the United States know little or nothing about golf and seem to spend most of their time visiting watering holes. British fans are different - they understand the game, which means they know when to cheer, and when to say and do nothing. Royal St George's looked magnificent, framed as it was by clear blue skies. The rough was penal but guess what? Players who consistently found the fairways were rewarded. The 150th Open Championship will be played at St Andrews next year, and I cannot wait.
---
GOLFERS in England can now obtain an official handicap without having to join a golf club. England Golf has unveiled iGolf, which offers non-club golfers in England an opportunity to obtain and maintain an official World Handicap System (WHS) handicap index. There are approximately 2.3 million 'independent golfers' in England; golfers will pay £40 per year to sign up to iGolf, which includes personal liability insurance. Revenue generated through the platform will be reinvested into the work being done nationally to help grow the game across all levels, support clubs and the wider golfing community as well as providing a more inclusive and accessible sport for everyone, states England Golf.
---

Be part of the action with a selection of unique golf tournament experiences, from playing in a pro-am with the stars to watching the action at golf's most illustrious events. Whether it's the Masters or The Open, The Ryder Cup or WM Phoenix Open, build your own bespoke package with the experts at Golfbreaks.com.
---
What do you think? leave your comments below (Comments)
---
Tags: The Open PGA Tour european tour
---
PLAY MORE PLAY BETTER - LATEST TUITION TIPS
---
Leave your comments below
comments powered by

Disqus