Strange Things That Golf Commentators Say
---
GOLF commentators and analysts are employed to paint pictures for us. When they are good, they are really good. At his very best, nobody did it better than the late, great Peter Alliss. Mark Rolfing is probably the best that America has to offer. Who doesn't enjoy listening to Ewen Murray. And Australian Wayne "Radar" Riley is always guaranteed to make us smile.
But there are times when their utterances have us groaning, guffawing or shouting at the TV screen. I suppose it's part of the attraction but every time I tune in to watch live action from the PGA and/or European Tour I find myself chuckling as commentators and analysts fill the airwaves with one cliche after another or simply say something that makes me do a double-take. Did he REALLY just say that?
So I decided that it was time to share some of my, erm, favourites with you.
This is a must-make putt
There are very few must-make putts. When somebody comes to the 72nd hole and faces a putt to win a tournament or force a playoff, that is a must-make. Or a putt to make the cut on a Friday afternoon. There is no such thing as a must-make putt in the first round.
I don't go that far on holiday
Really! The classic golf cliche. The biggest hitter on the PGA Tour currently is Bryson DeChambeau, who has been known to drive the ball 400 yards. Let's be clear about one thing - if you only go 400 yards then you have not gone on holiday!
The hole won't come towards you
Actually, it will. When you start walking, the hole does come towards you.
There are no pictures on scorecards
Well that's because they are scorecards, not pictures! And, actually, some scorecards do have pictures.
What a great golf shot
We are watching a golf tournament. He or she is hardly likely to be hitting a great tennis shot.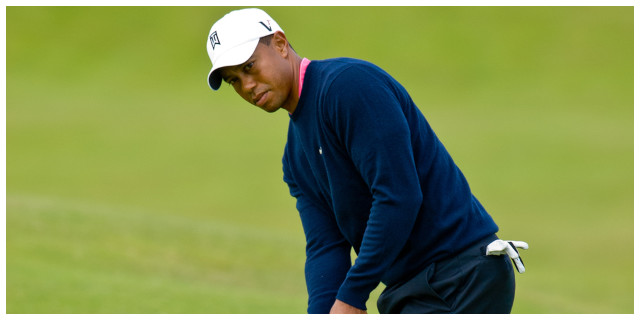 (Image Credit: Kevin Diss Photography)
He wants it more than anybody else
We hear this quite often and it is quite clearly utter nonsense. How can any commentator claim that Jon Rahm wants to win more than, say, Tyrrell Hatton?
Nobody works harder at his game
See above. Again, how would any commentator really know that one golfer works harder at his game than another? Unless they are talking about Kiradech Aphibarnrat, of course!
That's a good miss
Let's be clear about something - there is no such thing as a good miss. We normally hear this from a golf commentator when a pro hits a drive that it is so wild that it clears all the trouble and ends up in an adjoining fairway. That's not a good miss - that is lucky.
This is going to challenge him. He could hit 50 balls from here and not get the ball within 20 feet
Seconds later, the ball soars through the air and comes to rest three feet from the hole.
Better to be lucky than good
Erm no it's not. Period. Is Dustin Johnson lucky or is he good? He is good. Very good. Very, very good!
He has got to keep it in the short grass
Do you mean the fairway? Then just say it.
This guy is a genius with the flat stick
Outside of the commentary box, I don't know ANYBODY who refers to a putter as a flat stick. Ditto 'The Big Dog' when what they really mean is a driver.
How did that stay out?
Because he or she didn't hole it.
Did you see that? That ball defied gravity
Golf technology has reached some incredible heights but Titleist are yet to come up with a golf ball that is capable of defying gravity. This is an impossibility.
He's on the dance floor
No, he or she is actually on the green!
Trees are 90% air
Why do they keep saying this? Try telling that to the guy who has just hit a tree trunk and the ball has rebounded and caught him in his crown jewels!
A bad day at the golf course is better than a good day at the office
Yet another fallacy. Would you rather be hacking your way around the course in a downpour or in a nice warm office securing a deal that could finance a golf trip to warmer climes?
These guys drive for show and putt for dough
Not in this day and age they don't. With very few exceptions, there are no bad putters in the professional game now. And if you can't consistently find the fairway from the tee (and hit the ball at least 300 yards) then you have no chance of making a decent living. And the same thing applies in the club game - you simply have to hit the ball on the short stuff to give yourself a chance of showing what you can do when you finally get to the green.
That shot could turn it around for him
This is the one we hear when a pro is struggling and the cameras catch him holing a long putt or finally hitting a decent approach. And it almost never makes any difference to his struggles. If it is not your day, it is not your day.
He missed it on the pro side
What on earth does that even mean? We usually hear this on a breaking putt when a pro misses on the high side. It's not a pro miss - it's just a miss!
You don't want to leave a birdie putt short
So it is OK to leave a par or bogey putt short of the hole then?
He hit a great putt there
This normally comes after somebody misses a six-footer. If he missed it from six feet he surely didn't hit a great putt, did he?
It doesn't start until the back nine on Sunday
OK, we get what they mean, but 63 holes have been played before that and if you don't play well during that time then it doesn't matter what happens on Sunday afternoon.
He didn't hit it
Of course he hit it. He just didn't hit it hard enough.
Be right
Well, nobody is going to hit a golf ball and shout: "Be wrong" at it, are they?
He's got to play the course
The last time I looked, you play against other players who are playing the same golf course that you are playing.
---
And here are a few more miscellaneous cliches that drive me bonkers…
Get in the hole
I blame Tiger Woods for this one. It is only since he burst upon the scene that Tour pros have discovered that it is impossible to hit a drive without some dullard screaming: "Get in the hole!" At a 600-yard par five.
You the man…
Sorry, but I lay this one at Tiger's feet too. And I often wonder how many times he has heard it, and if he has nightmares about it every time he goes to bed and closes his eyes.
Keep your head down
How many times have you heard this one? And do you know what? It is terrible advice. If you ever have a spare minute or two, dig out footage of Annika Sorenstam and David Duval in their primes. Or watch Bubba Watson. Or Matthew Wolff. Or Bryson DeChambeau. Or…. You get the picture.
---
Related Content
---

Be part of the action with a selection of unique golf tournament experiences, from playing in a pro-am with the stars to watching the action at golf's most illustrious events. Whether it's the Masters or The Open, The Ryder Cup or WM Phoenix Open, build your own bespoke package with the experts at Golfbreaks.com.
---
What do you think? leave your comments below (Comments)
---
Tags: PGA Tour european tour daily picks
---
PLAY MORE PLAY BETTER - LATEST TUITION TIPS
---
Leave your comments below
comments powered by

Disqus