More Golf Books to Read During Lockdown
By: Golfshake Editor | Mon 11 Jan 2021 |
Comments
---
Facing lockdown and more time spent at home, many golfers will be missing the opportunity to visit their beloved courses, but that doesn't mean you can't stay engaged with the game. This is a great chance to read a variety of golf-related books, and thanks to the many gifted writers who are connected to the sport, there is a vast library to choose from.
We have selected another ten books for your consideration, including reads on golf courses, instruction, and some of the most legendary figures in history. So, if you find yourself in the need of something to fill your evenings, then you should appreciate these.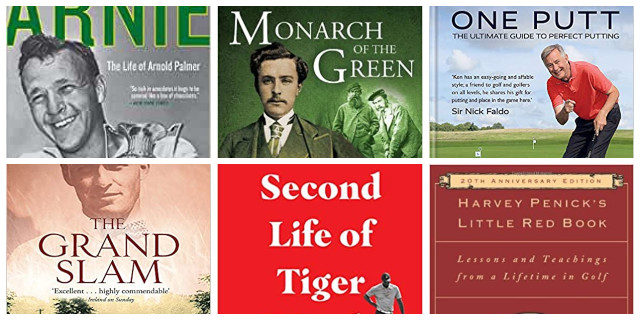 The Golf Lover's Guide to England
Reviewed by Will Trinkwon on Golfshake, Michael Whitehead's The Golf Lover's Guide to England is a celebration of the nation's courses, including those created by legendary figures such as Harry Colt, James Braid and Alister MacKenzie. Packed with detail and beautiful photography, this insightful book will help you to feel inspired and plan future travels.
Four Iron In The Soul
A classic of the genre, journalist and musician Lawrence Donegan chronicles his unforgettable season caddying for journeyman European Tour professional Ross Drummond. You will certainly have a laugh reading this. For more, see Will Trinkwon's review on Golfshake.
Monarch of the Green: Young Tom Morris - Pioneer of Modern Golf
Tommy Morris was the first superstar in golf, a heroic figure who set new standards in the sport, surpassing the skills of his famous father, Old Tom. However, Young Tom's life was tragically cut short. Providing insight behind just how brilliant the young Morris was, Stephen Proctor's stunning biography brings Tommy to life.
Amazon link here
Now For The Back Nine
Former Ryder Cup player and widely respected coach, Peter Dawson offer a mixture of instruction and lessons from his life in the game, all of which has been included to provide helpful advice and tips for senior golfers, making sure that you can still get a lot from your time on the fairways, even if you're not quite as flexible as before! Full review here.
The Grand Slam: Bobby Jones, America and the story of golf
Mark Frost, the co-creator of iconic TV series Twin Peaks, is also a respected author of golf books, one of which is The Grand Slam. Bobby Jones is now a mythological figure in the game, referenced his each year during the Masters at Augusta National, but just how peerless was golf's most famous amateur? Frost penetrates the mythos to offer a rich portrait of Jones, his finest achievement, and a period in American history.
Amazon link here
An American Caddie in St Andrews: Growing Up, Girls and Looping on the Old Course
New Yorker Oliver Horovitz completed high school and was looking ahead to studying at Harvard University, but circumstances meant that he took a gap year to the University of St Andrews, where he became a caddie, looping several times a day on the legendary Old Course. For a colourful tale full of adventure and humour, this is an entertaining read for anyone who wants to know more about the Auld Grey Toun.
Amazon link here
Arnie: The Life of Arnold Palmer
Paying tribute to arguably the most popular golfer in history, acclaimed writer Tom Callahan profiles a man he knew well, offering insights from those closest to Palmer, providing an understanding behind what drove the King, and why he became the perfect figurehead to lead golf's golden age.
Amazon link here
Harvey Penick's Little Red Book: Lessons and Teachings from a Lifetime in Golf
An enduring work, Harvey Penick's Little Red Book is a required read for any golfer, packed with timeless lessons that remain relevant to this day, helping to simplify and understand this beguiling game, as Penick's practical wisdom is something that we could all learn from on the golf course.
Amazon link here
The Second Life of Tiger Woods
Tiger Woods continues to captivate, his story is one of the most remarkable in the history of sport, punctuated by his dramatic comeback victory at the Masters in 2019. Leading golf writer, Michael Bamberger draws on a vast range of insights and sources to chart Tiger's resurgence from his lowest point to once again being awarded the iconic Green Jacket.
Amazon link here
One Putt: The ultimate guide to perfect putting
Putting can be a frustrating thing, so it's therefore handy that Ryder Cup golfer and popular commentator, Ken Brown is here to help through One Putt, his guide to holing more putts on the greens. The lessons here are simple and useful, something that can be deployed on the course this season.
Amazon link here
A Course Called Scotland: Searching the Home of Golf for the Secret to Its Game
Tom Coyne is one of golf's finest travel authors, and this time he makes his way to the Home of Golf. Including St Andrews, Turnberry, Dornoch, Prestwick, Troon, and Carnoustie, Tom's adventure is a memorable read that anyone who loves golf and Scotland will appreciate and enjoy, a celebration of what makes our game magical.
Amazon link here
---
Related Content
10 Golf Books to Read During Coronavirus Lockdown
---
What do you think? leave your comments below (Comments)
---
Tags: review Golf Books daily picks Book
---
comments powered by

Disqus