Duca del Cosma Belair White/Cognac Shoe Review
REVIEW: Duca Del Cosma Belair White/Cognac Shoe

---
Review by Golfshake Ambassador Mel Davies
---
Duca del Cosma was established in 2004 by Italian designer Baldovino Mattiazzo and his German wife Antje Elle, both passionate golfers. They decided to reshape the concept of golf fashion all together. Since their first collection was launched, Duca del Cosma has received numerous awards, year on year. Not just for its unique designs, but also for its radical innovation, such as the introduction of the spikeless golf shoe in 2006. Key to the brand's success, as Baldovino says: "In my designs I merge the Italian sense of beauty with German precision".
The company was acquired by Frank and Caroline van Wezel in 2016, after Frank had sold his shares in the famous Hi-Tec and Magnum footwear brands. In the 40 years that he led his companies, they reached over $250 million in sales, in more than 85 countries. His tremendous expertise in the industry largely contributed to the further development and global success of Duca del Cosma.
Frank van Wezel's commitment to excellent customer care is legendary. In every shoebox distributed worldwide you will find a note with his personal e-mail address. The chairman follows up on each feedback comment that he receives from his customers.
Reviewing for Golfshake, I had the opportunity to test Duca's Belair White/Cognac Golf Shoe.
Technical Specs
Airplay VI outsole, Duca's spikeless innovation, performs with maximum functionality on and off the course. The 5 mm cone-shaped nubs run across the entire bottom for optimal stability and grip as you swing. Light in weight yet offers exceptional cushioning. Added forefoot protection comes from an integrated front bumper. The heightened heel improves your stance, preventing foot fatigue.
Looks
These shoes really do look great. Both stylish yet sporty they look the part whatever style you are going for on the course. I personally love the contrast of the blue and brown set against the predominant white of these shoes. These shoes really could be worn on and off the course no matter whether you're in shorts or trousers. The whole shoe just smacks of quality, even the laces feel better than normal laces. I love the big Duca logo as it stands out and shows others you are wearing a top-quality golf shoe.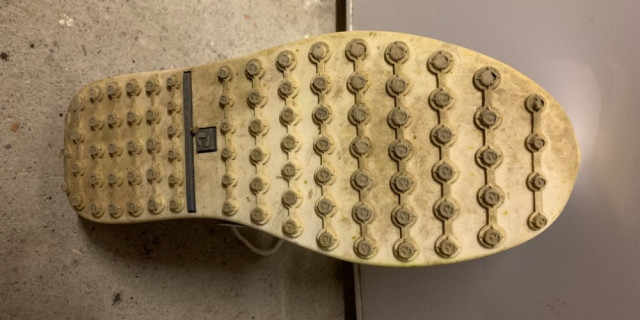 Feel
Straight out of the box they felt as good as any other shoe or trainer I've ever worn. I really struggle with shoes of all types so to put on a shoe that felt comfortable from the off was not only great but also rare for me. The memory foam insole is just another massive plus point, as I do struggle with my feet at times. I played a couple of rounds pre lockdown and have now added another 45 holes since and I have not encountered one issue from the shoes. As the saying goes, they really do "fit like a glove".
Performance
When I first looked at the sole, I was very sceptical as to whether they would provide the traction and stability required through the golf swing. I was lucky enough (or maybe unlucky) to play one round before lockdown in conditions that could only be described as torrential, but I didn't lose my footing whether just walking or more importantly swinging the club once. My home course has since become very dry in places and again the shoes stood up to the job which emphasises how good a shoe these really are.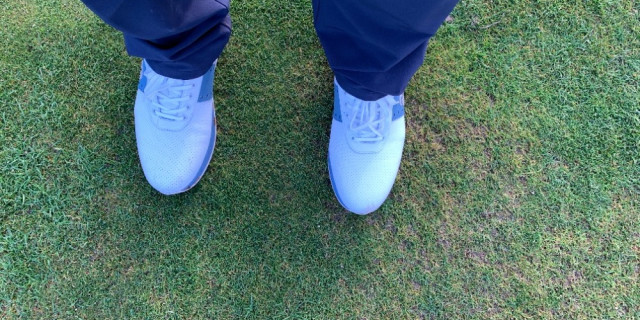 Verdict
Pros
The look of these is in my eyes is right up there with any other brand. The overall quality of the shoe and the performance of them will take some beating. Look great, feel great and perform superbly.
Cons
Some may say they are a little pricey, which I get, but to me you really do get what you pay for with them.
The Bottom Line
These are a stunning and well-made pair of shoes that will stand up to all conditions. Great to look at, feel as good as anything I've ever tried and perform as you would want/expect. They even come in a nice box with a message inside from the Chairman. Also provided is a handy little shoe bag, yet another fantastic addition.
---
Related Content
Duca del Cosma Golf Shoe Range Test
---
What do you think? leave your comments below (Comments)
---
Tags: shoes review golf shoes Duca del Cosma
---
comments powered by

Disqus