Rory Finds A Way To Be Consistently Word Perfect
---
WITH greatness comes responsibility. Rory McIlroy is the world's top-ranked golfer and, as such, he is a man who is approached for his views on just about every subject under the sun. And boy has he grown into the role.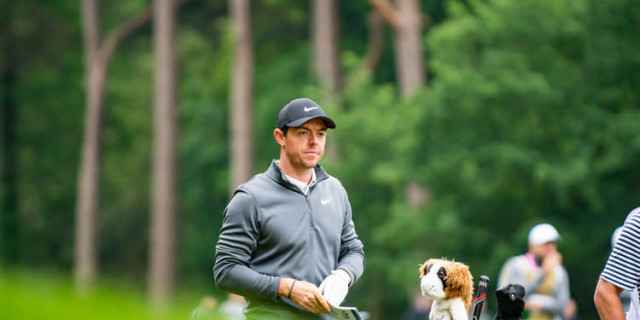 He has always been one of golf's most quotable individuals but he may now shudder at some of the things he said in the past. He once described the Ryder Cup as nothing more than an exhibition match, remember.
And it is not so very long ago that the Northern Irishman was telling the world that he felt no real need to be seen as a role model. He was younger then, has matured and is now more than happy to speak up for the game.
The recent TaylorMade skins match proved beyond doubt that McIlroy cares and knows how he is expected to behave and what he is expected to say. It is fair to say that Duston Johnson, another former No1, is not the most eloquent of individuals - he would be the first to admit it.
During that skins match, it was McIlroy who kept the chat going, the man who led the banter, knowing that the players were wearing microphones and the world was both watching and listening. Johnson and Matthew Wolff struggled with the concept. To be fair to Wolff, he is still only 21 years old. But even Rickie Fowler, a man who possesses charisma in spades, had little to add to the occasion other than his sparkling golf. It was also McIlroy who was more clearly aware of the importance of the social distancing measures than the other three.
And when they were all filmed talking to key health workers, it was McIlroy who shone through. He said that before the pandemic the world looked up to sportsmen like him, and entertainers, as their heroes and role models but quite rightly pointed out that they have been replaced by the doctors and nurses who put their lives at risk every day to fight the coronavirus.
He has not been afraid to criticise Donald Trump for attempting to politicise the pandemic. McIlroy was appalled that Trump was prepared to turn daily testing numbers into a competition - and was prepared to come out and say so. "We are in the midst of something that's pretty serious right now," McIlroy said. "President Trump is trying to make it a campaign rally, saying that the USA administers the most tests in the world like it's a contest. It's not the way a leader should act and there is a bit of diplomacy that you need to show, and I just don't thing he's shown that, especially in these times."
He simply said what most of us have been thinking.
McIlroy played golf with Trump in 2017 and was widely criticised for doing so. It is not a mistake he will be repeating. "I don't know if he'd want to play with me again after what I have just said. I know it's very self-serving of me to say 'no' and, if I don't, then it means I'm not putting myself in position to be put under scrutiny and that I'm avoiding that. He obviously has something or he wouldn't be in the White House., But that doesn't mean I agree with everything - or, in fact, anything - that he says."
Rory hasn't always got it right. In 2009 he said: "The Ryder Cup is not a huge goal of mine. It's an exhibition at the end of the day. In the big scheme of things it's not that important an event for me. Obviously I'll try my best for the team - but I am not going to go running around fist-pumping." Really? It's fair to say he doesn't think that now, as proved by all that fist-pumping in 2012, 2014 and 2016!
And then there were his views about the 2016 Olympics, which he chose to give a miss. "I'm very happy with the decision I've made," he said. "I've no regrets about it. I will probably watch the Olympics, but I am not sure golf will be one of the events I will watch. I will watch track and field, swimming, diving - you know, the ones that matter." Ouch! He later admitted that he regretted those remarks and was on record as saying that he wanted to be a part of the 2020 Tokyo Games.
He didn't win too many fans either when he had this to say during the 2011 Open Championship: "I'm not a fan of golf tournaments where the outcome is predicted so much by the weather. I mean, my game is suited for basically every golf course and most conditions, but these conditions, I just don't enjoy playing in really. That's the bottom line. I would rather play when it's 80 degrees and sunny and not much wind." He finished among the also-rans in 25th place. But he had changed his tune by the time he won in 2015.
McIlroy is now the go-to man when the media want a view on what's happening in the world of golf, and they do so because they know he will give them an honest, considered view. Golf is lucky to have him. And it is certain that he will be leading the way by consistently saying the right thing as the PGA Tour returns. He will also be more than happy to let his clubs do the talking.
---
---
What do you think? leave your comments below (Comments)
---
Tags: rory mcilroy
---
PLAY MORE PLAY BETTER - LATEST TUITION TIPS
---
Leave your comments below
comments powered by

Disqus