The Golf Lockdown Hairstyles To Look Out For
---
FOR millions of men and women around the world, one of the less serious concerns at the moment is the fact that, while we are locked down and everything else seems to have stopped still, our hair keeps growing. Arguably, it is not such an issue for women, but many men will be worried that when we emerge, blinking, into the real world again (whenever that time may come), we will discover that it is inhabited by millions of guys who look like hippies.
Some have taken matters into their own hands and have shaved the lot off. Others have trusted wives, partners, even their children, to do their worst. But most of us are currently having "I can't do a thing with it" days. The queues outside the nation's hairdressers will stretch round the block when we get the all-clear.
But there are some golfers who have always struggled with their hair.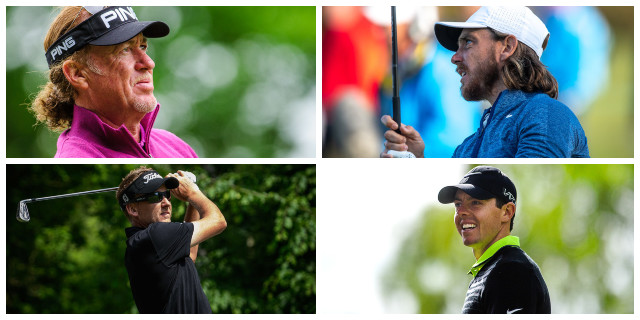 Rory McIlroy
There are two things that don't go together - thick, curly hair and a baseball cap. If you are a tournament pro, you know that when you hole your final putt you are going to have to remove your cap. And for years, the first thing McIlroy did when he took his off was to reach for his hair, knowing that he looked like he had just got out of bed. It took a while for the penny to drop, but he has finally twigged that he needs to keep it short.
Rickie Fowler
Do you ever get the impression that his mother simply puts a bowl over his head and lops off the bits that stick out? Really, Rickie, with all that money you can surely afford to have a proper haircut.
Miguel Angel Jimenez
What's not to love about the Spaniard? He does everything with a certain swagger. His swing is very much his own. His warm-up routine beggars belief. He enjoys a glass or two of red wine. He skis. He obviously enjoys his food. And then there is his hair. Ah, yes, Miguel is the archetypal ageing hippy. The powers-that-be must thank the lord that he keeps it tied back. But it is a sight to behold when he lets it all hang out. One of a kind.
Tommy Fleetwood
Oh Tommy! Everybody loves you. You play golf the way it is meant to be played. You just get on it with it. You don't lose your temper. You are a dream to play with and a dream to interview. And you always step up to the plate for the press, no matter how badly you have played. Your fellow competitors love you. The fans love you. You are the perfect family man. But Tommy….GET YOUR HAIR CUT!
Ian Poulter
It is bad enough that Poults has committed every crime known to man against fashion - awful trousers, tasteless top etc. But his hair? He has had it spiked. He has had it coloured. He has had it dyed. Poults, we love what you do in the Ryder Cup, but it's time to accept that you are a grown man in your forties!
Padraig Harrington
Oh Padraig, what were you thinking? The Irishman has spent his career looking for something to give him that extra edge. He is forever tinkering with his swing, changing putters, changing putter grips, consulting new coaches, adopting different philosophies, speaking to new gurus who may have the answer. But why would a man whom we all know has dark hair, suddenly appear with it dyed blonde? And not expect everybody who saw it to fall about laughing? To be fair, he wasn't the only one - Lee Westwood, Darren Clarke and even Luke Donald (who should surely know better), also reached for the peroxide. Dear, oh dear, oh dear!
Andres Gonzales
You may not know the name, but if you came across him on a dark night you may well be tempted to run in the opposite direction. The walrus moustache is scary enough, but it is the hair that does it, flowing beyond his shoulders and halfway down his back. Think Hell's Angel. Like a golfer he does not look!
Boo Weekley
We all remember Boo riding his driver during the Ryder Cup. It was a sight for the ages. He makes to secret of the fact that he is what the Americans call a "Good ole boy", more at home huntin' and fishin'. He always looked an unlikely golfer but recently it seems that he is trying to turn himself into Grizzly Adams!
---
Related Content
---

Be part of the action with a selection of unique golf tournament experiences, from playing in a pro-am with the stars to watching the action at golf's most illustrious events. Whether it's the Masters or The Open, The Ryder Cup or WM Phoenix Open, build your own bespoke package with the experts at Golfbreaks.com.
---
What do you think? leave your comments below (Comments)
---
Tags: daily picks
---
PLAY MORE PLAY BETTER - LATEST TUITION TIPS
---
Leave your comments below
comments powered by

Disqus