Golfshake Members Reflect on Odyssey Putter Fitting
By: Golfshake Editor | Thu 03 Oct 2019 |
Comments
---
Earlier this year, we took three keen Golfshake members to experience an Odyssey putter custom fitting with Nick Soto at Northampton Golf Club's highly regarded Putter Studio. Here, the guys received expert tuition and analysis, gained an insight behind their own strokes and received new tailored putters to use throughout the summer.
Weeks later at Notts Golf Club, we caught up with Stephen, Kevin and Steve to hear their initial feedback in the aftermath of the fitting, but now months on, the time has come to revisit and discover what progress has been made on the greens.
The Fitting Process
Fitting is now commonplace with regards to drivers and irons, but fewer golfers take the opportunity to have their putters fitted, despite that being the most used club in the bag. Unsurprisingly, the guys had limited knowledge of what their time in the Putter Studio would entail, but Kevin knew just enough to be intrigued by the prospect.
"I had read on forums and in articles about the more sophisticated SAM-Labs approach to putter fitting, so when the opportunity to take part came up with Golfshake I was really happy to get to the chance to see for myself the process and understand in far greater details my putting strengths and weaknesses."
When it came to the trial and error process of finding the right putter - before fitting - each of the guys had been through several models in the past across a range of manufacturers, Steve being the most prolific with six putters in seven years! That's an expensive and time-consuming journey, but the clear benefit of fitting is that it removes the guesswork and ensures that the model in your hands is the one suited for your body type and technique.
Kevin had tried various styles - including belly putters in an effort to combat a mild case of the yips - so the chance of a fitting was something to be grasped.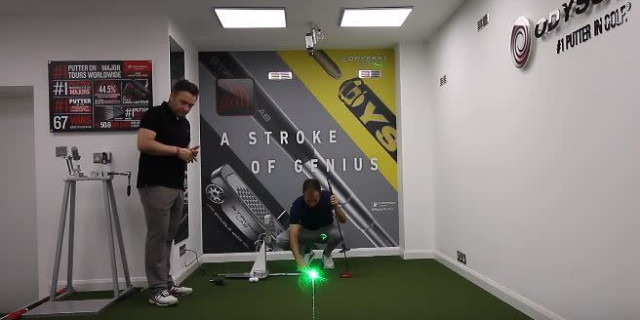 The Technology
Going through a putter fitting and seeing the technology in action can be an eye-opening experience, but that only gave Steve greater confidence that it was a worthy endeavour.
"The technology used during the fitting was excellent and demonstrated to me that I was being fitted into the best putter for me."
Kevin endorsed hat view. "I really loved the putter fitting experience ran by Nick, and this was only helped by the technology. Much like when I go for iron/driver lessons, it's been hugely beneficial to me when trying to understand my game to work with data and imagery/video rather than 'feel' feedback, and this process had data coming out of its ears! During the fitting I tried 7 or 8 putters, and only one didn't quite feel right (and that was likely down to a different, thinner grip) so by then analysing the respective data points on each one it was very easy to then isolate the top two (which were very similar in terms of performance), with the final decision being down to looks – the Marxman just fitted my eye better with a clean look behind the ball, complemented by a single strong alignment aid on top."
Stephen was also impressed: "Really insightful and eye opening. Identifying the impact and influence my hands were having when trying to compensate for poor alignment was really surprising. Nick did a great job of translating the data into practical terms."
Nick Soto Tuition
During their time at the Putter Studio, the guys also received tuition and a masterclass from Nick Soto - examples of which you can enjoy within the Golfshake Tuition Section - and those lessons have been adopted by our golfers.
"Nick tailored his language and methods to his audience. He was very mindful and accepting of the fact that we would collectively struggle with time in particular when it came to practice. The drills and advice he provided were very practical and easy to apply," Stephen added.
Steve reflected: "I came away from the fitting convinced I had the correct putter for me and if I ever need another putter, I would go see Nick again as I have the utmost confidence in him and his technology. As soon as I place the putter behind the ball, I feel I am lined up properly, which is due to the design of the seven mini suiting my eye better than the two-ball I had before. This allows me to fully concentrate on my stroke and pace."
Kevin said: "I've never really had a pre-round warm up routine with my putter, it's usually a case of just throwing a few balls down and hitting a few 5-10 footers before hoping for the best on the 1st green! Therefore, the discussion with Nick was really insightful, and provided very practical advice on how to approach a warm up with a more structured approach, even if there's limited time. The pace drill is the one thing I've tried to complete before each round and it's helped a lot, and the other piece of advice I've incorporated is to actually stop using a line on the ball. I've found by focusing less on a precise line, I'm more focused on pace and visualising the whole ball going into the hole, and found my putting has become a little freer which has contributed to a general improvement on the greens."
The Benefits
Clearly, there was much to take in during the fitting day, but what benefits have been seen during the subsequent months? That was the key question we put to the guys.
Steve remarked: "My game has improved since the fitting and I am having more good putting days than before, this has given me more confidence. My Golfshake and club handicap have both dropped a shot to 11 and 12 respectively and I feel there is more to come, if I can maintain my current enthusiasm for the game. This Saturday and Sunday, I holed 15 to 20 footers for birdie on a couple of nemesis holes where I am usually ecstatic with pars.
"Overall the putter fitting has been a game changer for me, my confidence has improved not just in my putting but all through my game."
Kevin seconded that enhanced self-belief. "I've definitely become more confident on the greens, maybe too confident! It's taken a little while to get to grips with pace, but rather than now leaving putts short at least I am getting it to/past the hole. However, as I've played with it more and more, and switched more focus from a precise line to an increased focus on pace, I definitely feel like I can hole more putts, rather than just trying to lag it close."
Stephen has seen the most visible results. "My handicap has come down 1.5 strokes since attending the initial session and being able to apply what I learned on the day. My confidence from 3-6 feet especially has had a huge impact in bringing my average putts per round below 30 on a reasonably regular basis (something that was unheard of three months ago).
"I am generally four putts per round better since having the fitting, and indeed only last week had my strongest putting week ever with 26 putts."
Reflections
Looking back at their Odyssey Experience, each of the guys would heartily recommend a putter fitting to their friends, with the positive lessons and impact obvious.
Stephen added: "It was really enjoyable and insightful day all round. As highlighted, Nick simplified all of the data/insights and was really key to getting the most from the day. By keeping things simple, practical and being realistic about what could be achieved with our time restrictions, he has no doubt made a real difference to my golf game."
Kevin noted: "The importance of putter fitting has definitely increased in my eyes, and I've been telling my regular playing partners that they should definitely consider it when they next decide to change."
---
Well, there you have it. Should you be considering buying a new putter, or fancy gaining whatever improvement you can on the greens, putter fitting is a route that more golfers are taking to get the most from their game.
For more information, visit https://www.golfshake.com/odysseyexperience/.
---
What do you think? leave your comments below (Comments)
---
Tags: putters odyssey daily picks custom fitting
---
PLAY MORE PLAY BETTER - LATEST TUITION TIPS
---
Leave your comments below
comments powered by

Disqus