The Smartest Professional Golfers
---
Professional golfers are, by and large, an inspiring lot. Animal-angels to the average person's mere animal, they undertake physical feats that we can only dream off, continually challenging the limits of what humans, when armed only with a stick and a little white ball, can do. The question of how much of being a great golfer is a mental as opposed to just a physical gift is much debated: do you need to be a genius to be a champion? And regardless of the average professional, there's no doubt a number of hyper-smart players exist on the tour. We count down some of the very sharpest below.
Bryson DeChambeau
Google 'smartest golfer' and this is the guy who pops up. While DeChambeau has benefitted from the PGA Tour's powerhouse marketing – who've been promoting him as a maverick intelligence for some time – it would be difficult to exclude him from this list. After taking to maths as a child, DeChambeau majored in Physics at Southern Methodist University, combining a rigorous education in science with an even tougher run on the university's golf team. Here, he refined what has since become his trademark of having all his clubs the same length, which he worked out was more efficient than the usual, changeable lengths. From stunts like measuring the 'coefficient of restitution' (COR) of flagsticks to determine whether he puts with the flag in or out, to putting with a 'vector system' (no, we don't know what that is either), it's safe to say that Bryson is pretty smart.
Tiger Woods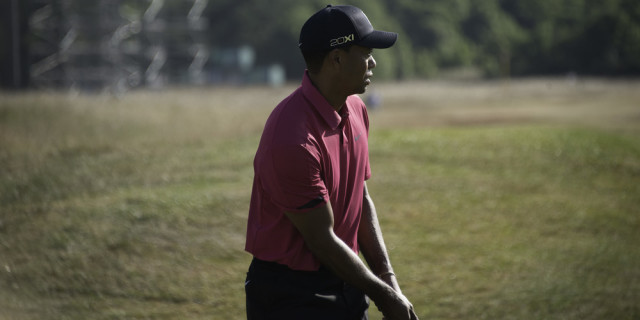 Mention the name 'Tiger Woods' and the first thing that's likely to come to mind is his burly physique, his phenomenal athleticism and his amazing skill in golf. Turns out though, golf isn't the only thing Tiger excels in: he's also an incredible student. The Big Cat is a graduate of Stanford, where he played golf and majored in Economics. Although Tiger would eventually drop out of the course, giving up his final year for a quick start on the PGA Tour, he apparently excelled in his studies, all the while dominating the university's golf team. He doesn't shout it about, but trust me, TW is seriously sharp.
Notah Begay
Tiger's teammate at Stanford, Notah Begay is another big brain. Begay's penetrating intellect is now displayed in his analysis for the Golf Channel, which is some of the most insightful around. Before then, however, he was a golfer on the PGA Tour, winning four times before hanging up his clubs for a pundit's suit. At Stanford, Begay studied Economics, just like Tiger, but unlike Tiger finished the course. He puts the top analytic skills he learned in his studies to good use for the Golf Channel, lifting golf commentary to a whole new level.
Jason Day
In contrast to many of the other golfers on this list, Jason Day didn't play university golf. But a lack of formal education is not an infallible measure of someone's intelligence. What he misses in knowledge of science, Day more than makes up for in pure street smarts. Watch any of the new TaylorMade ads – the ones that feature Day, DJ, Rory, Jon Rahm and Tiger Woods walking naturalistically down fairways – and you'll see that Day is possessing of a razor-sharp wit and a great eye for witty banter. It's a different kind of intelligence to say Tiger or Bryson, but it's equally impressive to see.
Rory McIlroy
Rory is another player who looks less than academic on paper, but sharpens up when you see him in action. Like Day, the Irishman has a real knack for dolling out the Hitch-slaps and fiery bants. For just one example: when Matt Kuchar moaned about McIlroy pipping him to the Fed-Ex Cup, the latter quickly responded: "Well, we all know what money means to him", a clever reference to Kuchar's well-documented stinginess over tipping his caddies. He left school at 16 with a handful of average grades; you'd be a fool though to risk giving him stick.
Rory eviscerated Kuchar today. ???? ???? ???? pic.twitter.com/omtMHRS8rh

— Chris Chaney (@Wrong_Fairway) August 6, 2019
Geoff Ogilvy
Straight from the heart of Oz, an eccentric intellectual originates. I'm talking about Geoff Ogilvy. As much an intellect as he is a great golfer – people forget that Ogilvy won the U.S. Open in 2006 – Geoff has a reputation for an agile mind. For years, journalists have been plucking him as a source of articulate and considered opinions on tour. He's also apparently a big reader, particularly of Bobby Jones, and displays a rare knack for coining a good phrase. Describing the pleasures of St Andrews, Ogilvy summed up as follows: "In our increasingly black-and-white game, the Old Course is a million shades of grey". It's a testament to his sensitivity that when he waded in on a debate between Brandel Chamblee and Tiger Woods in 2013, his article for Golf Digest was widely praised. I leave you with another wise Ogilvy line – "Journalists and broadcasters should not be mere cheerleaders" – as I inappropriately gush at his skills.
Padraig Harrington
Thoughtful and deliberate, Paddy is as sharp as a razor and as switched on as a light. A bit like Bryson DeChambeau, Padraig Harrington's intellectual strength lies in numbers. After losing confidence in his game at the end of his amateur career, the Irish champion took the slightly bizarre decision to become an accountant. As history shows, he quickly packed it in of course, but not before swotting up for his official exams. Showing off his quick wit, he passed with flying colours, giving journalists a handy nugget of trivia to bung into articles like this.
Phil Mickelson
With the swagger of a hustler and the eyes of a loan shark, there's something about Big Phil that just screams wit. He gives great banter – witness, for instance, his infamous shutting down of a tee announcer who listed too many of Tiger Woods's wins – and can also turn a sharply worded line. In recent years, he's taken to showcasing his lightning humour on Twitter where he's the king of the clever tweet.
---
---

Be part of the action with a selection of unique golf tournament experiences, from playing in a pro-am with the stars to watching the action at golf's most illustrious events. Whether it's the Masters or The Open, The Ryder Cup or WM Phoenix Open, build your own bespoke package with the experts at Golfbreaks.com.
---
What do you think? leave your comments below (Comments)
---
Tags: PGA Tour european tour daily picks
---
PLAY MORE PLAY BETTER - LATEST TUITION TIPS
---
Leave your comments below
comments powered by

Disqus