How You Compare to the Best Putters on Tour
---
Putting is perceived as being a game within a game, requiring unique skills that can be viewed separately from the full swing of driving and approach play. For many golfers, a putter in their hands was the introduction to a form of the sport, whether it be on a public municipal green or even crazy golf at the seaside. Not everyone has played golf in the conventional sense, but they have quite likely putted a ball towards into a hole, windmill or clown's mouth.
Such is the tantalising nature of putting, we all want to hole more of them. Evidently, a bad tee shot into the thick rough, trees or out-of-bounds is more damaging to a scorecard than one missed putt, but nonetheless improved results on the greens is an integral route to shooting lower rounds, with approximately 40% of shots in 18-holes being played with a putter.
You need to hit more fairways and greens, but capitalising on those opportunities is also key. When it comes to players who win on the professional tours, the champion is often the best putter among the leading ball strikers of that week.
We have taken a closer look at stats on the PGA, European, LPGA and Champions Tours, comparing with the tracking data of regular golfers on Golfshake, to see how each group matches up across various levels.
The Best Putting Stats on Tour
Following the completion of the regular PGA Tour season on August 4th, Justin Rose led the putts-per-round stats with 27.74, narrowly ahead of Jordan Spieth on 27.76. Aaron Baddeley, who has been one of the finest putters throughout his career, is just back on 27.80. Although it can be a deceptive stat, these are hugely impressive numbers.
During 2019, 98 players on the American circuit averaged under 29 putts a round, with a total of 187 averaging under 30. There isn't much separating the best and worst on the tour, underlining how vital small, incremental and marginal improvements are between those who make cuts, retain their cards, and fall off the circuit entirely.
Looking at the European Tour, Rafa Cabrera Bello leads at 27.70 for putts-per-round ahead of Haotong Li on 27.75. Open champion Shane Lowry is at 28.10. Overall, 44 players in Europe average under 29, with 149 under 30, notably fewer than those across the Atlantic.
Hyo Joo Kim is the best performer on the LPGA Tour, averaging 27.89 putts a round. Just the 68 players on the circuit average under 30, suggesting other factors at play, whether it be the condition of courses or the proximity to the hole that the players hit with their approach shots.
It's often said that nerves on the greens decline with passing years, but the Champions Tour golfers are more than respectable on the greens. David Frost (28.28), Steve Stricker (28.32) and Miguel Angel Jimenez (28.47) are the best on the over 50s scene. 14 players average under 29 putts-per-round with a total of 54 under 30, impressive stats that would surprise some - likely many of the players on that tour!
How These Compare to Regular Golfers
We delved into the Golfshake Score Tracker to identify the best performers across a range of abilities in 2019. From 1-10 handicap golfers, five players who had recorded at least ten rounds averaged under 29 putts a round. Interestingly, the results for those with 11-15 handicaps are virtually identical, with notable change only coming with handicaps in the high teens, where six golfers breached the 30 mark for putts. But even then the numbers are improved for those in the low 20s, better than than many in lower handicap categories, suggesting that the differences between each level of golfers is the quality of their long games, something that doesn't come as a surprising revelation.
It can also be argued that players who hit more greens in regulation will generally be further away from the hole than those who have chipped or pitched on from closer distance, which likely causes the confluence between the better ball strikers and less consistent iron players.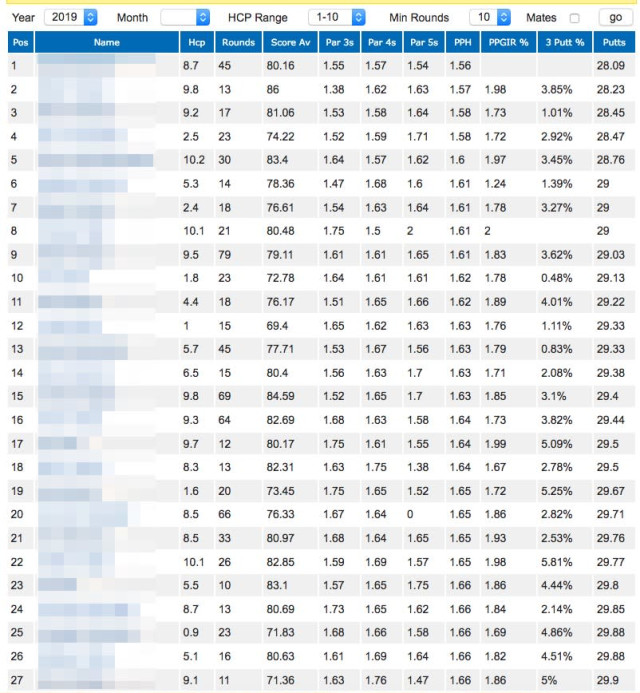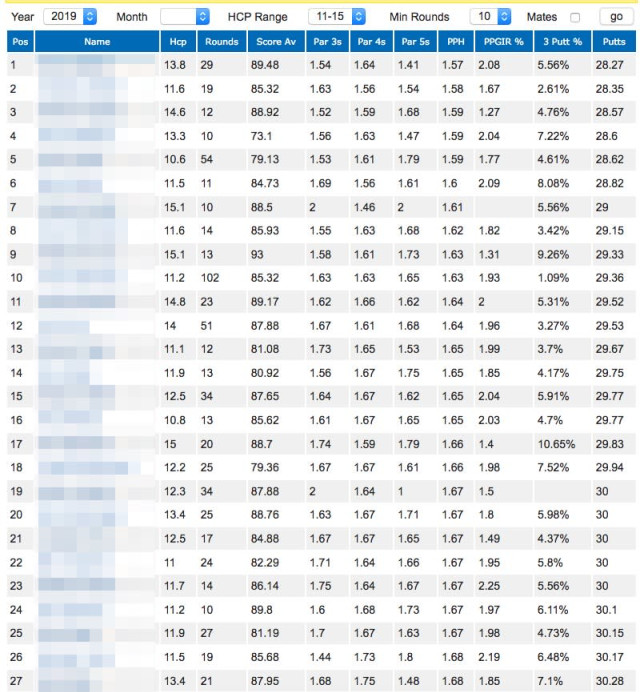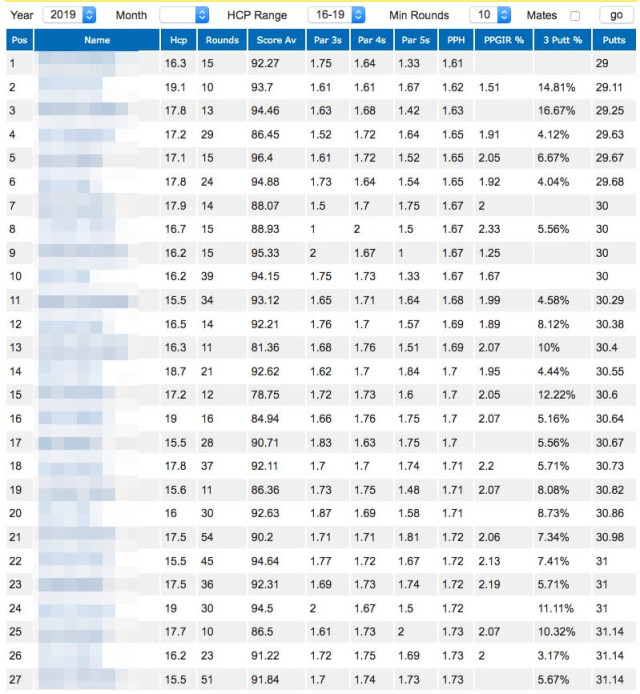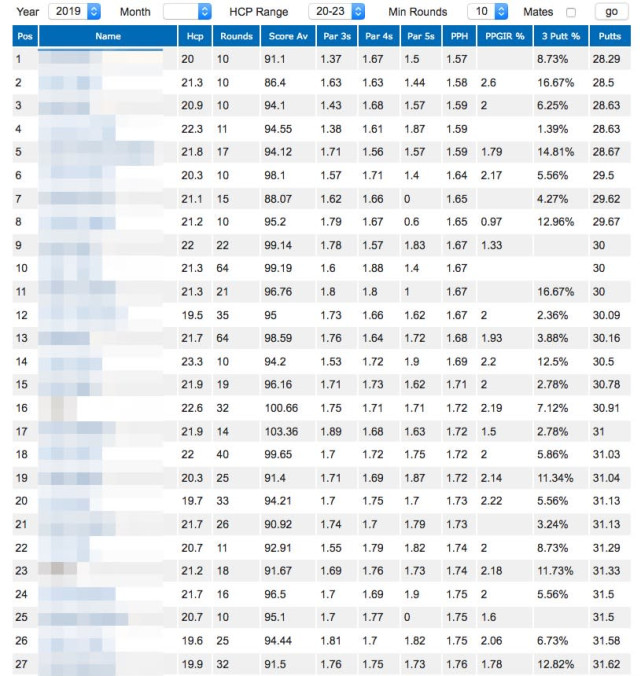 Benchmarking Your Putting Stats
Using our statistics, we have benchmarked targets for golfers to reach when it comes to improving their handicaps, something you can analyse through the Score Tracker.
For example, a 12 handicap averages 33.1 putts a round. If you're bettering that - then you're ahead of the game. Those who want to reach single figures need to be around 32 a round, with higher-handicap golfers hoping to break down into the teens need to average 34.3. But clearly there are many different routes to improved scoring, putting being just one.
The difference between golfers is perhaps best illustrated through the percentage of three putts. Those with a single-digit handicap will average at most 7% whereas golfers with a handicap above 20 will three-putt at least 14% of the time.
On the PGA Tour in 2019, 119 players had a three-putt rate of less than 3%. Cameron Champ had the most at 5.07%.
28 Days To Better Putting
Ultimately, these are just guidelines, but improving your putting stats could be the difference between achieving your next score or handicap objective. To help that, we have recently launched 28 Days To Better Putting with Odyssey, featuring detailed insight, tuition and assistance to guide you to more hole putts.
Give that a go, track your stats, and see how you compare to those on tour, but also golfers closer to home.
---

Be part of the action with a selection of unique golf tournament experiences, from playing in a pro-am with the stars to watching the action at golf's most illustrious events. Whether it's the Masters or The Open, The Ryder Cup or WM Phoenix Open, build your own bespoke package with the experts at Golfbreaks.com.
---
What do you think? leave your comments below (Comments)
---
Tags: stats Score Tracker putting PGA Tour odyssey lpga european tour
---
comments powered by

Disqus