What is Strokes Gained and How Can it Improve Your Game?
---
Article by Alex Picken
---
As professional golfers continue to defy all expectations of what experts previously thought were possible on a golf course, statistical analysis of data can play a key role in helping the audience understand just how these professionals consistently achieve these amazing scores that we witness week-in and week-out. One of these statistics that is a key indicator for analysing the success or failure of a professional golfer during any given week is strokes gained. While it may seem complicated and confusing at first glance, the strokes gained statistic is surprisingly straightforward and if used correctly, can have a very positive impact to help improve multiple aspects of any aspiring individuals golf game.
How it Works
The strokes gained concept was initially introduced by Professor Mark Broadie of Columbia University, the philosophy behind strokes gained statistics is that they are intended to measure a player's performance compared to the rest of the field. Other more traditional statistics simply highlight individual performance, whereas strokes gained statistics allow for a comparison between the rest of the players in the event to be accurately evaluated against one another. While there are a wide range of different stroke gained statistical variations, the most commonly used however would be strokes gained: off-the-tee, strokes gained: approach-the-green, strokes gained: around-the-green, strokes gained: putting and strokes gained: total. These aspects are probably the most commonly used with measurements for strokes gained as they represent almost every facet of overall ability. It is no coincidence that when an individual wins a professional tournament, typically they are close to the top in a large majority of these categories. All of these different statistical aspects have the ability to give in-depth analysis into understanding just exactly how a player has out-scored the rest of the field, or vice versa.
Rory McIlroy Leads the PGA Tour's Strokes Gained in 2019 (Image Credit: Kevin Diss Photography)
Both the PGA and European Tours utilise a variety of different stroke gained statistics to understand which players excel in each particular aspect of their golf game, aiming to clearly highlight which golfers top the charts in areas like putting, short game, approach shots and fairway accuracy etc. With statistics constantly being measured by analysts over each and every shot, at the end of every round professionals can look at these stats and clearly observe their strengths and weaknesses by comparing these figures to the rest of the field. While obviously amateur golfers unfortunately don't have access to all of these figures during their weekly medals or club competitions, there are certain figures that amateur golfers can utilise to compare their scores against their playing opponents to help improve golfing performance.
How Regular Golfers Can Adopt Strokes Gained
Firstly, the most obvious strokes gained statistic that amateur golfers can utilise is strokes gained: total. This is perhaps the simplest strokes gained statistic to use as an amateur golfer and is probably the one that most overlook. For example, if you were to calculate the average gross or net score of the entire field after the weekly medal at your own golf club, you could then compare your score with this average, helping you figure out what your strokes gained total would be compared with the rest of the field that day. In my opinion, working out this statistic can be a very important factor in order to help golfers begin to understand what level their golf game is currently at. For example, when you have an off day, many golfers will come off the course feeling their round was poor compared to usual, when in reality when their score is compared to the rest of the field who played through the same course conditions and weather, their strokes gained: total score may reflect a much more positive day. By comparing your scores against the rest of field instead of your own personal milestones, amateurs can start to set themselves targets that are realistic in relation to the rest of the field they are playing against who are at a similar level of ability themselves.
Another strokes gained statistic that amateur golfers can use for game improvement purposes is strokes gained: putting. Obviously, it's not very realistic or practical to go around asking every player in your weekly medal how many putts they had during their round, but you can figure out your own strokes gained: putting if you compare it to the standard average of putting. For example, two-putting every green on the course would be considered par and equal 36 putts in total, by comparing your own putting statistics to this standard number you are able to work out your strokes gained: putting average every time you walk off the 18th green. For most golfers, putting is the 'make or break' aspect of their golf game, which means understanding whether they are consistently gaining strokes or losing strokes on the field putting can be a huge indicator as to where a lot of their loose shots are going.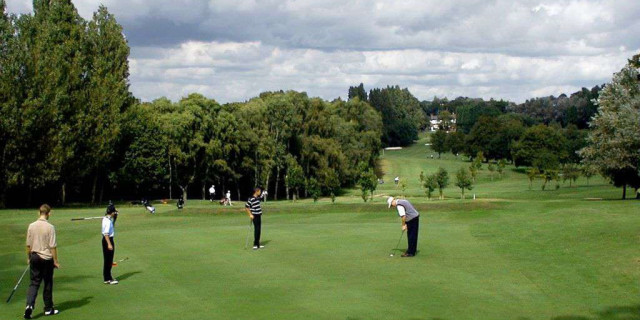 One of the most obvious difficulties for the application of strokes gained statistics in amateur level golf is that it requires constant and accurate data collection on every golfer in the field. During a weekly medal or club competition, most golf clubs do not possess the ability to do this, unlike the PGA or European Tour who have an army of statisticians ready to record and work out a variety of individual and collective statistics. While you may not be able to compare strokes gained statistics with the exact field of amateur golfers you are playing against, you can compare your own statistics to the professionals, using their analysis to help you improve your own game. By utilising the vast array of individual statistics that are available on websites like PGATour.com and EuropeanTour.com, any aspiring golfer who is serious about their game can track their own statistics and use them to compare themselves against the very best competitors in golf. Strokes gained statistics complicated identity is something that causes many people to simply overlook the importance of it, mainly due to the fact they believe they are not good enough golfers to utilise advanced analysis like this. However, this couldn't be further from the truth. Strokes gained statistics don't have a handicap requirement, they don't discriminate against ability, there only aim is to facilitate the opportunity for golfers to compare their own statistics against their fellow playing competitors or the best professionals in the world.
Golfshake Score Tracker
For an accurate assessment of your own strokes gained statistics, you will require a multitude of different data aspects, all of which will need to be tracked in some specific way. This is where the Golfshake Score Tracker facility comes into its own. The Score Tracker facility can be used both online on the Golfshake.com website as well as via the Golfshake iOS or Android apps. The Score Tracker facility is completely free to use and allows golfers to track an unlimited number of rounds, the facility can track a variety of figures and stats, including GIR, FIR and total putts. The Golfshake Score Tracker allows golfers who are wanting to analyze their strokes gained statistics the perfect resource to compile all of their golfing statistics into one unique facility as well as take advantage of the multitude of different features that the score tracker facility hosts. For more information about Golfshake Score Tracker and how to sign up and use the facility effectively, click here.
---

Be part of the action with a selection of unique golf tournament experiences, from playing in a pro-am with the stars to watching the action at golf's most illustrious events. Whether it's the Masters or The Open, The Ryder Cup or WM Phoenix Open, build your own bespoke package with the experts at Golfbreaks.com.
---
What do you think? leave your comments below (Comments)
---
Tags: Strokes Gained Statistics Score Tracker PGA Tour european tour
---
PLAY MORE PLAY BETTER - LATEST TUITION TIPS
---
Leave your comments below
comments powered by

Disqus