Golfshake Set for Continued Growth & More Golf in 2019
By: Golfshake Editor | Mon 25 Feb 2019 |
Comments
---
The 2019 golf season is fast approaching, and there has never been a better time for golfers to engage with the Golfshake Community through the use of the Golfshake website, Score Tracking services and Golfshake apps.

Despite a widely contrasting climate, in 2018, of unseasonably cold and hot weather presenting a challenging environment for golf during much of last year, we are pleased to note a record usage of our Score Tracker App, a record increase in signups to our email newsletters and continued growth of our golf course review system with over 16k independent reviews added in the past 12 months, which has taken the Golfshake rating system beyond 235,000 - providing golfers and venues with an invaluable resource, connecting new visitors with golf clubs, and our users with Highly Recommended destinations.
---
Golfshake Survey and Golf Data Analysis Insights
---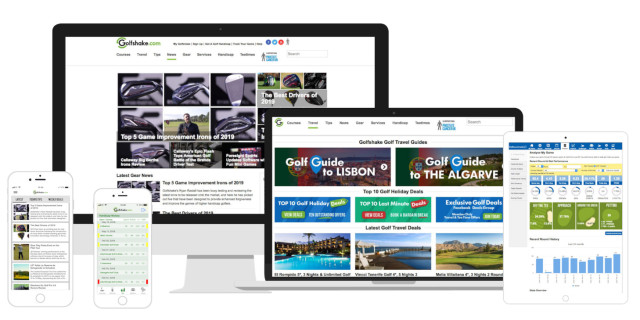 These hugely positive results were driven by a 23% year-on-year increase in rounds tracked on Golfshake during Q4 2018, an encouraging trend for us and the wider industry that has continued into the New Year with a strikingly bright first month of 2019 signalling the largest January we've ever seen for rounds tracked. Golfers have been getting out and playing throughout this winter, a fact that bodes well for the season.

Hoping to build on this platform, constant enhancements are being introduced to our services to deliver a more effective and engaging products for our Community of regular golfers that uniquely comprise of 50% of non-club members. These enhancements include improved functionality to the Score Tracker App on iPhone and Android, helping regular golfers to 'Play More & Play Better', a mantra that directs our focus.

Content will be a major part of Golfshake in 2019, as we look to engage and further integrate new golfers and avid users into our bespoke campaigns that have become a regular feature on the website and social channels, promoting branded messages and new products to a receptive audience across a multi-platform marketing drive through a variety of challenge goals for our Community, a particular example last year seeing over 5,000 golfers subscribing to an email campaign based on just one user objective focused on improving their putting.

Facilitating that engagement has been made possible through developments on the Golfshake website introducing an updated navigation system, improved ad delivery, as well as new 'content hubs' to showcase those campaigns. Additionally, we are set to launch a new standalone content app that will provide an extra distribution channel and platform to showcase our constantly evolving news, gear, travel and tuition-based content as well as our steadily building Podcast bring a variety of content focused around our unique service and course and travel based content.
---
Golfshake Updates and Service Announcements
---
The Golfshake editorial content continues to be provided by the diverse team. St Andrews based Digital Editor Kieran Clark continues to oversee our site, social, podcast and email editorial platforms, and we have been joined this year by Kevin Paver and Ryan Rastall, who bring a rich depth of expertise.
Kevin brings a wealth of experience from a background in radio and the running of a video production and animation company, looking after our digital marketing and content strategy, largely focused around the creation of videos to provide golfers with engaging and informative content, showcasing key messages and making that connection with our audience.

Much of this will feature Ryan – who is our new equipment expert – a PGA Pro and Head Professional at Howley Hall Golf Club, where his passion and knowledge of golf technology has been expressed to great success through the establishment of a custom-fitting studio at Howley Hall, where his highly regarded coaching is delivered by the use of TrackMan.

Additionally, we have a freelance team of writers, photographers and video producers, joined by the continued support of our eight Golfshake Ambassadors, who consistently provide fresh content, features and reviews for our audience to consume from the welcome perspective of everyday golfers like them.

Combining and enhancing our content across each channel and platform to deliver more engaging and valuable services to our golfers is a key ambition for this year, as we look to make Golfshake an integral part of their life playing this wonderful game.
For more information on the Golfshake services visit: www.golfshake.com/services/
---
What do you think? leave your comments below (Comments)
---
Tags: industry insider golfshake
---
PLAY MORE PLAY BETTER - LATEST TUITION TIPS
---
Leave your comments below
comments powered by

Disqus