Mizuno NEXLITE 005 Boa Review
---
The next instalment of our 2018/19 winter shoe review series is here. As you will most certainly know by now, we spent a day at Moor Allerton Golf Club a few weeks ago with a group of Golfshake readers and Ambassadors. Each participant was given a pair of golf shoes to wear and have been trying them out on their own courses, ever since. This review features the brilliant Mizuno NEXLITE 005 Boa shoe which Joe Wier has had the chance to get his foot into. Keep reading to find out what he has to say about the shoes.
Best Winter Golf Shoes for 2018/19
Tech Specs
The Mizuno NEXLITE 005 Boa is a shoe packed with modern technology but still features some traditional aspects such as the stylish synthetic leather upper. One of the shoe's highlights is the Boa tightening system which has replaced the standard laces. This has become a really popular idea and ensures that the shoe fits comfortably and stays in place perfectly throughout rounds of golf. Simple to operate and good to look at, the Boa system is a nice inclusion. In addition to this, the shoe incorporates Mizuno's WAVE technology which has been taken from their running shoes. This creates a cushioned sole for golfers whilst walking and playing shots.
More information about the NEXLITE 005 Boa can be found here or at http://golf.mizunoeurope.com.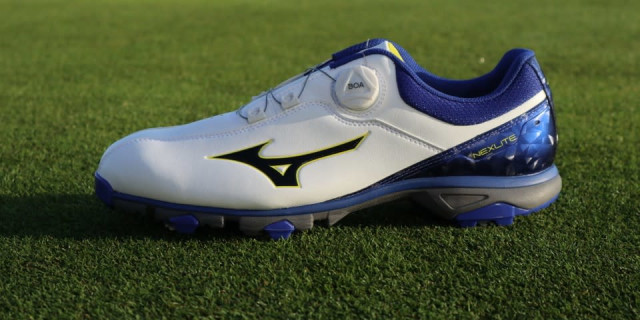 Looks
The Boa closure system that comes with these shoes is attractive and offers a differently look to most other golf shoes on the market. The white colourway is slick, clean and modern and goes nicely with a range of golf outfits.
Feel
I prefer the Boa closure system to standard laces, it makes the shoe very comfortable. These are definitely the lightest shoes that I have worn in the 17 years that I have been playing golf.
Performance
The fact that these shoes are very light helps to ensure that your feet are comfortable and that walking is relaxing. The grips on the sole of the shoes are very effective. I have not slipped in these shoes anywhere near as much as previous shoes.
Pros
The shoes are very lightweight which is one of the reasons that they are so comfortable. Also, ideally for winter golf, the shoes have a two-year waterproof guarantee which will help to make golf in the wet much more bearable. With an RRP of £130, the shoes are good value for money, particularly for a shoe featuring the Boa system.
Cons
Honestly, I cannot really think of a negative to highlight, they are brilliant.
Bottom Line
This is the first pair of Mizuno golf shoes that I have worn and I would definitely buy these shoes again. The Boa system works well and the grip and stability is great. In my opinion, these are the best shoes on the market in their particular price range.
Rated 10 out of 10
---
What do you think? leave your comments below (Comments)
---
Tags: shoes mizuno golf shoes
---
comments powered by

Disqus