Tiger Needs to Improve as Justin Thomas Criticises Unruly Fans
---
SO JUST how do we judge Tiger Woods' comeback? If it were a half-term report, the comment would be a fairly easy one to write: "Could do better."

But this is no ordinary comeback and it be unfair to be too harsh on a 42-year-old who has effectively completed just six competitive rounds of golf in 12 months, playing all four rounds at the Farmers Insurance Open at Torrey Pines and failing to make the cut at Riviera.

And it can't have escaped anybody's notice that he has yet to break 70. His driving at Torrey Pines was diabolical, managing to hit just nine fairways during the final three rounds. He admitted that it was a problem and promised that he would have fixed it by the time he teed up the ball at the Genesis Open. Woods changed the loft of his driver and had a new shaft fitted. And guess what? It made little or no difference.

Not only did he fail to make the cut, but he never really looked like doing so. It is clear that he still has a long way to go if he is ever to seriously contend for a run-of-the-mill PGA Tour title, far less a major. His putting stroke looks as solid as ever but it is actually pretty difficult to ascertain exactly what sort of shape the rest of his game is in because he has had to play so many shots from the rough.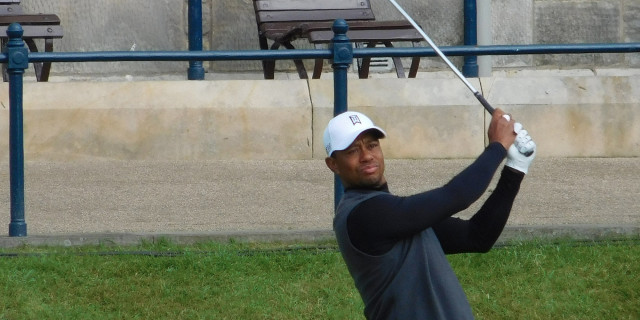 Of more concern may be the behaviour of the crowds. After the second round at Riviera, Rory McIlroy, who had played with Woods, said that he needed a headache tablet because the crowds had been so unruly - and it is true that the noise was pretty deafening every time Woods hit a shot.

Woods' appearance at Riviera resulted in a 67% increase in ticket sales, and it is fair to say that most of those people were not traditional golf fans. It is also probably true that they had been influenced by what they saw and heard at the Waste Management Open in Phoenix, when nearly 700,000 rowdy, drink-fuelled spectators whooped and hollered non-stop for four days and 72 holes.

And all those fans who poured through the gates at the Genesis Open were desperate to see Woods stripe the ball 320 yards, strike iron-shots three feet from the cup and hole putts from all over the place.

Justin Thomas believes the fans are out of control and that something needs to be done before it is too late. Thomas was in a three-ball with Woods and McIlroy for the first two days.
"It was pretty wild those first couple days. It was all right for a little bit, but at the end it got a little out of hand," Thomas said. "I guess it's a part of it now, unfortunately. I wish it wasn't. I wish people didn't think it was so amusing to yell and all that stuff while we're trying to hit shots and play."
Thomas is particularly frustrated at a the trend for fans to yell out as players make contact with the ball - or even beforehand. "I guess they just think it's funny," Thomas said. "It might be funny to them, and obviously people think of it differently and I could just be overreacting. But when people are now starting to time it wrong and get in people's swings, is just completely unacceptable really.
"We're out here playing for a lot of money, a lot of points, and a lot of things can happen. And you would just hate to have, hate to see in the future something happen down the line because of something like that."
---
What do you think? leave your comments below (Comments)
---
Tags: tiger woods PGA Tour FedEx Cup
---
PLAY MORE PLAY BETTER - LATEST TUITION TIPS
---
Leave your comments below
comments powered by

Disqus