Bjorn licking his lips at prospect of Ryder Cup
---
THOMAS BJORN can't quite believe his luck. With the Ryder Cup in Paris now less than a year away and the qualification process for the European team now well under way, the Dane is rubbing his hands together at the way his team is shaping up.

He has been delighted by the end-off-season form shown by Justin Rose and has no concerns about Rory McIlroy's slide down the rankings during a season that was badly affected by a nagging rib injury that refused to heal.

"You look at your top players and think with the way they've played the past few years they'll be there, but they only need to go a little bit off and then the pressure from behind comes through," said Bjorn. "The alternatives are so much greater today than they used to be. European teams used to be made up at the bottom and I've been part of it; at Valderrama (in 1997) three or four us made up the team in the end and we had all of those great players leading the team and playing all the golf.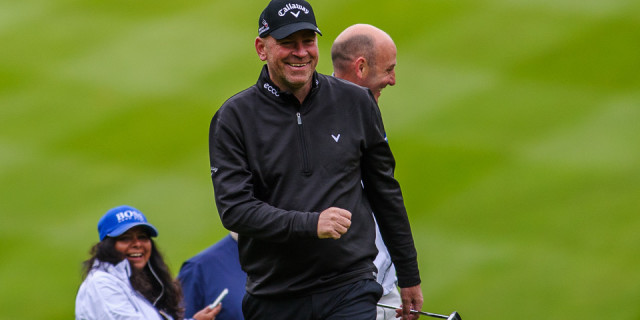 "You want to get a couple of your top players off to a start and for Justin especially it was a crucial time for him. With his schedule he doesn't want to be playing catch-up at all. He wants to get it out of the way."

In contrast to Rose, McIlroy is currently 23rd in the standings and will not play again until January after taking a lengthy break to fully recover from the rib injury. Bjorn has no concerns and believes that break is exactly what the former world number one needs.

"Rory's not a concern in the sense that I think he needed this. He's been playing catch-up all year; he gets to the biggest tournaments in the world, he hasn't practised, he hasn't been fit and then he's playing catch up and that's really difficult with the way golf is today. Now he gets time off, he can come out early next year ready to play and he's on an even playing field with everybody else and that puts him in a good position to start getting back to where he wants to be."

Matt Fitzpatrick is another who is targeting a second Ryder Cup appearance in Paris next year and is determined that he will not be a member of a losing team this time. He made his Ryder Cup debut in the team that lost 17-11 Hazeltine last year, Europe's first defeat since 2008.

The 23-year-old was one of six rookies in Darren Clarke's side and did not win a point from his two matches, losing in the Saturday foursomes alongside Open champion Henrik Stenson and against two-time major winner Zach Johnson in the singles. And the world number 31 feels he will need to play more at Le Golf National in 2018 to be able to contribute effectively to Europe's bid to regain the trophy.

"My goal is to make the team, basically. That is my main aim of the year," Fitzpatrick said. "Within that I'll be playing a little bit in the States as well and if I happen to pick up enough points for a [PGA Tour] card, I'll probably take it up the year after. But mainly I just want to focus on Europe, play well over here.

"With the new Rolex Series, it's something that's exciting and it's done a great job this year. I think that's the good thing about playing in Europe now, you've got these big events that carry big world ranking points and it's where you want to be."

Speaking about Hazeltine, Fitzpatrick added: "I think the big thing I did learn was that I feel like I've got to play a fourball game. I feel like you've got to play your own ball before you play on Sunday so you have a feeling of what it's like to hole out from five, six foot for the half or for the win, whatever it might be. I just think it gives you a bit more confidence playing the golf course. I played one foursomes game last year and you're hitting half the shots, not even that – it didn't really feel like you're hitting any shots at all.

"So there's never any momentum to your game and you turn up Sunday and you almost don't really know what's going on in a way. You almost don't know where you're hitting it because you've never played the golf course other than in practise. We all know practise is nothing like the real thing."

Bjorn feels none of the six rookies at Hazeltine will be "scarred" by the experience and Fitzpatrick, who currently occupies one of the automatic qualifying places following his victory in the Omega European Masters, is in agreement.

"Without being rude, I barely played," he added. "I don't think I played enough to really have made it make an impact on me personally. I don't know about the other guys, but I'd love the chance obviously to make the team and play again next year."

After winning the DP World Tour Championship in Dubai, Jon Rahm admitted that he is now fully focused on playing a central role in Bjorn's team. "It has always been a dream of mine to make the team," said the Spaniard. "I have watched it on television and it is a huge event and I want to be part of the side that wins back the trophy in France."

He also wants to contend in majors, having won the Farmers Insurance Open and the Irish Open, as well as the prestigious Dubai title.

"Never in a million years would I have expected what I've done this year," said Rahm. "Top five in the world [he is actually fourth], fifth in the FedEx Cup, third in the Race to Dubai, playing the way I've played, I would have never foreseen this at all. I feel like every star, planet or anything that needs to be aligned for me to accomplish all this has been aligned. I'm really, really proud of what's happened this year and hopefully I can keep it going."

His only disappointment was his play in the majors, with a tie for 27th on his Masters debut his best result. "It's important to learn what the magic formula is for you," Rahm said. "You have players like Tiger Woods and Jack Nicklaus who never played the week before a major. They practised and they rested. You have players like Phil [Mickelson] who plays every week before the major because he thinks it's going to help him play better.

"After one year I still don't know what my formula is. I haven't played my best golf in the majors and hopefully what I'm doing next year, which is resting the week before in most of them, helps out."
---
What do you think? leave your comments below (Comments)
---
Tags: ryder cup
PLAY MORE PLAY BETTER - LATEST TUITION TIPS
---
Leave your comments below
comments powered by

Disqus