Danny Willett Opens Up About Trials and Tribulations
---
WHEN a golfer makes the breakthrough, and wins his first major you would imagine that it would set up that individual for life, fill him with confidence and allow him to move on with his career. And in many cases, that is precisely what does happen.
But there are some for whom winning a major has exactly the opposite effect. David Duval won The Open at Lytham and then lost the motivation to work on his game. Ian Baker-Finch and Bill Rogers are other examples of Open champions for whom victory signalled the start of a downturn from which they were never able to recover.
And in a moving blog on the European Tour's website, Danny Willett has revealed how winning The Masters at Augusta in April 2016 was not the dream he hoped it might be. Willett reveals that he struggled to come to terms with being in the public eye, having his every move followed, and how he fell out of love with golf and simply did not want to play the game barely six months after winning the Green Jacket.
He says: "I look back at Augusta last year, how everything came together, and it was the climax of two years of very good golf. I had won twice in the run-up to The Masters and got myself into the top 15 in the world and had a lot of confidence by the time Sunday afternoon rolled around." Sadly, the 2016 Masters will be remembered by many as the tournament that Jordan Spieth threw away after taken seven at the par-three 12th, but Willett played brilliant golf on that final Sunday, and he still relishes the memories of that afternoon in Augusta.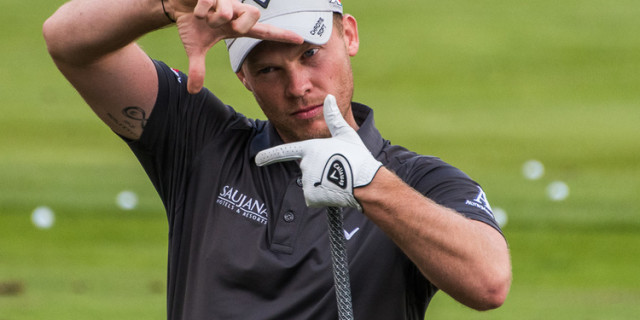 "There's not a day that goes by when I don't think about winning The Masters. I think about nearly every shot that week. I remember how I felt at each point throughout the week. It's amazing how you get the same feelings on weeks when you win or do well. Clearly, it's not easy to replicate that feeling but once you've had them, you'll let them go and that week in April was unforgettable to say the least. What's funny is that we, as golfers, spend so much time practicing for those moments, working on our swings, those chip shots, pressure putts, how to deal with being in contention mentally but no one ever really prepares you for what happens next, after you achieve greatness like that. Ultimately I'll be able to look back on that day and be thankful for all that it has given me but it's not always easier dealing with the aftermath."
In the build-up to the tournament, he was not mentioned as a possible winner, even though he had clearly established himself as one of the European Tour's leading lights. After he won, he quickly realised his life had changed for ever. "After the Masters, every time I went to the range, every time I was on a putting green or in a practice round, there were cameras on you and everything's being filmed and recorded. That magnifies everything to the nth degree. People that know me, know that I wear my heart on my sleeve and if I'm having a bad day on the course, I'll show it and if I'm playing well and everything's great in the world, you can tell. That's just who I am. When the spotlight was on me constantly, I felt I had to dull that side of me down a little. It's much harder to show some of that emotion, good or bad, when everyone's eyes are on you.
"Seeing how the media has told my story has been tough too. You try not to the read bits and bobs that are written about you, but it's hard as you want to try and learn all you can. It's great when things are going well but it's difficult to read things when you're not playing well. But the truth is very few people know the sacrifices I make to try and be the best golfer I can be. They don't know that I'll get up at 5am to get some practice in or hit the gym before my son wakes up at 6.30 and I need to help my wife with him. They don't know that I'm still working my nuts off in the gym and on the range only to go out and shoot a 75. They think I should be able to shoot 72 just showing up for my tee time in the afternoon but it's not that easy and there's so much that goes on, behind-the-scenes, to get you to that first tee that it's often easy just to rank or rate a player's round based on the score they shoot but that's not always how players view their craft."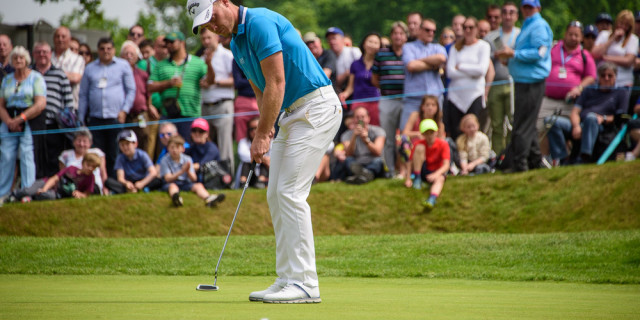 It didn't help that in the run-up to his Ryder Cup debut at Hazeltine, his brother, Peter, chose to write an article in which he expressed the view that American golf fans were rude and ignorant about the game of golf. Willett's wasn't playing well anyway, but now he had to face questions from the world's media about something his brother had written.
"Golf is a strange sport. When you're playing well, it seems very easy but when you're struggling it feels like all the time on the range makes no difference out on the course. That can be a hard challenge to deal with mentally, especially when you're travelling week-to-week trying to find that form against some of the best players and toughest courses in the world. That being said, I'm very lucky to have friends and family off the course that do what they can to keep me on that path to success and help put things in perspective.
"At the end of 2016 I was in contention in the Race to Dubai and I just didn't want to play golf. Think about that. It's utterly ridiculous. I had entered the HSBC Champions in China, Turkey, Nedbank and Dubai – four of the biggest tournaments of the year – and I didn't want to play. I just didn't feel good enough to compete.
"I had a few options. I could withdraw and pass up the chance to play in those events and a chance to win the Race to Dubai or I could play and work my butt off to try and find some form. It was hard, and I didn't play great, but I finished 11th at Nedbank and ultimately finished runner-up in the Race to Dubai, for the second straight year.
"After I had finished in Dubai, I just wanted to put the clubs away and take time off. I needed time off. However, earlier in the year I had committed to playing in Hong Kong two weeks after Dubai. People don't realise just how golfer's schedules are created and you often commit to events months ahead of time, when you're playing well, then turn up six months later as a completely different golfer. When you win events and win majors, sponsors and events want to sign you and up and announce that you're coming to play. You feel an obligation to then show up and put on a show. However ahead of Hong Kong, I needed a break and put the clubs away for two weeks. I spent ten days with my family, with my feet up and tried not to even think about golf.
"I went to Hong Kong and played well. My expectations were lower, I was refreshed mentally, and I was able to play some good golf and get into contention. It was a course that suited me, it didn't require too many drivers which had been my biggest weakness, but I enjoyed playing again. I only finished sixth, but it gave me a big boost over the winter break that it was possible to both play well and like what I was doing again."
He was determined to make a stout defence of The Masters but was still struggling with his game when he got to Augusta.
"My goal was to get to Augusta playing well so that I could put up a good defence; and I could enjoy everything that came with returning to Augusta and driving down Magnolia Lane with a Green Jacket on. Unfortunately, that didn't happen, but the Champions Dinner on the Tuesday night was a real eye opener for me. Sitting around a table full of these legends of the game, all telling stories of Arnold Palmer and Augusta, it really inspired me and gave me the boost I needed to look for help. After Augusta, I began opening up to friends and people around me and trying to take a look at what I could do to improve. It wouldn't be an easy few months.
"Another low point came in Akron at the WGC-Bridgestone Invitational. Firestone is a course where you have to drive the ball well, and hit it straight off the tee. Sadly, I couldn't do that. I couldn't even hit the golf course. It's a field with the best players in the world, you have to earn a place in the field, yet I was there, looking at those fairways and not seeing a way I could hit the ball straight.
"I had my dad out there that week. Whilst he doesn't know everything about golf or my swing, he knows me as a person. We spoke every night that week. Not about golf or what was happening in my game but more about my character, my well-being and the lessons he had taught me growing up. He told me that I seemed unsure. I had always asked a lot of questions growing up and wanted to understand things about myself and about golf and he said I looked and seemed unsure. That's when I decided to change coach."
Willett had experienced the greatest successes of his career while working with Mike Walker and Pete Cowen, so deciding that it was time for a change was momentous.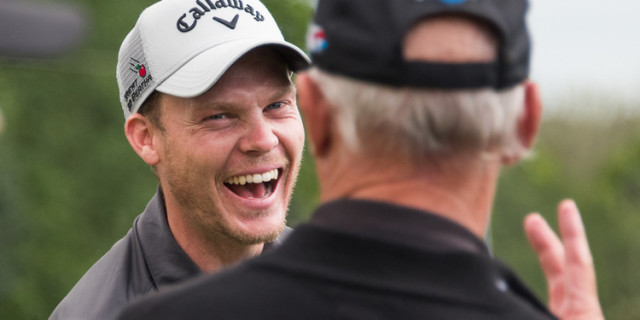 "It was a big decision to decide to change my coaches, and move to Sean Foley, but I felt like it was my best chance to get back to what I was doing so well when I achieve the success I had in 2015 and 2016. When things weren't going well I was always searching for answers. I'd find myself watching YouTube videos. The number of times I've watched clips of my final round at Augusta is ridiculous but I'm always looking for those keys to getting better. I found I was watching other player's swings that I liked, and I came to the conclusion that the things that Sean Foley was doing would be a good fit for me, both professionally and personally.
"I started working with Foles at the PGA Championship in August and approached it like an open book. I said I would change whatever he thought I needed to change to get better. I was open to change. For two or three months now, we've looked at everything in my game and worked endlessly on getting better. I didn't play great at Quail Hollow, but I had spells during that week, and hit one or two shots, that showed me that what I am doing is working. It's hard when you're on the range before a round in a major and your swing feels strange. It feels new and uncomfortable. To take that the course and try and commit to it is hard but I saw enough there to want to keep working on it and I feel I'm on a really good path now.
"When I swing good, I feel good. Both mentally and physically. It's not breaking news that I've had back issues. The truth is that when I was swinging badly, I was putting strain on my back and it became an issue. I had to pull out of a couple of events and it became a problem. It was annoying as working out didn't hurt it, drills didn't hurt it but firing into the ball at full speed and just being a little off could cause a lot of pain. It ended up taking over my game as I'd be taking painkillers in the morning after waking up in pain, getting an hour of physio before each round, playing the round with a swing that hurt, then needing an hour of physio after the round. I was just knackered.
"I wasn't playing well, which hurt my back but I would go home and hit balls for five hours at home in a position that was aggravating my back more. I knew it needed some swing changes and changes in the way I prepared to allow me to get healthy again and started getting back to the form I know I'm capable of.
"Nic, my wife, has also been on this journey with me. I know, for a while there, I wasn't a great person to be around. I'd spend ten hours in a day working hard on my game and not getting the results and I'd come home in a bad mood and I just wouldn't be the person I wanted to be. Luckily, we have a great and honest relationship and she knows when to tell me to wind my neck in and get on with things and when to just give me space. Again, through everything over the last couple of years, the good and bad, my family have been amazing."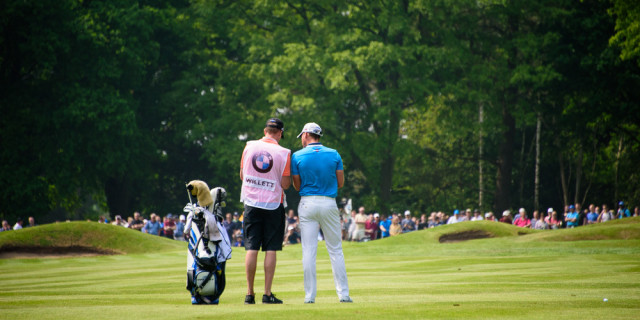 Willett also parted company with his caddie, Jonny Smart, replacing him with his best friend, Sam Haywood, who was also his best man. Willett has regrets about his split with Smart, which happened after an on-course row over club selection. Smart said he was fed up being a scapegoat for his employer's poor play.
"My split with Jonny obviously wasn't how we would have wanted it to happen. We were good friends and it was just natural that me not playing well was going to put stress on things. He knew I was working my tail off and I knew he was doing the same but a couple of bad breaks and some bad form and it's easy to let that tension seep into your professional relationship. I've spoken to him a few times since and he's got a good job now, sharing caddie duties working for Branden Grace and I think he'll do really well. He's a great caddie."
Through it all, Willett retains faith in his ability and still draws strength by what he achieved at Augusta in 2016. "That Sunday afternoon at Augusta was incredible and it still drives me today. It's amazing that when you get in contention in a golf tournament, nothing else matters other than winning. When things are going badly, you start to widen your focus and take in a lot of negative thoughts or comments. However, when things are going well, you feel like you have a force-field around you. It's impossible to describe the feeling. I don't care what drugs people might take or things people might do to seek pleasure and joy, it honestly can't match stiffing a long iron or making a crucial putt on a Sunday in contention in a golf tournament.
"I remember being on the 16th tee at Augusta and trying to get to the right page in my yardage book and my hands were shaking so much that I was just shuffling the pages, Jon and I spoke about it afterwards and had a laugh about it. He couldn't believe I was shaking so much but I think it helped him that I was as nervous as him! But by the time we chose the club and the shot, I was able to step up there and flush an eight iron right down the pin. I think nerves can be a good thing. As long as you can acknowledge that you're nervous because you're in a situation that you want to be in, it's about being aware of that and trying to seize that moment and trust what it is that you do.
"The opposite side to those nerves for me came at the Ryder Cup. Obviously that week didn't go the way I wanted and that was due in part to the way I dealt with the pressure based on the fact I wasn't hitting it as well. I wasn't able to match those nerves with the confidence that I could pull off the shots under pressure. It was difficult."
Willett has spoken to Henrik Stenson, Sergio Garcia and Lee Westwood - world-class golfers who have all endured slumps in form. It has convinced him that the changes he has made have been the right thing to do and that he will turn the corner. He also insists that he would not change a thing and is confident that he will get back to his best.
"I'm working hard. I know I've achieved something that 99% of players will never experience but there is still a lot I want to do. I've never won the Race to Dubai having come close twice. That's something I want to do. But ultimately, I want to know that every day I spent working on this game I was working to get better and never gave up. It's not easy but that's golf and that's why I love it. I've had a strained relationship with it in recent months and there were times I felt I was falling out of love with the game but at the end of the day I'll never stop loving this game and I won't, let a few poor results stop me from working to get better."
Surely everybody who cares about European golf will wish Willett well and hope that he quickly gets back on track. He is too good a golfer and too intelligent a human being not to be able to work things out and get back to where he belongs.
---

Be part of the action with a selection of unique golf tournament experiences, from playing in a pro-am with the stars to watching the action at golf's most illustrious events. Whether it's the Masters or The Open, The Ryder Cup or WM Phoenix Open, build your own bespoke package with the experts at Golfbreaks.com.
---
What do you think? leave your comments below (Comments)
---
Tags: Danny Willett
---
PLAY MORE PLAY BETTER - LATEST TUITION TIPS
---
Leave your comments below
comments powered by

Disqus