10 of the Freakiest Golf Injuries
---
DUSTIN JOHNSON'S victory at the Northern Trust Open was a welcome return to form for the world number one. The Dustinator was a red-hot favourite ahead of the 2017 Masters. He was on a golden run that had seen him win back-to-back World Golf Championship tournaments and he was world number one for the first time in his career. All was well in the world of the big man. He and his family had rented a luxury home in Augusta. It was perfect. Small problem. It had stairs. And Johnson failed to negotiate them. The back injury he suffered meant he missed The Masters.
Johnson is not the first golfer to suffer a freak injury, and he will not be the last. Here, we look at 10 of the freakiest golf injuries.
RORY McILROY
The Northern Irishman is a keen football fan, and supports Manchester United. He has learnt the hard way that golf and football do not mix. He had won The Open in 2014 and the following year it was being staged at St Andrews, a course that is made for McIlroy. A couple of weeks before the tournament, Rory and some friends were playing football when McIlroy damaged ankle ligaments and was forced to sit out The Open. McIlroy also dropped a 50-pound barbell on his toe on the eve of the WCG-Cadillac Championship at Doral in 2011. It didn't appear to bother him much though. He was back in the gym the next day, and he finished T10 at the tournament.
ROBERT GARRIGUS
We all love it when a long putt disappears into the hole or when a pitch or chip comes off exactly as we imagined it might. You might be tempted to celebrate with a fist pump. But beware. During the third round of the 2011 Tournament of Champions, Robert Garrigus holed an eagle putt on the 18th green and gave it big licks with the fist pumping. He pulled a muscle and lost in a playoff the next day. "I hadn't fist-pumped like that in a long time," Garrigus said. "I overdid it. It just didn't loosen up at all today."
DARREN CLARKE

When Clarke won The Open at Royal St George's in 2011 it earned him a five-year exemption to all the majors. But he had to withdraw from The Masters because of a hamstring injury. And how did he sustain it? Training too hard in the gym? Of course not. Darren being Darren, did it playing tennis with his sons while on holiday in the Bahamas. You couldn't make it up.
SAM TORRANCE

The Scottish golfer is a one-man disaster area when it comes to injuries but surely the most bizarre of all came at the 1993 Ryder Cup. Torrance leapt out of bed and tackled a Yucca plant, believing it to be an intruder, and broke his toe in the process. The incident caused him to miss the singles matches on the final day at The Belfry. "For months afterwards I was unmercifully ribbed by my colleagues," he said. "Every time I hit into the trees, someone would say, 'Careful Sam, it's a jungle out there!'"
THOMAS LEVET
Ouch! Now this one really hurt. Thrilled to bits after victory in his native French Open in 2011, Levet and his caddie decided to take a victory plunge into the lake beside the 18th green. His caddie emerged unscathed. Levet broke his leg – and felt very, very silly. Nine months later, he slipped on the 11th tee at the Volvo Champions event in South Africa and broke a rib.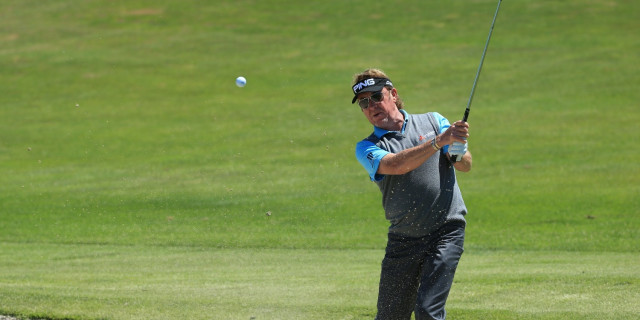 MIGUEL ANGEL JIMENEZ
Some golfers are natural athletes. Others are not. Miguel Angel Jimenez fits the latter category, but it didn't stop him going skiing in the Serra Nevada mountain range in southern Spain. You've already guessed – he crashed and broke a leg. "I lost control and fell," Jimenez said. "I felt a huge stab of pain and I knew straightaway I had broken something." If only he had been smoking one of his favourite Cuban cigars, he could have used it to break his fall.
JIM FURYK
In recent times Furyk has struggled with a debilitating wrist injury that threatened to end his career. But Furyk is a feisty character and he battled back to full fitness.Mind you, the wrist injury was small beer when compared to the pulled neck muscle he suffered during the 2006 Buick Classic - having just brushed his teeth, he put an unspecified tablet in his mouth, took a drink, threw it back - and couldn't move his neck!


GRAEME McDOWELL
Former US Open champion Graeme McDowell suffered a freak injury when he decided to emulate Sam Torrance and go sleepwalking. He caught his right hand in a Chinese hotel door. "I woke up out of this dream, standing in a hotel-room door, in my boxer shorts, and three seconds later I had the most searing pain in my right hand. I have no idea
what happened.," he said.
MARK ROE
The Englishman suffered more than his fair share of bad luck. In 1995 he was struck on the head by a stray golf ball and suffered severe headaches for some time afterwards. But the real freak injury occurred in July 1999. Roe grabbed the collar of his cocker spaniel and ended up tearing ligaments in two fingers of his left hand - it kept him out of the game for 20 months at a time when he was playing the best golf of his life.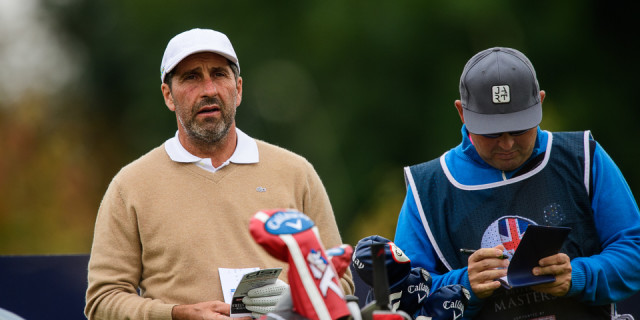 JOSE MARIA OLAZABAL
After a particularly trying day at the US Open, a frustrated Olazabal returned to his hotel room. Did he chill out with a beer? No. Did he relax with a nice meal? No. Did he switch on the TV and watch a film? No. Did he chat with friends? Erm, no. Did he go for a dip in the hotel pool? Not exactly. Olly decided it would be better fun to return to his room and punch the wall with all his might. Did it hurt? Yes it did.
---

Be part of the action with a selection of unique golf tournament experiences, from playing in a pro-am with the stars to watching the action at golf's most illustrious events. Whether it's the Masters or The Open, The Ryder Cup or WM Phoenix Open, build your own bespoke package with the experts at Golfbreaks.com.
---
What do you think? leave your comments below (Comments)
---
---
PLAY MORE PLAY BETTER - LATEST TUITION TIPS
---
Leave your comments below
comments powered by

Disqus