Golfers who took time out, some never to return
---
RORY McILROY has announced that he may have to take some time away from the game. He says that the rib injury he suffered early in 2017 has failed to recover properly and that he wants to put it behind him once and for all. It is possible that we will not see him in action again until 2018, by which time his world ranking is certain to fallen.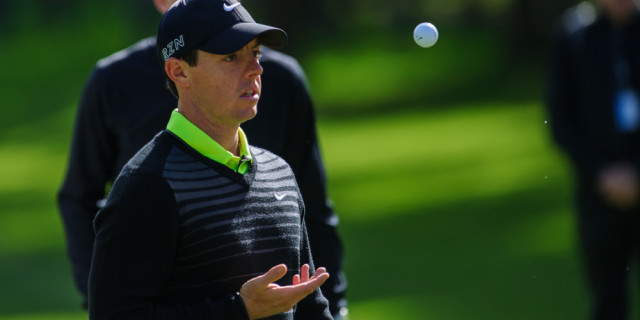 He is not the first golfer to take time out. Some have stormed back, but others walked away and have never come back.

After his much-publicised marital problems, a shame-faced Tiger Woods announced to the world that he was taking time away from golf. He stood in front of the world's press in December 2009 and said that he needed time to get his act together. Woods returned to action in April 2010 but his wife, Erin, later filed for divorce. Woods did manage to get his World No1 ranking back but It has generally been a sad and sorry time for Woods, since as he has subsequently had to take plenty of time off because of leg and back injuries.

As recently as 2010, Sergio Garcia told Colin Montgomerie that he did not wish to be considered for the European Ryder Cup team and announced that he was taking time off. He had fallen to 50th in the world rankings and, quite clearly wasn't enjoying golf. "I haven't had a nice long break in my whole career," he said. "I need to miss the game a little bit." Just two years earlier he had finished second at both The Open and US PGA Championship and had seriously challenged Woods for the world No1 slot. Monty invited Garcia to be one of his vice-captains at Celtic Manor. It did the trick, and he was soon competing at the top again. And, of course, it all ended in spectacular fashion when he won The Masters in 2017


Michael Campbell won the US Open in 2005 and finished fifth in The Open and sixth at the US PGA Championship the same year. Ten years earlier, he should have won The Open at St Andrews. Campbell was cursed with a game that was either brilliant or just plain awful. He won seven times on the European Tour, including some pretty big tournaments, but there were spells when he would go weeks without making a cut and, in 2015, aged just 46, he announced that he'd had enough and retired for good.

Ian Baker-Finch won 16 tournaments, most famously The Open in 1991. The Australian was a wonderful ball striker and had the touch of an angel on and around the greens. He won the Vines Classic in 1992 and the Australian PGA in 1993 and was on top of the world. And then it all fell to pieces. His last top-10 finish on the PGA Tour was a tie for 10th in the 1994 Masters. In the 1995 Open Championship at St Andrews, he hooked his opening drive out of bounds - it was notable because the fairway is probably the widest in golf. In 1995 and 1996 he missed the cut, withdrew after one round or was disqualified in all 29 PGA Tour events that he entered. His nadir came at the 1997 Open, when he shot a horrific 92 at Troon. Baker-Finch admitted that he cried afterwards. He withdrew and effectively never hit another shot in anger.

For a time in 1981-82, Bill Rogers was arguably the best player on the planet. He finished eighth in the US PGA in 1980, second in the 1981 US Open and won The Open the same year. It has to be said that 1981 was an extraordinary year for the Texan. Apart from The Open, he also won the World Series of Golf, the Texas Open and the Sea Pines Classic. His Open victory was spectacular, beating Bernhard Langer by four strokes at Royal St George's, and he finished the year as Player of the Year. He won again in 1983, but then he lost his game completely and ended up working as a club professional. Rogers later admitted that he struggled to cope with fame and that he had suffered complete burn-out

Whatever happened to
Anthony Kim
? He finished second in his PGA Tour debut at the 2006 Texas Open, aged just 20. The American then had four top-10 finishes in his rookie season and won his first PGA Tour title, the Wachovia Championship, in 2008. Kim was hailed as "the next Tiger Woods" and for a time it looked like he might actually live up to the billing. He won again in 2008 and by the end of the year was sixth in the world rankings. He was a key member of the winning US Ryder Cup team the same year. Kim won the Shell Houston Open in 2010 but in 2012, he had surgery after injuring his achilles tendon. He hasn't been seen since and it is reported that he no longer even plays for fun.
David Duval
challenged Tiger Woods for the world number one ranking from 1997 until 2001, a period during which he won 13 times. He joined the elite club who shot 59 in competitive play. Duval also won the Players Championship and, most famously, The Open at Royal Lytham in 2001. But then it all started to turn sour for the American. The last tournament he won was the Dunlop Phoenix in Japan in 2001. Duval suffered back problems and lost the swing that had served him so well. He kept plodding away but it wasn't pretty to watch. In 2003 he missed 14 cuts, in 2004 he missed a further six cuts and the following year he entered 19 tournaments and made it to the weekend just once. He refused to give up, almost winning the US Open in 2009, but in 2014 he decided that he'd had enough and quit for good. He is now working as a TV analyst.


Ralph Guldahl was a superstar in the 1930s. He won his first event in 1932 and finished second at the 1933 US Open, where he missed a short putt to force a playoff and it upset him so much that he quit and sold cars for three years. But he returned and won the US Open in 1937 and 1938 and The Masters in 1939. In total, he won 16 times but after two victories in 1940 he lost his game and quit two years later. He made a comeback in 1949 but was only a shadow of the player he had once been. It is widely believed that Guldahl's problems stemmed from an instruction book he decided to write. He had never thought about the mechanics of his golf swing until he put pen to paper. He was never the same player again.

Unlike the others on this list, Yani Tseng is still playing. In 2011 Tseng was the best woman golfer in the world. That year she won the Women's British Open, her fourth major victory in eight attempts and fifth in total. At 22, she had the golfing world at her feet. Nobody - man or woman - had won as many majors at such a young age. But suddenly it all went wrong and Tseng lost her game. In 2013-14 she had twice as many missed cuts as top 10s. She has admitted that it has been a struggle to continue and she never enjoyed being in the spotlight. Perhaps a break might do her some good?
---

Be part of the action with a selection of unique golf tournament experiences, from playing in a pro-am with the stars to watching the action at golf's most illustrious events. Whether it's the Masters or The Open, The Ryder Cup or WM Phoenix Open, build your own bespoke package with the experts at Golfbreaks.com.
---
What do you think? leave your comments below (Comments)
---
---
PLAY MORE PLAY BETTER - LATEST TUITION TIPS
---
Leave your comments below
comments powered by

Disqus