Ko Must Find Caddie Who Can Carry The Weight
By: Golfshake Editor | Thu 20 Apr 2017 |
Comments
---
Post by Sports Writer Derek Clements
---
THE relationship between golfer and caddie is a special one. But the men who have lugged Lydia Ko's golf bag around the fairways of the world may have a slightly different view.
Ko is a sensational player. She has just turned 20 years old and has already won 14 times on the LPGA Tour, including two majors. But in just three years she has had, wait for it, NINE caddies.
The latest one to be sacked is Gary Matthews, who was shown the door after nine tournaments together. He replaced Jason Hamilton, who was on her bag for 10 of her LPGA Tour victories. Matthews has caddied for Sergio Garcia, Anthony Kim, Trevor Immelman and Camilo Villegas, so he knows his stuff.
"I wish Lydia the best, but she's gone through so many caddies, she needs to wake up on caddie­–player relationships," said Matthews. "Otherwise she'll just keep doing it. I didn't think I did that bad of a job.'"
"I feel like I am the best, that's how I look at myself. I took the job when she was No. 1 in the world," Matthews said. "It's what I strive for and thrive for."
For the record, Matthews was given his marching orders after Ko finished in a tie for second place at the Lotte Championship.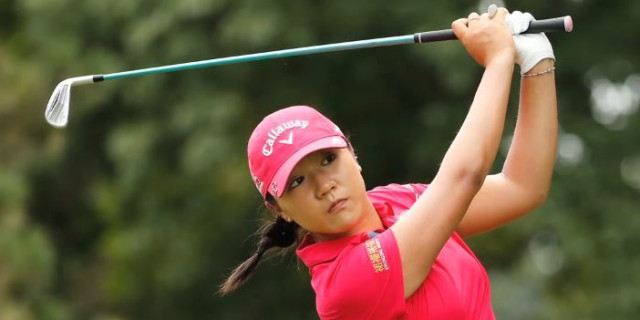 Ko is not unique in this regard. Seve Ballesteros went through more caddies than Zsa-Zsa Gabor did husbands. He was a notoriously hard taskmaster who set impossibly high standards for himself. When things did not go to plan, it was usually the bagman who suffered. Dave Musgrove, Billy Foster, Nick De Paul, Martin Gray, Julian Hunt, Ian Wright, and, perhaps most famously, Joey Jones are just a few of the man who came and went.
Jones was sacked after Ballesteros missed the cut at the US Open and duly issued a writ against the Spaniard. The caddie claimed that Ballesteros had promised him 12 months worked but dispensed with his services after just six weeks.
Wright had a furious on-course row with Ballesteros during the 1989 Ryder Cup. The pair disagreed over the choice of club for the approach shot to the 18th at The Belfry. "It was 165 yards to the front of the green and 196 to the flag," Wright recalled. Seve said: "Three iron?" Wright replied: "Don't you think you can get there with a four? You're coming out of a bit of grass and could do with the loft."
Ballesteros hit a three iron and bounced it straight into the lake. As they walked on Ballesteros said to Wright: "Make sure you get the yardage right on this one because it will be the first you've got right all day." Back in the clubhouse, after Azinger had won by one hole, Wright picked up Seve's bag and threw it against a wall.
Nick Faldo poached Fanny Sunesson from fellow European Tour star Howard Clark. Together they formed a winning partnership that dominated world golf. Faldo would regularly call upon her to help with his alignment and assist him when it came to reading putts. They were together from 1990 until 1999, during which they won four majors together. When she left Faldo she was briefly employed by a young Sergio Garcia. Suffice to say that relationship did not work out.
When Tiger Woods first emerged, he had Fluff Cowan on his bag. It looked like a relationship that would stand the test of time, but Woods sacked Cowan, supposedly because he believed that Cowan was getting too big for his boots. Next on the bag was Steve Williams, who lasted from 1999 until 2011. Woods won most of his 14 majors with Williams at his side and attended his caddie's wedding. Williams had his own way of dealing with over-enthusiastic fans, on one occasion wrestling an expensive camera from a spectator who took a photograph during Woods' backswing - and promptly threw it in a nearby pond.
At one point, Williams was the highest-paid "sportsman" in New Zealand. Woods sacked him in 2011 and the caddie gave a series of interviews during which he described working for Woods as being made to feel like a slave. Needless to say, he is no longer on Tiger's Christmas card list.
And then there is the relationship between Phil Mickelson and Jim "Bones" Mackay. They have been together since Mickelson first joined the PGA Tour in 1992. Not only do they have a fantastic working relationship, but they are close friends off the course. Mackay is married to Jen, who is a close friend of Mickelson's wife, Amy, and introduced the pair to one another.
Mickelson once said of Mackay: "Listen, Bones is the only guy on the golf course that wants me to play well, so why am I going to sit there and berate him and treat him poorly? He's the only guy trying to work his tail off for me."
So you can see that the caddie-player relationship is a complex one. But the best ones are the ones that last and you sense that until Lydia Ko finds somebody she can stick with that she may struggle to live up to and fulfil her enormous potential.
---
What do you think? leave your comments below (Comments)
---
PLAY MORE PLAY BETTER - LATEST TUITION TIPS
---
Leave your comments below
comments powered by

Disqus