By: Golfshake Editor | Mon 03 Oct 2016 |
Comments
---
Post by Sports Writer Derek Clements
---
WE ALL need heroes. On the eve of the 41st Ryder Cup, the sad news broke that Arnold Palmer had died. Palmer was a hero to everybody who ever saw him play, either in the flesh or on television. He was also a hero to millions of people who were never fortunate enough to have seen him in his prime but who knew what he meant to the game of golf.
Heroes are made at the Ryder Cup and, at Hazeltine, two of them emerged as the USA beat Europe 17-11. For the home side, that man was Patrick Reed, which was no surprise, for the Europeans it was Thomas Pieters, which was something few of us expected.
Reed wears his heart on his sleeve and, as we saw at Gleneagles two years ago, he grows in stature when representing his country. He revelled in playing great shots, holing putts and raising his finger to his lips to hush the Scottish crowd, so you can only imagine how much he enjoyed doing precisely the same thing in front of his own fans. He played fantastic golf all week at Hazeltine and he loved every second of it. At last, the Americans have a player around how they can build future teams.
Pieters was a revelation. The quality of his golf has never been in doubt, but what we didn't know was how he would cope with the febrile atmosphere created by a raucous American crowd. It was as if he had ice running through his veins and he seemed to grow in stature with every passing match. Remember that he was a rookie and yet he was asked to play five times and won four points. He was a giant for Europe, metaphorically and literally.
The Belgian has long been identified as a future major champion and this experience will surely have helped his development. Now he knows he can cope in the hottest of atmosphere and under the most severe of pressure. Just watch him go.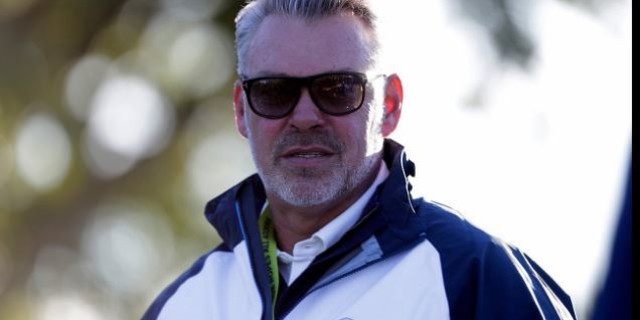 Darren Clarke, the European captain, will not require anybody to tell him that he made some selection blunders. There was little criticism of his decision to opt for Lee Westwood, Martin Kaymer and Pieters as his wildcards, but Westwood will have nightmares about the putts he missed on the 17th and 18th holes on Saturday and Kaymer was nowhere near his best.
Westwood finished well at The Masters but that was way back in April. he was brought into the side because of his experience - well, that is all well and good, but it counts for nothing if your game isn't up to it, And, sadly, Westwood's game wasn't. The harsh truth is that Russell Knox should have taken his place.
Clarke also made some serious mistakes when it came to the use of his rookies. Rafa Cabrera-Bello was sensational on Saturday morning. Inexplicably, Clarke chose to drop the Spaniard for the fourballs and saddle poor Sergio Garcia with an out-of-sorts Kaymer. Chris Wood also played brilliant golf in partnership with Justin Rose in the Saturday foursomes but he was also sidelined.
And Andy Sullivan and Matthew Fitzpatrick found themselves going into the singles having played just one match each. It brought back memories of Brookline when Mark James, possibly the worst captain in European Ryder Cup history, showed no faith in Andrew Coltart and Jean Van de Velde, who were treated as sacrificial lambs on the final day and, unsurprisingly, paid the price.
Much was made of the behaviour of the American crowd, but if you set up a task force, change your selection procedure and hype up the event beyond all levels of common sense then how on earth do you expect the fans to react? They wanted to win just as badly as did their players. And let's not kid ourselves that European fans are the best behaved on earth during home matches.
Sure, some of them overstepped the mark, and the likes of Jordan Spieth and the admirable Patrick Reed are to be commended for the part they played in trying to calm down the more raucous elements of the crowd. Reed wanted to win so badly that it hurts, but he knew where to draw the line. Likewise Davis Love's son, who was responsible for having a couple of over-enthusiastic spectators removed. Remember, too, that the very large majority of the crowd are not golfers but are men and women more used to attending American football, baseball and basketball games, where noise is encouraged.
The Americans will attempt to tell us that the task force they set up after being thrashed at Gleneagles two years ago was a stroke of genius and that the captaincy of Davis Love III was inspired? I beg your pardon? Would that be the same Davis Love who thought it was a good idea to play Phil Mickelson in the foursomes, not once, but twice? Somehow, he got away with it, but let nobody tell you that the USA won because of that task force. They won because they played better than Europe.
And that victory is a good thing for the Ryder Cup because it revives American interest and they will head to Paris in two years' time convinced that they have cracked it and confident that they will be able to retain the trophy. Don't be so sure.
Attention will now turn to the appointment of the next captains. For the USA it will surely be Jim Furyk, and the talk on the European Tour is that Thomas Bjorn will get the nod for 2018. But wouldn't it make more sense to give the job to Lee Westwood, who has surely played in his last match?
---

The Ryder Cup is unlike any other tournament in golf and the atmosphere is something that every golf fan should experience. The experts at Golfbreaks.com can help with all aspects of your Ryder Cup experience, from accommodation and ticket packages to hospitality and travel and playing some of the fantastic nearby courses.
---
---
What do you think? leave your comments below (Comments)
---
Tags: ryder cup
---
PLAY MORE PLAY BETTER - LATEST TUITION TIPS
---
Leave your comments below
comments powered by

Disqus