FORE Business - Growing the game Growing your business
By: Golfshake Editor | Fri 02 Sep 2016 |
Comments
---
Business is all about networking and nowadays many businesses choose to do their networking on the golf course. When the founders of "FORE" Business, Sean Fergusson and Arron Busst, met at a local networking event they got round to talking about the business success they have had on the golf course and realised that golf and business have always unofficially gone hand in hand.
Sean Fergusson said: "The fairway is the perfect 'playing field' for important business meetings, discussions and negotiations to take place; so "FORE" Business was born with the thought, 'what better way to encourage successful business relationships, than create an actual members club for business owners who enjoy golf and love to network?"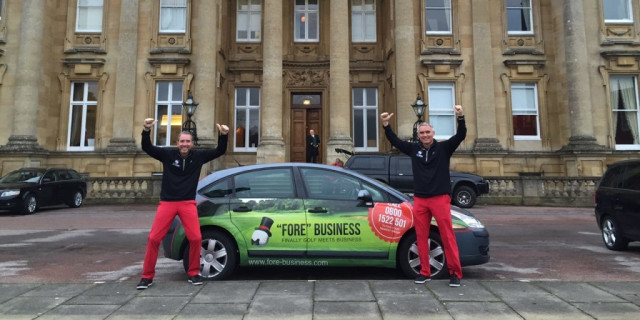 What is "FORE" Business?
"FORE" Business is a nationwide business networking community based around golf. The business is now in its third year and has 70 groups, with approximately 1,300 members, located across the UK at many of the leading golf courses.
These courses include St Pierre, Forest of Arden, Dalmahoy, Mannings Heath and The Fairmont at St Andrews, as well as several regional favourites such as Royal Ascot, Mottram Hall, The Carrick and Knighton Heath. Groups of "FORE" Business meet up at these courses on a monthly basis.
However, the dynamic golfing duo of Fergusson and Busst don't plan to stop there. In fact, they have plans to add 10 more groups in 2016 and are aiming for 1,500 members by the close of the year.
What can "FORE" Business do for you and the golf industry?
First of all, the amount of traffic these golf clubs are getting from groups of the "FORE" Business playing their courses is impressive and can only be beneficial. Sean Fergusson added: "Over the last three years, our hosting venues and golf pros have seen in excess of £750,000 being spent by "FORE" Business and our members. We are now keen to talk to any golf pro who is keen to run their own "FORE" Business Academy group."
To add, being a member of the biggest, and fastest growing community of business golfers has many benefits. First of all, membership starts at just £55 per month, and offers each member a monthly round of golf and networking session. Each member also gets a four-ball each month at his or her home group, which they can use for networking with other members, invite customers, or just play for fun.
Furthermore, "FORE" Business members can upgrade to higher levels of membership that offer greater opportunities to network and play golf at other groups across the UK.
David Long of NotInTheProShop.com and member of "FORE" Business said: "The trusted business network works fantastically well for businesses like mine. I recently received a call from a member in Manchester; he wanted to know if I could meet with one of his customers to talk about my unique promotional golf gloves. That's the perfect sales lead, when someone you haven't met, is prepared to introduce you to their customers, and sets the meeting up!"
"FORE" Business app
Another benefit, in addition to the playing benefits, is the availability of the "FORE" Business app that works on all smartphones. The main purpose of the release of this app is to make it even easier for members to network across all the groups, to identify and share business opportunities and to book their monthly four-balls online.
In addition, the app is also being used by "FORE" Business members in conjunction with their own networks, with sales leads being shared into the community and vice-versa. The app really does encourage members to look for suppliers within the community first.
Arron Busst, co-founder of "FORE" Business said: "We have been delighted with the high level of interaction on social media between our members and knew that the time was right to introduce a single platform to make it even easier for our members to network and share opportunities – I'm delighted that within days of the app launching, business is being done within the app as well as on the golf course."
Joining the "FORE" Business network is a straightforward process, as all any business owner or managing director has to do is simply visit the FORE-Business.com website and request a free guest pass for their local group. This way, you can try out the concept with no risk before signing-up. Finally, "FORE" Business members are asked for 3 months' notice before cancelling their membership, which is unlike most networking memberships where you are locked into a 12 month contract.
For more information visit: www.fore-business.com
---
What do you think? leave your comments below (Comments)
---
Tags: industry insider grow the game
---
PLAY MORE PLAY BETTER - LATEST TUITION TIPS
---
Leave your comments below
comments powered by

Disqus