Stay & Play – Albufeira/Vilamoura
By: Joshua Carr | Tue 05 Apr 2016 |
Comments
---
The Algarve has long been one of the top golfing destinations in Europe for several reasons. The weather is perfect almost all year round, it is affordable and more importantly, the courses are fantastic.
With more than 30 courses to choose from, you shouldn't find it hard to find a tee time in the Algarve and you more than likely won't be disappointed with the courses you play. Not only is there a vast amount of golf courses, there's loads to do off the course whether you are on a family holiday or a stag/hen do.
Golfshake sent golf writer Josh Carr off for a trip in March 2016 - take a look at what he thought during his stay as well as some insights if you are planning a trip to the Algarve and specifically Albufeira/Vilamoura.
Location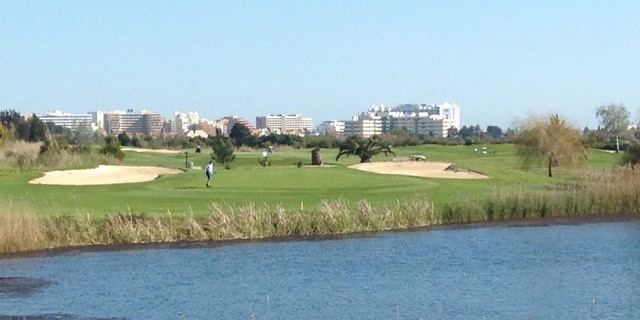 Situated in central Algarve, Albufeira is just a 45-minute drive from Faro airport and is easily accessible via airport transfers or car hire. Albufeira is also just a 20-minute drive from the Oceanico Golf resort in Vilamoura.
The town is perfect for both those on a family holiday and those on a golfing/drinking holiday due to its friendly atmosphere and modern bars and restaurants. There are two parts of the town with one perfect for those looking for a bustling nightlife and the other perfect for families. "The Strip" located in Areias de São João and, as the name describes, is one long street that is packed with bars and clubs that all offer great deals on drinks and shots. The nightlife is both exciting and friendly with many people choosing it as the perfect place to host their stag or hen party.
The "Old Town" is also very modern but has a much quieter vibe that is perfect for those who are on a family holiday. There is a huge square in the middle of the old town that is surrounded by bars and often offers on street entertainment. Running off the square are several smaller streets that are packed with more bars and local restaurants. Some of these lead to the beach that, in summer, is packed with locals and tourists soaking up the sun.
Where to play?
When staying in Albufeira, the first golf courses you should think about playing are the ones situated at the Oceanico resort in Vilamoura, which is just a 20-minute drive away. You can either book a taxi on the day or the night before, or you can purchase golf transfers from companies such as Bravo Tours who offer a brilliant service. During our week in the Algarve, the golf transfers were always on time and the service was friendly.
We played three of the Oceanico courses in Vilamoura during our week there. Here's what we thought of them.
Oceanico Millennium Course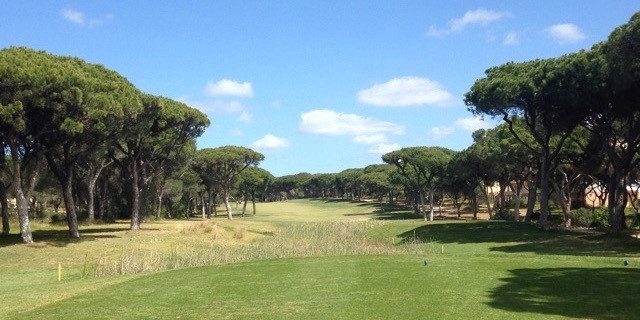 The Oceanico Millennium course is a course of two nines. The front nine is arguably the more picturesque of the two as you make your way through the tall pines, with the back nine being more open and exposed to the elements.
The course is kept in immaculate condition and the practice facilities are outstanding with a grass driving, a large putting and a separate chipping area to warm up before your round. The staff on the reception and the bar are extremely helpful and you can enjoy an ice-cold beverage while overlooking both the Millennium and Laguna courses in the beautiful sunshine.
Read our full review here: /course/news/9707/Oceanico_Millennium_Course_Review.html
Oceanico Laguna Course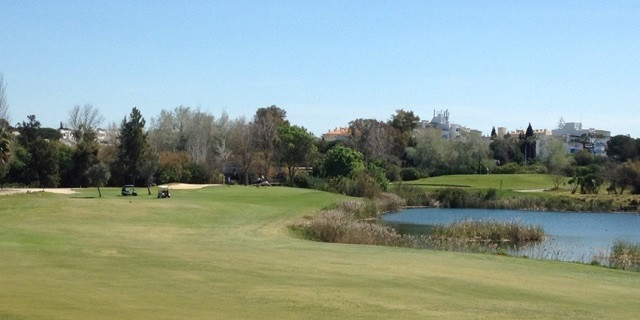 The Laguna course is much different to any of the other Oceanico courses as it has the feel of a links course. As you can probably guess, the Laguna course has a lot of water but that is not the only hazard you will face on this golf course. There is also an impressive 79 bunkers on this course so if you go a full 18 holes without finding one, count yourself lucky.
After playing the Millennium course and Pinhal course, the Laguna course is quite refreshing as it offers something different. Take a look at our full review here: /course/news/9708/Oceanico_Laguna_Course_Review.html
Oceanico Pinhal Course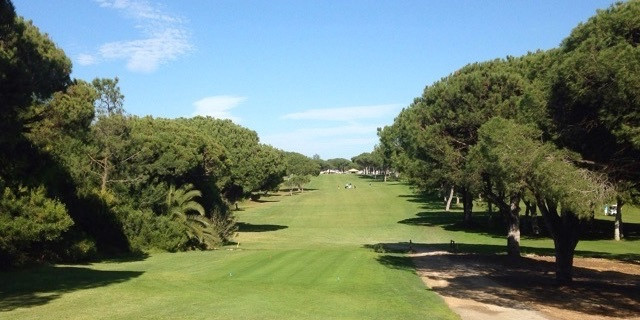 The Pinhal course at this Oceanico resort is the shortest of the courses located in Vilamoura. The course measures at 6353m but don't let its lack of length be mistaken for an easy round. Tall pines line the majority of the holes around this course and it is the perfect course for those who don't necessarily hit the ball very far but do hit it straight every single time.
Here's our full review of the Oceanico Pinhal course: /course/news/9709/Oceanico_Pinhal_Course_Review.html
With so many courses in the area you really can't go wrong and is one of the reasons golfers go back to this region year after year.
Where to stay?
During our stay in the Algarve, we took advantage of 4* Hotel Brisa Sol. The hotel is ideally placed for those on either a family holiday or a drinking holiday as it is situated directly in between the Old Town and The Strip with both just a short, 5-minute walk away.
On arrival, the staff were very helpful and check-in seemed effortless. After being directed to our room by a member of staff, we entered what was a reasonably modern room that had everything you will need during the week. There was a fridge and cooking appliances, as well as enough plates and cutlery to last for almost a year, never mind a week. The bathroom facilities were outstanding and more importantly the beds were extremely comfortable.
The pool area was secluded and very much a suntrap all day long. There are plenty of sunbeds that you can relax on around the large pool, which is perfect to cool down in. If you feel like you've been in the water too much on the golf course, you can enjoy an ice cold drink from the poolside bar.
The hotel was definitely worth its 4* rating as it is clean, the staff are extremely helpful and the location is perfect.
What to do?
When you're not on the golf course, it can often be a struggle deciding what to do with your spare time other than sit in the sun. So, we've listed a few things to do when you're not on the golf course.
Zoomarine
Zoomarine is a marine life inspired theme park where you can do everything from swim with dolphins, watch a sea lion show and go on the several water rides. If you're on a family holiday then this is definitely a place you should visit. It's not only great fun for the kids but for adults too.
Tickets for Zoomarine can be bought from stalls in the town and through some hotels. The best thing about it is most of the hotels are served by a shuttle bus that will take you directly to the gates of Zoomarine.
Segway Tour of Falésia Beach
Located on the Quarteria and Vilamoura seaside, a Segway tour of Falésia beach should be high on your list. The tour will take you down the coast of the stunning Falésia beach and even allows you to explore the local fish markets on the Vilamoura marina.
As you glide along the halcyon Falésia and Quarteira beaches, your expert tour guide will highlight the Algarve's interesting culture and history.
Explore the Old Town
The Old Town in Albufeira is a great place to explore. As you walk down the busy streets you will come across some great local restaurants that you should definitely try out. On top of that there are plenty of shops for you to browse in and if you get a bit hot don't worry, the beach is right on your doorstep to cool down in.
The open square is the hub of most the activity in the old town. It is surrounded by bars and restaurants and there is often outdoor entertainment for you to enjoy free of charge.
Albufeira Strip
For those who are there for the nightlife as well as the golf then look no further than the Albufeira strip located in Areias de São João. The nightlife is bustling with plenty of bars to choose from that often offer crazy deals on drinks that you just cannot turn down.
Although popular among stag and hen parties, the strip is also suitable for the younger generation causing what is a truly unique night out. The staff are friendly as are the locals who you will often see out as well. There is also oddly several karaoke bars, so if you fancy yourself as the next big music superstar, make sure you get up and sing. Some bars even offer a free drink if you sing a song.
How to get there?
By Air
Faro Airport is the main airport in the Algarve and is served by all UK airports. Flights tend to be around 2 and a half hours and are reasonably affordable.
By Car
Once you reach Faro Airport, your easiest means of transport would definitely be hire car. The roads in the Algarve are not particularly busy and, apart from driving on the right hand side, they are easy to manoeuvre. The A22 branches off to most of the local towns in the Algarve.
By Bus
Transfers are regular from Faro Airport and are reasonably priced no matter how far you intend to travel. On top of airport transfers, you can also book golf transfers through various companies that again are reasonably priced.
Albufeira is the perfect place to stay if you want the best of both a golfing holiday and a reasonably cheap drinking holiday or just a quiet family holiday with a few games of golf to add. Price is always an overriding factor when deciding when to go on holiday but one thing is for sure, the Algarve is affordable and you certainly get your monies worth.
---
Related Content:
What do you think? leave your comments below (Comments)
---
Leave your comments below
comments powered by

Disqus
More Golf Course & Travel Features
Plan your next golf break with Golfbreaks.com