A guide to golf at Pestana Resort
By: Golf Shake | Wed 08 Jul 2015 |
Comments
---
IF YOU are a keen golfer and you have played the game abroad, the chances are that you have been to Portugal and sampled everything that the stunning Algarve has to offer.
There is the fabulous climate - lots of sun and hot weather, but almost always with a cooling breeze blowing in from the Atlantic Ocean; there is the food - there are few countries in Europe where you will be offered a better or more sumptuous variety of seafood and, of course, sardines, the local delicacy that everybody must try; there are the Portuguese people, who are surely among the most friendly and welcoming anywhere in the world; and there is a vast choice of outdoor activities - every watersport under the sun, fabulous beaches, tennis, designer shops, water parks, spas and fitness centres and, naturally, many of the finest golf courses in the world.
So how best to enjoy it all? There are nine Pestana hotels in the Algarve, from Alvor to the world-famous Vilamoura, and they include five-star hotels, all-inclusive accommodation, self-catering apartments and villas.
The nine are Pestana Delfim All-Inclusive Beach and Golf Hotel, Pestana Alvor Praia Beach and Golf Resort, Pestana Dom Joao II Beach and Golf Resort, Pestana Dom Joao II Beach and Golf Resort, Pestana Alvor Park Beach Aparthotel, Pestana Viking Beach and Golf Resort, Pestana Vila Sol Premium Golf and Spa Resort, Vilamoura, Pestana Alvor Atlantico Beach Aparthotel, Pestana Carvoeiro Golf Resort, and Pestana Palm Gardens Ocean and Golf Villas.
No matter which one you choose (and they can all be booked via golfbreaks.com), you can be certain that the quality of your food and accommodation will be outstanding. Between those nine venues, there is a choice of six great golf courses. You can also be sure that you will receive fantastic value for money, and many of the hotels offer unlimited golf and are located on the beach, close to towns full of shops, bars and restaurants, and marinas where you can just sit and watch the world go by. Bliss...
Sounds like a no-brainer, doesn't it? That's because it is.
THE GOLF COURSES
Gramacho
6,678 yards, par 72, parkland
This is a unique course, designed by Ronald Fream and Nick Price, the former world No1. It features 18 holes and 27 greens, and there are plenty of tees, giving golfers more options than they could shake a stick at. It is a typical Algarve course, featuring lush fairways, quick greens, deep bunkers and plenty of water hazards. Due to its unique design, it never plays the same two days running. The 27 greens are no gimmick. This is a genuine championship layout that has hosted the Portuguese Ladies Open many times. It was opened in 1991. No matter what you handicap may be, you will enjoy Gramacho, which incorporates plenty of trees, and utilises existing stone outcrops and dry stone walls. It is hard to believe it is not yet 25 years old.
Vale de Pinta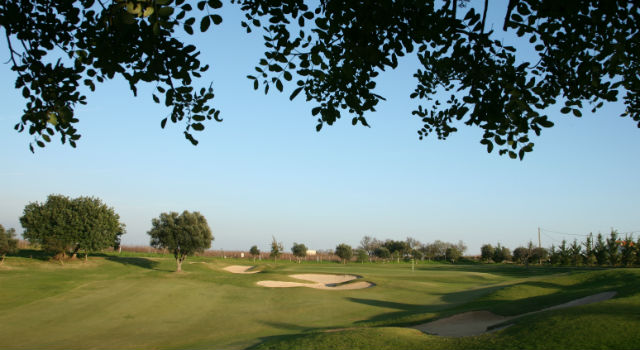 6,700 yards, par 71, parkland
Believe it or not, Vale de Pinta features an olive tree that is thought to be 1,200 years old so, no matter what else you do, please make sure that you don't hit it with a golf ball. It is one of many olive, fig and almond trees on a course where final qualifying for the European Seniors Tour qualifying school has been held for eight successive years. This golf course, opened in 1992, is a thing of beauty. Like Gramacho, it was designed by Ronald Fream, and many people consider it to be his finest piece of work.
The rolling fairways feature Bermuda grass, upon which the ball sits up and begs to be hit. There are a lot of strategically placed bunkers on Vale de Pinta, so accuracy from the tee is at a premium. There are also a number of ornamental lakes that come into play. Ensure you take the time to enjoy the scenery here.
Silves Golf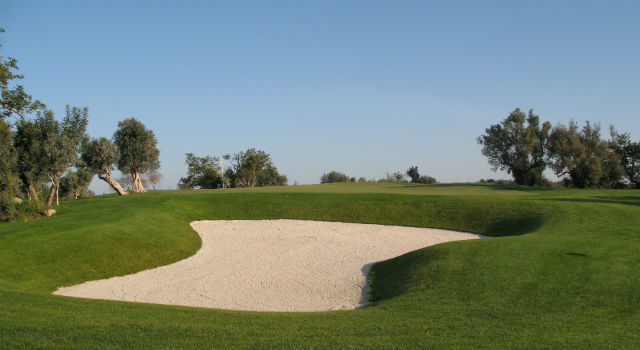 6,145 yards, par 70, parkland
You're right - it's not the longest course you will ever play. But if you think that means you are in for a straightforward challenge then you could not be more wrong. This golf course is another corker and, once again, the setting will take your breath away. If it doesn't, check your pulse to ensure you are still breathing! It sits at the foot of the Monchique mountain and the opening hole sets the tone, with water on either side of the fairway. Get out of here with a par and you should feel pretty happy with yourself. It is a great challenge for good golfers, but is not so difficult that high-handicappers will be pulling their hair out by the 18th. Almost every hole brings into play palm streets and olive groves, and the course is surrounded by cork and citrus farms.
Alto Golf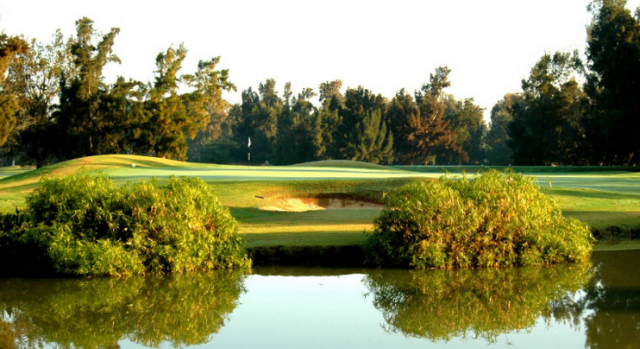 6,675 yards, par 72, parkland
Alto is special because it was the last course designed by the legendary Henry Cotton, without whom the Algarve may have remained undiscovered. It features a monster par five known as "Sir Henry's Challenge" - the hole is a beast. Unfortunately, many of today's modern layouts are designed without a great deal of thought for the men and women who will actually play them. Architects and designers want them as long as possible, with as much rough and as many carries over water as possible. The result is that many of us come off the 18th green having not really enjoyed the experience. Cotton was not that kind of designer. All his courses are classics and all his courses are playable. Sure, there are challenges to be faced, but Cotton gives us a choice. The course features rolling fairways and elevated greens and is located just outside the fishing village of Alvor. It is a joy.
Beloura
6,675 yards, par 72, parkland
On courses such as this are memories made. The foothills of the Sintra Mountains form the backdrop of another beautiful course, this one designed by American architect Rocky Roquemore (with a name like that, where else would he come from?). It meanders through 40,000 eucalyptus, oak, pine, magnolia and palm trees, and the air is filled with exotic aromas. It is an undulating course, with water coming into play on several holes in the form of lakes and streams. The seventh is the signature hole. A lake eats its way into the fairway so your drive has to carry the water. You then play a second shot short of a stream that crosses the fairway before an approach to a sloping green protected on either side by bunkers.
Vila Sol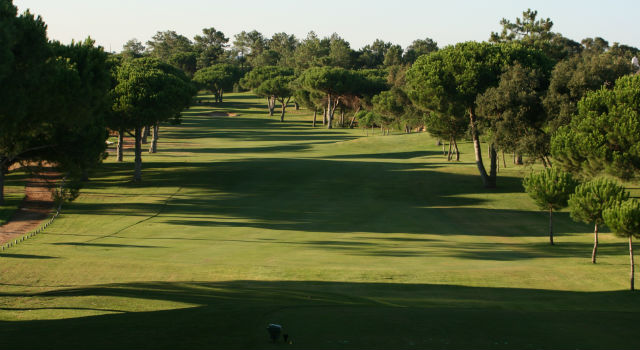 6,995 yards, par 72, parkland
The chances are that you will have heard of Vila Sol. It is a terrific test of golf. It was designed by Donald Steel, one of the best golf architects ever to draw breath, and it is a masterpiece. The Vila Sol Hotel and Golf Resort is set in 75 stunning acres and is the home of the Vila Sol Championship Course and a nine-hole academy course. While the Championship Course is primarily designed to provide a good test of golf, it also blends into the natural environment to give the impression that it has been here for hundreds of years although it was actually only opened in 1991. Apart from pine, almond and fig trees, there is an abundance of flowers and plantlife.
The academy features a 350-yard long driving range, two putting greens, a practice chipping area and a series of bunkers. On top of that, there is a lovely nine-hole course, The Academy Course.
For more information on golf breaks to Pestana Resort, please - Click Here
---
Related Content:
What do you think? leave your comments below (Comments)
---
Leave your comments below
comments powered by

Disqus
More Golf Course & Travel Features
Plan your next golf break with Golfbreaks.com