Why you should golf in North East Florida
By: Golf Shake | Thu 26 Mar 2015 |
Comments
---
We take a look at Northeast Florida a part of the Sunshine State which doesn't attract vast numbers of British holidaymakers who prefer the attractions offered in Orlando by the Disney empire. We believe they are missing a trick, and here we explain why...
Great climate
You can visit Florida at just about any time of year and be sure of super weather. I spent 10 days there at the beginning of January and we were able to sit outside at 11pm and gaze up at the stars. It can get a bit chilly early in the year, but this is rare. In July and August it can get get very humid in this part of the world and there is also the small matter of hurricane season although it is at least 10 years since a proper hurricane hit land in Florida.

In a nutshell then, it's known as the Sunshine State for a reason.
The Courses
The must-play course is the Stadium Course at Sawgrass, which hosts The Players Championship every May - described by many in America as the fifth major. It is most famous for the par-three 17th island green. You simply must visit St Augustine, home to the World Golf Village and the Hall of Fame. If you are even the slightest bit interested in the history of golf you will spend hours here. There is also a Renaissance hotel onsite. Omni Amelia Island Plantation's stunning Ocean Links Golf Course provides some breathtaking views - it was named one of the 50 Best Courses for Women, and Amelia Island has been named one of the world's best islands for golf.
---
The famous Par 3 17th at TPC Sawgrass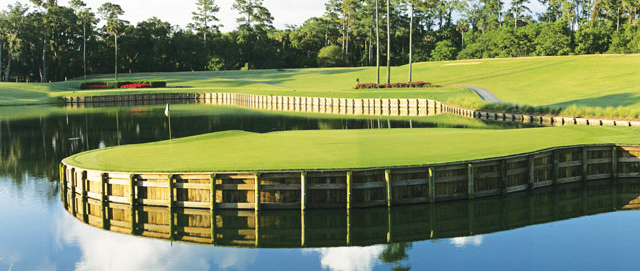 ---
The World Golf Village in St. Augustine boasts two courses, the King and Bear and the Slammer and Squire. The King & Bear at 7,279 yards is the only collaboration between Arnold Palmer and Jack Nicklaus. King and Bear is also rated among Golfweek's Top Resort Courses. The Slammer & Squire golf course is a 6,939 yard resort course named after Sam (The Slammer) Snead and Gene (The Squire) Sarazen, who helped to design it.
If you travel to Palm Coast and the Flagler Beaches, you must play the Ocean Course at Hammock Beach Resort. Jack Nicklaus maintained the elevated mounds of scrub oak and native brush called "hammocks" to create natural ocean barriers and used native coquina sand to mold the distinctive cinnamon-coloured bunkers. Eight holes run directly alongside the Atlantic Ocean, while the remaining wind through wetlands and past sparkling lakes. The last four holes of the par-72 course have been nicknamed the "Bears Claw" and are considered to be among the most memorable finishing holes anywhere.
Great places to stay
Two of the best are the Marriott Hotel at TPC Sawgrass and the Renaissance Hotel at St Augustine island. The Ritz-Carlton Amelia Island offers spa treatments, including its signature 'Heaven in a Hammock' massage where you receive the treatment in zero gravity as you lie in a hammock. The spa also boasts an adults-only salt water pool.
---
Oak Marsh Course at Omni Amelia Island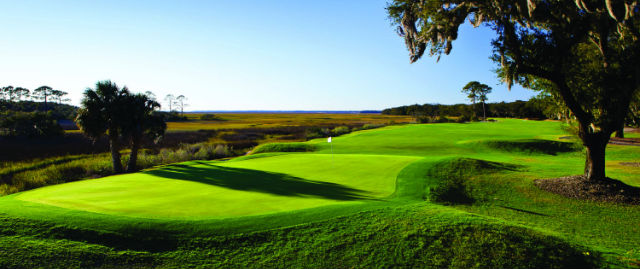 ---
Plenty to do
Amelia Island is stunning and has a town called Fernandina Beach which has many bars, restaurants and shops. It is ideal for families or groups of golfers. If you are looking for a more lively destination you should head for Jacksonville and Ponte Vedra. The beach at Ponte Vedra is one of the most famous in the United States. It can get very busy and has a lot of bars and restaurants. Palm Coast is further down the coast (only 1.5 hours from Orlando) and is perfect for couples or older holidaymakers.
Amelia Island - things to do
Try Stand Up Paddleboard yoga, in which your board (safely tethered and anchored) becomes your yoga mat. Or why not hire a bike? Amelia Island is home to enough trails and paths to give you a change of scenery each day. Take the kids to the Pirate Playground, a playscape designed to be accessible and enjoyable for children with a range of physical abilities. It borders on the entrance to Egan's Creek greenway, which is a perfect spot for a walk. Stroll, shop and eat in Downtown Fernandina Beach. Down and around Centre Street, you'll find a range of eclectic local businesses with genuine Southern charm. Spend a Saturday at the outdoor markets: the Fernandina Beach Market Place and the Amelia Farmers Market at the Shops of Omni Amelia Island Plantation offer everything from fresh produce to sweet treats to flowering plants and artisanal wares. There aren't many places in the country where you can go horseback riding on the beach. Experience it on Amelia Island where professional guides are waiting for you.
Lots to see
It is not unlike the Orlando area, but the pace of life is more relaxed, Like Naples, it attracts many American tourists. Things to see: Historic Downtown Fernandina Beach was a magnet for the rich, famous, and infamous during the Victorian time period. Hear all about it as you roll past beautiful historic homes in the hands of Olde Towne Carriage Company. See the island from the water.Amelia River Cruises offer richly narrated tours from the historic waterfront along the wild beaches of Cumberland Island. The Amelia Boat Club will rent you a boat.
---
Ocean Links Omni Amelia Island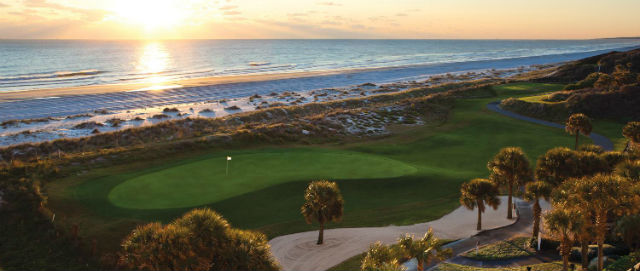 ---
Explore Fort Clinch, one of the best-preserved civil war era forts in the US, set in a state park. On the first weekend of every month, re-enactors stage a "Union Garrison" event where you can experience what daily life at the fort was like in 1864. Take a free tour of Burbank Sport Nets, where they have been hand crafting nets for shrimp and fish trawls for nearly 90 years and currently make all kinds of sport nets. Their net makers periodically demonstrate their craft at the new Shrimping Museum located in the Maritime Welcome Centre on the harbour. If you're on Amelia Island during the spring and summer, you can experience one of the most ancient and moving rites of spring. Amelia Island Sea Turtle Watch volunteers monitor and flag nests and host nest excavations, many of which are open to the public.
Why should I go there
This is another part of the state that is popular among Americans, especially from April to June and October and November. It is one of the most historic parts of Florida, with plenty of museums, a maritime heritage centre in Jacksonville, old schoolhouses, theatres and some of the best and freshest seafood you will find anywhere.
It's easy to get there
Every major carrier goes to Florida. Whether you fly into Orlando, Miami or Tampa, your flight will take no longer than nine-and-a-half hours, and it is usually a lot shorter coming home as the prevailing wind will be behind you. It can reduce the flying time by 90 minutes.

If you are heading for the northeast of the state, you land at Orlando and drive for 2-2.5 hours depending on your first point of call (a few options are Palm Coast, St Augustine, Jacksonville, Amelia Island). Alternatively you could get a connecting flight to Jacksonville and then drive to your chosen destination.

And there is more good news - petrol is about $2 a gallon, so you will be able to fill the tank for about £20, which is a real shock the first time you do it. Filling stations in Florida insist that you pay before putting in your fuel.
For more information on Golf Holidays to North East Florida please visit Golfbreaks.com - Click Here
---
Related Content:
What do you think? leave your comments below (Comments)
---
Leave your comments below
comments powered by

Disqus
More Golf Course & Travel Features
Plan your next golf break with Golfbreaks.com