Sandford Springs Feature Review
By: Matt Holbrook | Tue 26 Aug 2014 |
Comments
---
Sandford Springs is highly popular modern 'Golf Resort' that boasts 27 holes of golfing delight and we recently (Aug 2014) sent Golfshake member, 19 handicap, Matt Holbrook to check out this course playing all 3 loops of 9.
---
Sandford Springs opened in 1989 as a 18 hole course with a further 9 holes added in 1991 which offers golfers visiting 3 separate loops of 9; The Parks, The Woods and The Lakes. As well as providing a unique layout this provides visiting golfers a variety of options. The Parks is often regarded as the least demanding but a nonetheless enjoyable courses, The Woods is seen as probably the most challenging set amongst mature trees which line the fairways and flank the course and the Lakes provides a varied layout with water coming into play on 4 of the 9 holes.
As well as 27 holes of golf Sandford Springs offers stay and play with 40 4* rooms in the recently opened brand new hotel, driving range and golf academy, a well stocked pro-shop and excellent dining facilities.

Pre-round thoughts
Upon arrival we were warmly greeted by the pro in the pro shop who pointed us in the direction of the 1st tee for all 3 loops of nine. The pro on hand also pointed us towards the practice area which consists of putting/chipping green, nets next to the 1st tee as well as the driving range.
The facilities and service were excellent in the modern spacious clubhouse which provides the perfect breakfast or post round stop for golfers or golf societies or even a golf trip for those taking advantage of the new hotel.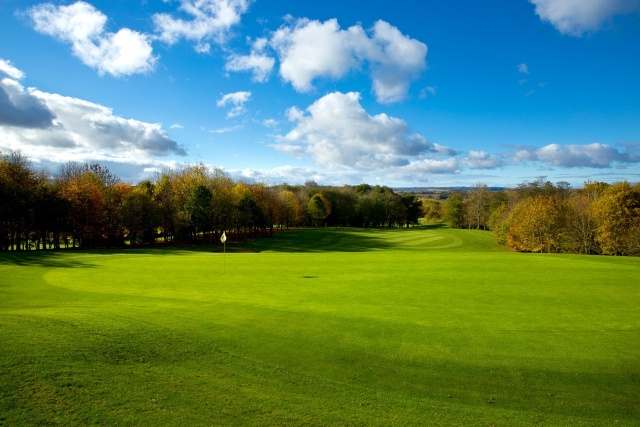 Par 3s
There may only be 5 pars 3s over the 27 holes but they are a joy to play on a course which is in excellent condition throughout.
The 2nd on The Park loop is not mammoth in length at only 150 yards but from the elevated tee you can't quite see just how severe the two tier green is. Get the wrong side of the pin and you could face a putt either up or down the 5ft tier!
With The Wood loop being more tree lined, the 5th offers a very picturesque, tree surrounding, 140 yard test. Club choice needs to be spot on with a severely sloping green.
Both par 3's on The Lakes loop have water coming into play (as the name would suggest) although it can be avoided!
Par 4s
All of the par 4's on all 3 loops are in tip top shape and offer difficulty of either tree lined fairways, water hazards or fairways traps and ranging from 280 to 440 in length.
The 4th on The Wood loop is Augusta like stunning. All you can see is trees waiting to gobble up any errant shot from the highly elevated tee. Get an iron away as the hole dog legs 90 degrees to the left and your approach is again through tight trees and over a lake in front of the green. Although you may only have a wedge in the small green is also protected by a large bunker. A delight of a hole.
Elevation features on a lot of hole's and also stood out on the 9th of The Park. With the green being surrounded by 3 separate lakes and the hole measuring at 280 making sure you leave yourself a comfortable shot in is the test here.
Par 5s
There are only 2 par 5's but both are tricky in different ways.
The 3rd on The Wood will play a lot longer than the 457 yards on the card due to the incline, and if like me, the fairway bunkers are perfectly positioned to capture any errant drive. The fairway then narrows down so any lay up shot still has to be precise! For the big hitters who want to attack in 2 shots then beware of the two bunkers in front of the green!
Playing just over 500 yards, the 2nd of The Lakes loops has two very large ponds either side of the fairway which will almost certainly come into play for most. If you can negotiate those as ever the bunkers are guarding a tough green on either side. I can see this being a real beast if the wind is blowing into your face!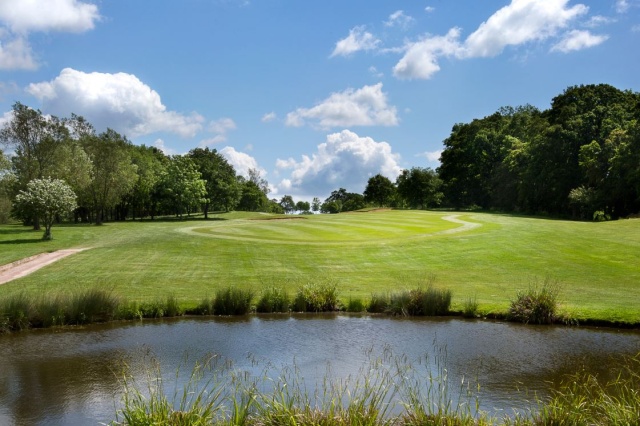 Post round thoughts
Out of the 3 loops on offer I found The Wood to be the most enjoyable. Every hole is tree-lined giving you the feeling that you could be anywhere you wanted and completely cut off to the rest of the world. A real pleasure to have played.
The thought that will stand in my mind after my visit was that I could run through all 27 holes and not think of one that you wouldn't enjoy playing. Every fairway was in great condition, the greens were consistent and the amount of sand in the bunkers was spot on - which I know can be a real issue for some.
The Woods may not be the best loop for a higher handicap player to post a score but anyone of any level must give it a go!
The spike bar was warm and friendly and reasonably priced when you take into account this is a stay and play course as well.
Verdict/round up
Whatever your requirements be it golf day, society day or trip then I'm sure you will find an enjoyable time at Sandford Springs just like I did on my trip and you can't really fault this quote direct from the club:
We never use temporary greens, don't have trolley bans and the course plays full length through the winter.
I would highly recommend playing Sandford Springs and visit given the opportunity at any time. A major selling point is the fact the club don't use temporary tees or greens and is in play at full length all year round. One thing that also grabbed my attention was the large amount of green keepers that were seen - for me a great sign of a well maintained course.
All in all a fantastic day was had by all on a superb, well looked after course and a return visit is most definitely on the cards. Overall I'd give Sandford Springs a rating of 9 out of 10.
Sandford Springs is independently rated 4.57 out of 5 on Golfshake.
---
Related Content:
What do you think? leave your comments below (Comments)
---
Leave your comments below
comments powered by

Disqus
Plan Your Next Round
Donnington Grove Country Club
Berkshire
from £20.00
Save 35%
Reading Golf Club
Berkshire
from £18.00
Save 25%
West Berkshire Golf Club
Berkshire
from £12.00
Save 18%
More Golf Course & Travel Features
Plan your next golf break with Golfbreaks.com
Travel Deals Newsletter
Save up to 50% on golf breaks!
Join Today »