The French Connection
By: Golf Shake | Mon 18 Aug 2014 |
Comments
---
Most of us belong to golf societies that end up going away for one or two long weekends every year. You know the sort of thing I am talking about – three rounds of golf played over two days, usually on a different course each day, a couple of

nights at a golf course with accommodation or a nearby hotel or guest house, breakfast and evening meal thrown in. Oh yes, and far too much alcohol for our own good.
It means trawling around the various offers available in this country. There are bargains to be had – of course there are. And we get to play on some excellent golf courses. Sadly, we also get to play on some courses that, to be frank, should be towed out into the North Sea and bombed.
There is an alternative to this. Have you ever considered heading across the Channel to northern France? No? Well you should do.
Eurotunnel means that it is just 30 minutes away, with the added bonus that you can take your car and be on the first tee within another half hour. Just think about that for a second – France, door to first tee in an hour.
And you can let Golfbreaks.com and Open Golf Club, their main partner in France, do all the work for you.
They offer nine great golf destinations in France, as well as Belgium, Spain and Morocco. We will get to the others later, but for now let's take a look at some of the courses on offer in northern France, the most popular destination from Britons heading off on a short golf break. It is also a region well worth considering for a full-blown golfing holiday.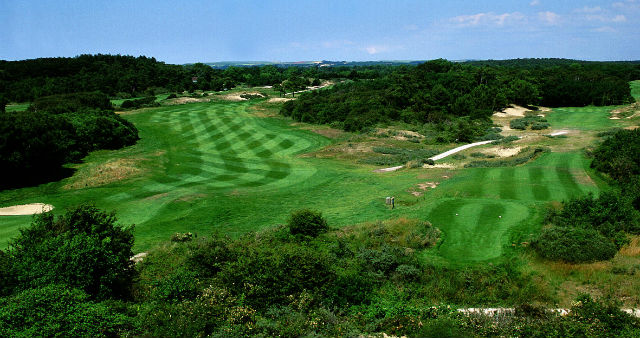 Probably the most famous course among Britons make the short trip across the Channel is Le Touquet. Play here with Open Golf Club and you will probably stay in the Le Manoir or Hotel Westminster, hotels that welcome British golfers with open arms.
There are three courses at Le Touquet, but the jewel in the crown is La Mer, which was deigned by Harry Colt and measures 6,925 yards. A par 72, it has staged the French Open several times and has been voted among the top 100 golf courses in Europe – play here and you will soon realise why.
The greens are well protected and you need to hit the ball straight in order to avoid some punishing bunkers and rough, but this really is a cracking track. The views out to sea are breathtaking, and it may well remind you of some of the best Scottish links courses – there is no higher praise.
The 11th and 13th holes have recently been redesigned, making this fabulous course even better.
La Foret was designed by Horace Hutchinson, measures 6,315 yards and is a par 71. As its name implies, it wends its way through a pine forest. It is fairly flat, but that takes nothing away from the challenge, and you will face some beautiful but tricky holes here.

And finally, there is Le Manoir, a testing nine-hole course measuring just over 3,000 yards.
It is also worth mentioning that if the golf becomes too much for any of your party, Le Touquet is a French resort town boasting miles of fabulous beaches, which also makes it the perfect place to go with your family, who will find plenty to do while you are chasing that little white golf ball.
And don't imagine for a minute that there is any lack of choice in this part of France because nothing could be further from the truth.
Not far from Le Touquet is Hardelot, which boasts two of the finest golf courses you will ever play, one of which features in several lists of the best courses in Europe. The courses are little more than 1km apart and they are both absolute classics. They are also within easy striking distance of Le Manoir and Hotel Westminster.
Open Golf own Le Touquet and the Hardelot golf courses, and Le Manoir Hotel and the Westminster. If you want to stay close to Golf d'Hardelot rather than in Le Touquet, there is the wonderful Les Jardins d'Hardelot.
The first thing that strikes you when you arrive at Hardelot Dunes is how incredibly friendly the staff are – they are used to dealing with large groups of English golfers and rather than raising their eyebrows heavenwards while thinking "Oh no, not again", they go out of their way to make you feel at home.
Facilities are first rate. The clubhouse is smart, clean and modern and boasts an outside terrace where you can watch the rest of your group finish while enjoying a beer and a bite to eat.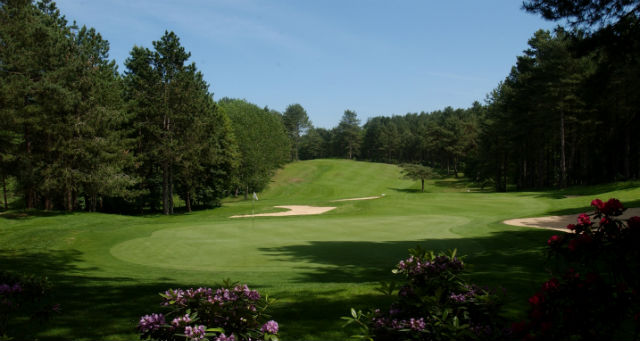 And the course provides a great challenge. Each hole is surrounded by trees, which means you need to hit the ball straight. And there are lots of well-placed bunkers. The course takes a lot of traffic. Despite this, the greens are great, and the staff clearly spend a lot of time ensuring that divots are replaced and fairways are kept in excellent condition.
The second course is Hardelot Pines, which is a thing of beauty. Like its sister course, it features a modern clubhouse from which you look out to the 18th green, and a beautiful patio area where you can take in the sun and the stunning views.
Both courses teem with wildlife, so you walk past a pond and hear fish as they come to the surface in search of food. It would be all too easy to lose your concentration and become seduced by the natural beauty that surrounds you, but Hardelot Pines requires your full focus.
You have already guessed that the fairways are tree-lined – by pine trees. Thousands of them. Nestling behind the pines lie some fabulous properties, most of which appear to be second homes.
The main feature of Hardelot Pines is its undulating greens – if you can master them and hole a few putts then you will probably score well. Fairways rise up to greens you can scarcely see, while others plunge down, inviting you to give the ball that little bit extra in order to hit the level ground. The bunkers are deep and punishing, so you really need to avoid them.
But no matter how badly you play, I guarantee that you will walk off the 18th green and feel that you want to play this course again. It is stunning.
---
Related Content:
What do you think? leave your comments below (Comments)
---
Leave your comments below
comments powered by

Disqus
More Golf Course & Travel Features
Plan your next golf break with Golfbreaks.com
Travel Deals Newsletter
Save up to 50% on golf breaks!
Join Today »