Astbury Hall Review
By: Golf Shake | Tue 02 Jul 2013 |
Comments
---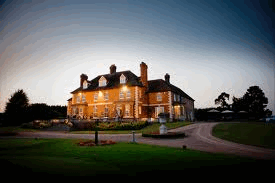 Designed by its owner, ex rock star KK Downing of Judas Priest fame, Shropshire's newest golf club is enviably scenic, rapidly growing in reputation and has lofty ambitions for the coming years.
Confirmation of Astbury Hall's credentials as an important tournament venue came just lately as The Europro Tour made a very successful stopover. Competitors were treated to a golf course in fabulous condition but also one that gave them a suitably tough examination, only yielding a six under par winning score after 54 holes.
KK Downing, an avid golfer, managed to indulge in his passion despite the rigours of a Rock and Roll lifestyle. He took inspiration from a number of the world's finest golf courses he played in designing Astbury Hall, he also had the advantage of being able to utilise the naturally beautiful rolling landscape of the Severn Valley in doing so.
The opening nine contains the majority of the scenic highlights, just looking down from the raised tee at the very first hole gives a mouth-watering view of what is to come. It proves to be a highly enjoyable stretch, a fine collection of undulating challenges to test your game with carpet like fairways disappearing over contoured valleys and around gentle dog legs. Three picture book short holes prove to be aesthetic highlights, all have the potential to be penal should you veer off line just a touch. The outward half isn't too lengthy but all that changes with a particularly brutal ninth, the long dog leg par five with its punchbowl green set up on high.
The 10th is a wonderfully enticing short par four and heavily defended by sand around the green. Make every effort to stay below the hole on approach or three putts threaten on this, the very slickest of putting surfaces. The inward half is generally more open with the elements playing more of an influential role in your fortunes plus there's the added threat of a few ancient oak trees in your path and as always the bunkers are strategically well placed.

Astbury Hall does prove to be a genuine test of your course management skills. KK's masterpiece isn't overly long and from the tee you really do have to be very wild to run the risk of finding the deep rough. Nevertheless trickery comes in abundance in a more subtle sense, especially around the putting surfaces where wrong siding yourself can lead you towards spots where rescuing pars may be nigh on impossible. The USGA standard greens feature creeping bent grass surfaces and are outstanding, very fast and cleverly contoured yet they should inspire your best putting efforts rather than strike fear. The tee boxes too are as immaculately conditioned as the rest of the layout, plus you need to have some good historical rock music knowledge to understand the meanings of each hole name!
You can't miss the 18th hole at Astbury Hall, it's in full view from the entrance drive, therefore this long and glorious par three over the lake to an epic two tiered green is always in your thoughts and certainly lives up to its signature hole tag. The elements in all probability will govern whether you emerge unscathed but in any conditions it's a good blow to reach the sanctity of the putting surface and the right club selection is vital to avoid a potentially treacherous up and down.
Astbury Ace 6th hole 292 yards Par 4:
There's no doubt that the 18th is the signature hole but this short par four right in the far corner of the course with the neighbouring woodland as a backdrop is a major highlight too and much more of a teaser. The safest bet is to lay up from the tee and take a short pitch up to the green preferably leaving an uphill birdie putt. Yet the big hitters might fancy cutting the corner of the dog leg and having a dash at the green, even the longest and straightest of blows won't necessarily guarantee success though. Some of the contours and banks both on and around the putting surface are as testing as it gets.
KK's vision is to raise the profile of Astbury Hall even further right up to European Tour standards within five years. Those who may find that idea a little over ambitious should consider how far it has come in its short three year existence. The Europro success and the accompanying praise received has only served to increase confidence in this exciting new venue.
Astbury Hall does things a little differently than most other golf clubs, it doesn't have members or a club competitive schedule. Visitors, golfing groups and corporate occasions are all welcomed warmly, many of them personally by the hands on KK Downing himself. The clubhouse is a state of the art work in décor and taste, with a luxurious bar and restaurant plus two rooms with seating for up to 100 for group occasions. A marquee also sits by the side of the courtyard for the biggest of events.
For more information or to book a tee time visit: www.astburyhall.co.uk
---

Review by Phil Nicholas from Midlands Golfer.
Midlands Golfer is a bi-monthly publication and delivered free to all clubs, ranges and golfing retailers across the region. Very much written and produced with the average player and society golfer in mind with news,reviews and features from both our editorial team and golfing contributors from all over The Midlands.
---
Related Content:
What do you think? leave your comments below (Comments)
---
Leave your comments below
comments powered by

Disqus
Plan Your Next Round
Bridgnorth Golf Club
Shropshire
from £15.00
Save 30%
Dudley Golf Club
West Midlands
from £9.00
Save 24%
Bromsgrove Golf Centre
Worcestershire
from £7.00
Save 25%
More Golf Course & Travel Features
Plan your next golf break with Golfbreaks.com